Best Playgrounds in Houston
Do you have children in Houston looking for an exciting and fun playground? Then look no further! This article will provide you with the top 5 best gardens across Houston that guarantee your kids a great time. Our list is based on reviews of local parents, park amenities, and playground features. We'll discuss which playgrounds are perfect for all ages, wheelchair accessibility, nearby attractions, and more.
Texas is bundled with destination playgrounds. That means unique devices providing excitement, artsy play experiences, splash pads, creative and imaginative play, and much more. Listed below is a list of top Texas destination playgrounds. These are playgrounds that your kids probably have never visited before. So add these to your Texas bucket list as must-dos for your little ones.
Barbara Fish Daniel Nature Play Area and Picnic Pavilion
105 Sabine St, Houston, TX 77007
The Barbara Fish Daniel Nature Play Area and Picnic Pavilion are perfect for families to enjoy outdoor recreation. Located in a scenic rural area, this new addition provides various activities for all ages. The natural play area has been designed with sustainability, featuring local flora and fauna sure to delight visitors. In addition to the nature play area, there is a picnic pavilion where guests can bring their food or purchase snacks from nearby vendors.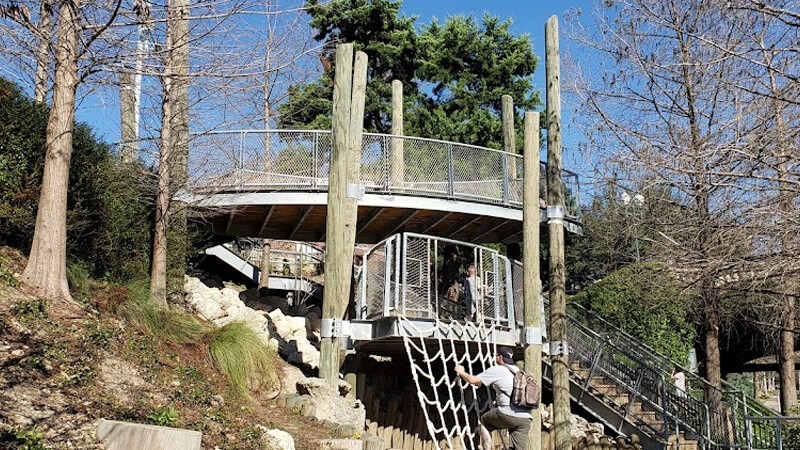 The park boasts two playgrounds with slides, swings, climbing structures, and sandboxes filled with natural materials such as leaves and stones. There are also trails winding through the woods so visitors can explore the surrounding environment. Guests can enjoy picnicking on-site or participate in educational programs led by park rangers and volunteers.
Mercer Playground & Post Oak Picnic Pavilion
Spring, TX
Mercer Playground & Post Oak Picnic Pavilion is a well-loved community spot in Houston, Texas. This park is known for its wide range of activities and amenities, including a playground, picnic pavilion, and walking trail. It's the perfect place to spend an afternoon with family or friends.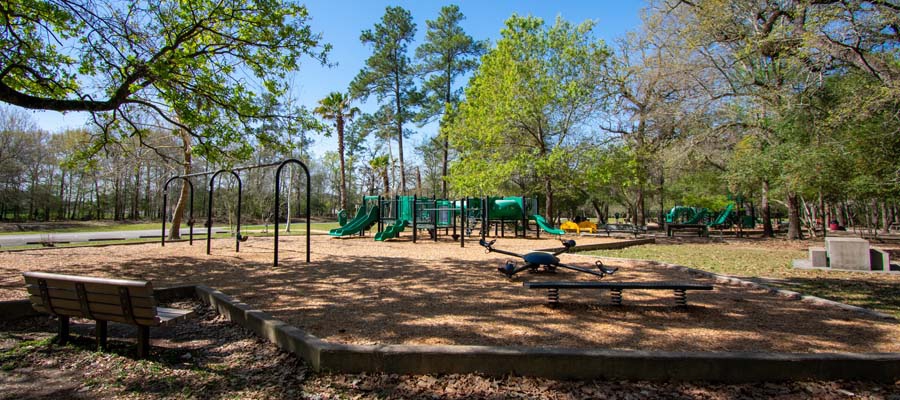 The Mercer Playground & Post Oak Picnic Pavilion playground features swingsets, slides, and climbing structures suitable for children of all ages. The pavilion provides plenty of seating for large groups and protected areas from the sun or rain. There are also several grills available if you'd like a cookout in the park. For those who prefer to explore outdoors on foot, a two-mile paved walking path winds through the beautiful Post Oak tree line surrounding the park.
Terry Hershey Park
15200 Memorial Dr, Houston, TX 77079
Welcome to Terry Hershey Park, Houston's favorite playground! This lush green park is perfect for a family outing near Buffalo Bayou. Full of amenities and attractions, there's something for everyone at Terry Hershey Park.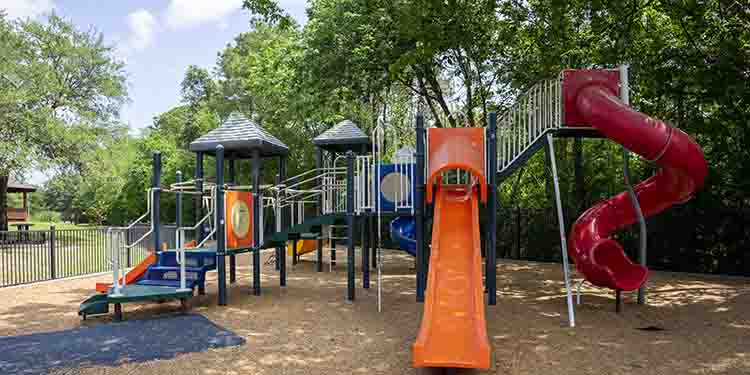 There are several playgrounds throughout the park for those looking for a fun day outdoors with the kids. From traditional swings and slides to unique installations like a giant treehouse and rope course, your children will have hours of entertainment in these play areas. The park also offers picnic tables and shaded seating areas so you can relax while keeping an eye on your little ones.
Terry Hershey Park has something special for everyone! With numerous walking trails winding through forested areas and open lawns, it's easy to find a spot to enjoy nature or exercise.
Ray Miller Park
1800 Eldridge Pkwy, Houston, TX 77077
Ray Miller Park is a neighborhood park located in the heart of Houston, Texas. This park provides plenty of outdoor activities for people of all ages. The playground at Ray Miller Park offers a range of equipment that has been carefully designed to provide hours of entertainment and exercise.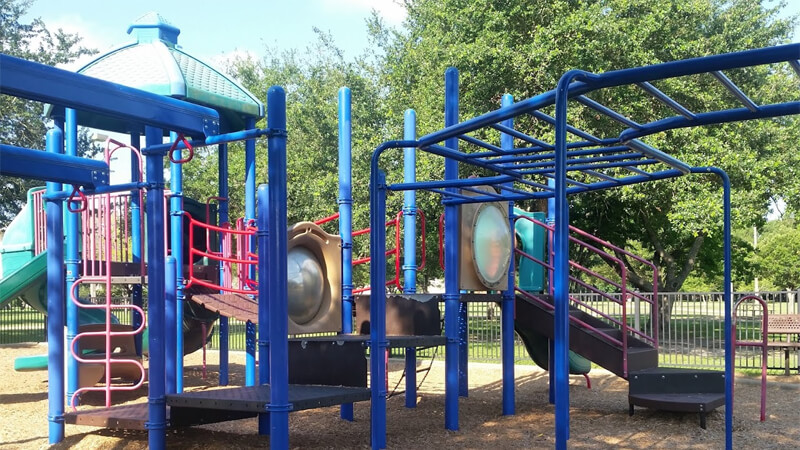 The main attraction at Ray Miller Park is the large playground area with its multi-level structures, slides, and swings. Children can climb to their hearts' content while parents sit back and watch them enjoy themselves safely. Parents will also appreciate the flat surface that makes it easy to push strollers or carry toddlers around as they explore all the play elements.
In addition to the playground, Ray Miller Park also features an open grassy area where visitors can take a picnic lunch or relax on a nice day.
PNC ImagiNature Playground
PJ96+2M Houston Museum District, Houston, TX
The PNC ImagiNature Playground is a one-of-a-kind experience that encourages kids to explore their imagination and have fun in a safe environment. Located at the Pittsburgh Zoo & Aquarium, this unique playground offers an interactive play area full of imaginative activities designed to engage children's creativity and promote physical activity.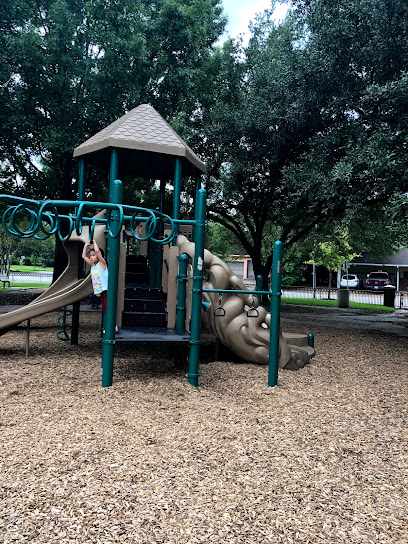 The playground features plenty of activities to keep kids entertained, such as a dig box where they can unearth fossils and other treasures, climbing structures for the brave adventurers, and slides and swings for the more daring explorers. In addition to these physical activities, there are also plenty of educational opportunities available. From exploring animal habitats to playing music with unique instruments made from natural materials, children are sure to leave with newfound knowledge about nature and wildlife.
George Bush Park Childrens Playground
P897+MJ Westside, Houston, TX
George Bush Park Childrens Playground is a beautiful outdoor destination for families in Houston, Texas. Located west of downtown, the playground offers a wide range of activities and amenities for children of all ages. The sprawling 50-acre park features two gardens — one for toddlers and a larger one for older kids — sandboxes, swingsets, slides, a basketball court, picnic tables, and more.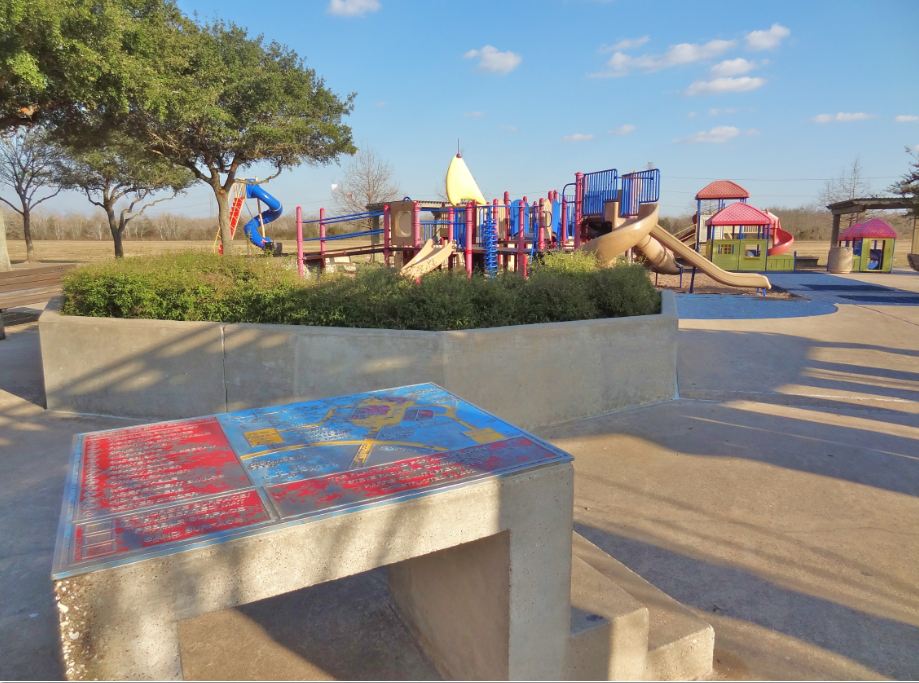 Parents can also enjoy the scenic walking trails and relax under the shade of large oak trees. Whether it's a sunny day or an afternoon filled with rain showers — George Bush Park Childrens Playground is the perfect spot to give kids some fresh air while they play outdoors in safety. With its many attractions and comfortable atmosphere, this popular spot should be on every family's must-visit list!
Donovan Park
700 Heights Boulevard, Houston, TX 77007; (713)861-4002
Donovan Park, located in Houston, Texas, is a popular playground for families, and it has something for every family member – from swings and slides to sandboxes and trampolines. From children playing tag on the grassy field to parents taking their toddlers on a stroll along the walking paths, Donovan Park is an ideal spot for people of all ages to enjoy outdoor fun.
The park also features several amenities, including a basketball court, tennis courts, and a picnic area. An outdoor pool is open during summer so visitors can cool off there! Bicycles are welcome, too – plus, you'll find plenty of bike racks throughout the area if needed. Whether looking for relaxation or recreation time with friends & family, Donovan Park is sure to provide it all!

It's the Cinderella story of a once-underutilized park being transformed into a magical playland thanks to its neighbors' efforts. As a result of nine months of fundraising, organizing, and constructing a dream, thousands of people were involved. Today, it is a location that inspires young minds, fosters cross-cultural understanding, and serves as a model for the next generation. Donovan Park was created by Robert S. Leathers & Associates of Ithaca, New York, a pioneering firm in community-built architecture. The playground's train theme and Victorian-era turrets reflect the historic nature of its surroundings. – houstonheights.org/properties/donovan-park
Levy Park
3801 Eastside Street, Houston, TX 77098
Levy Park is a beloved playground and neighborhood park in Houston, Texas. Spanning six acres of lush green space, Levy Park offers something for everyone, from small children to adults. Surrounded by an urban landscape, the park is a breath of fresh air and an escape from the hustle and bustle of city life.

Visitors can take advantage of numerous amenities at Levy Park, including walking trails, tennis courts, yoga classes, fitness equipment, outdoor movie screenings, and special events like concerts or festivals. The playground area has been recently updated with new structures, such as climbing walls and bouncy houses, that will delight any young visitor. With plenty of benches nearby to relax and tables for picnics or snacks with friends or family, Levy Park makes for a great day in Houston!
Activities areas, dog parks, a community garden, and the Children's Park are among the park's many amenities. Wellness, education, the arts, and recreation programs are free of charge all year long. There's always something going on at Levy Park, whether it's a festival, a program, a play date, or just a stroll in the park. – levyparkhouston.org
Exploration Park
15020 Cinco Park Rd. Katy, TX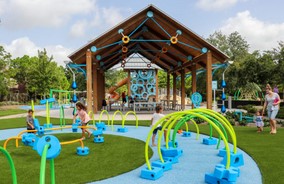 Exploration Park is an immersive public playground alongside the north side of Willow Fork Drainage District's Diversion Channel, just south of Creech Elementary. The design of Exploration Park is rooted in children's play, environmental stewardship, educational principles, and an overall theme inspired by water. It offers visitors a multipurpose play area, an open lawn for unstructured play, and a covered pavilion with picnic tables. Play features include a sensory garden, swings, a musical bridge, a raindrop berm lawn, a slide tower, and a bridge connecting to a hill slide. An interactive water cycle wall creates a hands-on experience demonstrating the water cycle, and educational signage encourages water conservation. – willowforkdrainagedistrict.com/parks-trails/exploration-park
Buffalo Bayou Park
1800 Allen Pkwy & Memorial Dr. Houston, TX 77019
Buffalo Bayou Park is a beloved playground in Katy, Texas. Located just minutes from downtown Houston, this expansive park is a great place to spend your weekend with family and friends. Over 160 acres of lush green space offer something for everyone, from outdoor recreation facilities to natural trails and gardens.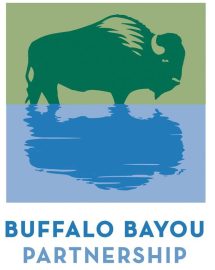 The park has plenty of activities available, including canoeing and kayaking on the bayou, biking along scenic paths, fishing in the ponds, or exploring nature trails surrounded by wildlife such as birds and small animals. There is also a large playground area featuring swingsets, jungle gyms, slides, sandboxes, and other fun elements for kids to enjoy. Families can even host picnics in designated areas throughout the park for an afternoon full of fun and relaxation.
Between Allen Parkway and Memorial Drive, Buffalo Bayou Park's 160 acres stretch from Shepherd Drive to Sabine Street, making it one of the country's finest urban green areas. Download the Buffalo Bayou Guide below to experience all the natural splendor the bayou has to offer. Use the map to help you navigate the canal's many parks and historic locations. – buffalobayou.org
Final Word
Houston playgrounds provide a safe and fun environment for children to play and explore. With numerous parks and gardens, Houston has something for everyone – from toddlers to teens. Houston playgrounds offer an excellent opportunity for children to interact with others, strengthen muscles, and develop social skills. These parks are also fantastic and make for a perfect place for families to spend quality time together.