Best Houston Festivals and Parades for Families
Are you thinking about making family memories that will surely last a lifetime? We found this list of Houston's most fabulous parades and festivals you can attend with your family members.
From live music parades to outdoor festivals and more, here are some of the best Houston festivals and parades that families can enjoy together.
The Rodeo Parade is one of the most popular parades in Houston, celebrated since 1938. It kicks off each year in February and features floats from local businesses, live music, and entertainment from marching bands all along the route. Families can also participate in a carnival outside the rodeo grounds, making it an ideal outing for kids.
The Bayou City Art Festival will bring out your artistic side!
Hermann Park Conservancy Kite Festival
1700 Hermann Park Drive, Houston, TX 77004; 713-524-5876
The Hermann Park Conservancy Kite Festival is an exciting annual event in the heart of Houston, Texas. Held in the iconic Hermann Park, this festival brings kite enthusiasts from around the region for a day of fun and festivities! Every year, participants gather to display their colorful creations or choose from various kites available for purchase onsite.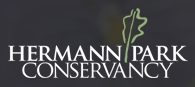 There's something for everyone at this family-friendly event; visitors will enjoy live music performances and delicious food vendors offering tasty treats throughout the day. The Kite Festival is always free and open to the public – so come out to Hermann Park and participate in all the action! Whether you're looking to buy your perfect kite or watch beautiful crafts soar through the sky, this festival is sure to delight all ages.
The Hermann Park Conservancy Kite Festival began as part of the centennial celebrations in 2014 and was so popular that it has become an annual family event. The festival brings thousands of kite flyers to Hermann Park to enjoy a day of friendly kite-flying, arts and crafts, live music, DJs, student performances, food vendors, additional kids' activities, and more. We are planning to resume this tradition in 2022. – hermannpark.org
Art Car Parade
Houston, TX
The Houston art car parade has been a long-standing tradition in the City. Each year, hundreds of drivers and their decorated cars take to the streets to show off their unique works of art. The parade is filled with vibrant colors and eye-catching creations that draw a large crowd annually.

This popular event began in 1988 when local artist Jim Hatchett had an idea for an art exhibition on wheels. His goal was to showcase his car, which he had transformed into a mobile work of art. Since then, the annual parade has become a staple of Houston culture and continues to attract spectators from all over the City each year.
From classic cars to minivans, there's something for everyone at this special event. So if you're looking for fun activities in Houston, make sure you don't miss out on this year's Art Car Parade!
Houston Art Car Parade is the highlight of a four-day celebration of the drive to create Houston Art Car Parade Weekend. The parade attracts 250+ vehicles and other entries from 23 states, along with Canada and Mexico. A live audience of some 250,000+ spectators. Parade entries include anything on wheels, from bicycles and unicycle to lawnmowers to cars and go-carts. Admissions are as likely to be made by members of the general public as by recognized artists. – thehoustonartcarparade.com
Bayou City Art Festival
Houston, TX
The Bayou City Art Festival is a must-see art event for families in Houston, Texas. Spanning three days and featuring more than 300 artists from around the country, it's an excellent opportunity for family members of all ages to explore the creative arts. From interactive activities and live music to demonstrations and installations, there's something to appeal to every family member.
In addition to the artwork in various mediums like painting, sculpture, photography, jewelry making, and digital media, visitors can enjoy delicious food made by local chefs and beer and wine tastings. The festival also offers free educational opportunities through artist talks and fun and informative workshops. There truly is something for everyone at the Bayou City Art Festival.
Japan Festival
Houston, TX 77030; 713-963-0121
Japan Festival in Houston is an event that celebrates the country's rich culture and heritage. The festival showcases various aspects of Japanese culture, including traditional music, dances, martial arts, food, crafts, and art. Every year hundreds of people gather at this exciting annual event to experience a slice of Japan right here in Houston.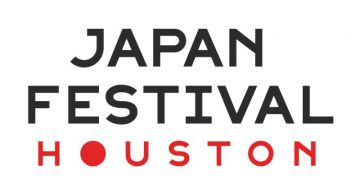 The festival features several stages for live performances from cultural groups throughout Japan and the United States. Attendees can also enjoy a variety of food vendors offering dishes from all over Japan. Other activities include sake tasting, origami workshops, and demonstrations by Japanese artisans showcasing their skillful artistry. In addition to these attractions, various booths offer traditional goods such as kimonos, lacquerware, and other items imported directly from Japan.
Japan Festival Houston is an annual celebration of Japanese culture held in Houston's Hermann Park. Enjoy the rich cultural heritage of Japan with traditional and contemporary performances of Japanese music, dance, martial arts, Japanese/Japanese-inspired food, demonstrations and displays of Ikebana flower arrangement, tea ceremony, origami, bonsai, and more. It is with much disappointment and sadness that the Japan-America Society of Houston announces the cancellation of the 27th Annual Japan Festival Houston.. – houstonjapanfest.org
Freedom Over Texas Festival
Houston, TX
Houston is bringing the Freedom Over Texas Festival into town for the fourth year. Presented by ExxonMobil, this popular event has become an annual tradition and a great way to celebrate America's Independence Day with family and friends.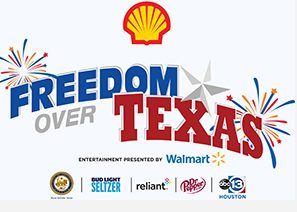 The festival will be held on July 4th at Eleanor Tinsley Park, conveniently located in downtown Houston. This highly anticipated event features live music from some of the country's top acts, including ZZ Top, Alabama Shakes, Pat Green, and more! In addition to the fantastic music lineup, guests can enjoy fun activities like face painting, rides, and games for all ages. And, of course, there will be plenty of food vendors serving delicious food to satisfy any appetite.
So don't miss out on this summer tradition; grab tickets to experience Freedom Over Texas Festival in Houston!
Houston's signature patriotic celebration, Shell Freedom Over Texas, returns with a salute to America's Frontline Heroes. The annual day-long festival is on hold for one more season. However, Houstonians can enjoy the City's cherished music tradition and patriotic moments via live broadcast on Sunday, July 4th, from 7 p.m. – 10 p.m. on ABC 13. Fireworks will reach 800 feet, almost doubling the height of the traditional show, for more to enjoy from further away. Open spaces and neighborhood parks with a view of the western downtown skyline are ideal. – houstontx.gov
The Original Greek Festival
Houston, TX; 713.526.5377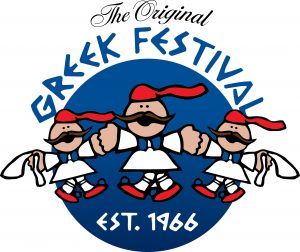 From its original location in downtown Houston (now Tranquility Park) to the sprawling grounds that border Yoakum Boulevard, Annunciation Greek Orthodox Cathedral has become a significant force in the religious and social communities that comprise Houston today. Part of the proceeds from the Greek festival has helped many people through donations to various charitable organizations, such as Children's Assessment Center, SEARCH, Houston Area Women's Center, Covenant House, Texas Emergency Aid Coalition (EAC), and the Star of Hope Mission.- greekfestival.org
Thanksgiving Day Parade
Houston, TX

Located in the heart of downtown Houston, this event is one of the oldest Thanksgiving Day parades in the country. Several hundred thousand Houstonians line the streets each year to cheer on participants. The parade will traverse over 20 city blocks and feature elaborate floats, colorful marching bands, high-flying balloons, and other uniquely Houston entries. Check back in the fall for volunteer opportunities. – houstontx.gov/thanksgivingparade
Zoo Lights
6200 Hermann Park Drive, Houston, TX 77030; 713-533-6500
For those looking for a unique experience this holiday season, the Houston Zoo offers its popular Zoo Lights event. For 24 nights from late November through early January, visitors can wander around the zoo grounds and take in the breathtakingly beautiful lights displays. Each display is a creative work of art designed to evoke holiday spirit and joy in all who view it.

The first area guests come across at Zoo Lights is an expansive tunnel of colorful LED lights that create a mesmerizing atmosphere. Beyond that are over 140 themed light displays with pieces that feature animals such as elephants, snow leopards, and giraffes. The event also features interactive activities like caroling in front of giant Christmas trees or taking pictures with live reindeer on select nights. For an added fee, visitors can even ride unique camels or ponies around the Zoo while they enjoy all it has to offer.
TXU Energy presents Zoo Lights at the Houston Zoo, celebrating ten years as one of Houston's best-loved holiday traditions! Stroll through the beautiful Zoo grounds as you take in the sights and sounds this holiday season. – houstonzoo.org
Dickens on the Strand
2002 Strand, Galveston, TX 77550; 409-765-7834
Galveston, Texas, is home to the popular event Dickens on the Strand. Held in December each year, this event brings together Victorian-era characters, costumes, and customs for a unique experience.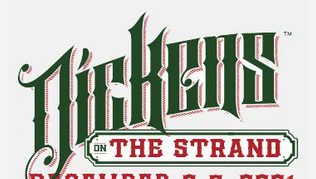 A celebration of Charles Dickens's works and life in 19th-century England, this festival features live music, street vendors selling food and drinks, and holiday decorations. Even special events include an old-fashioned costume contest where participants wear period clothing. Attendees can also participate in activities like a mini parade that travels down the historic Strand district of Galveston Island or take part in dance performances from professional troupes.
In addition to all these activities, Dickens on the Strand hosts guest speakers who speak about various aspects of Charles Dickens' literature or life during the Victorian era.
For 48 years, Galveston Historical Foundation's Dickens on The Strand festival has highlighted downtown Galveston's Victorian-era architecture while providing a one-of-a-kind holiday destination filled with the sights and sounds of Charles Dickens's work. This year's event continues that tradition with new entertainers and events, returning favorites, and family-friendly programming.- galvestonhistory.org
Livestock Show & Rodeo Parade
NRG Center, 3 NRG Park, Houston, TX 77054; 832.667.1000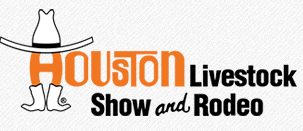 The Houston Livestock Show and Rodeo™ celebrate the upcoming annual show with ticketed and free events for the public. Join the fun even before the rodeo action begins, and the world's largest livestock show welcomes visitors from across the nation. Since 1938, the nation's fourth-largest City has been transformed from a bustling metropolis to a down-home celebration of Western heritage. Decorative floats intermingle with thousands of men and women on horseback to fill the streets with hoof beats and marching bands. Enthusiastic Houstonians join out-of-town spectators to line the streets and sidewalks to be involved in one of Houston's most popular celebrations! – rodeohouston.com
Final Word
Houston festivals and parades for families are a great way to make memories with friends and family. There's something for everyone, from large parades to small art shows. You can learn about Houston's history, explore different cultures, and sample some of the best food in the City. It's an exciting way to spend time together as a family. With so many festivals and parades, you will find something that suits your tastes.