Best Biking Destinations for Kids In and Around Houston
Houston might be well-known for its large highways, as well as sprawling buildings, but the region is also home to a lot of green spots. Its hundreds of acres of parks, nature centers, and waterways provide a wide range of outdoor things to do that are enjoyable for the whole family, and riding or walking down one of the area's hike and bicycle trails is an especially good idea for moms and dads, to get young children outside for some fresh air and physical exercise.
Brays Bayou
Houston, TX

Beginning in northern Fort Bend County and flowing East, Brays continues past the Texas Medical Center and the University of Houston, all the way toward the Ship Channel on a tour of Houston's rural and urban landscapes. More than 30 miles of public green space and hike-and-bike trails will run along Brays Bayou Greenway, reaching Hermann Park, MacGregor Park, the Gus Wortham Golf Course, and Mason Park. On either side of the bayou are Houston's largest pedestrian bridges: the Bill Coates Bridge in Hermann Park and the newly-completed Mason Park Bridge. Check out the Houston Zoo, the Museum District, The Orange Show, Rice Stadium, NRG Stadium, and the Astrodome. – houstonparksboard.org/about/brays-bayou
Memorial Park
7575 North Picnic Lane
Houston, TX 77007
713.863.8403

Mountain bikers are especially fond of trails located in the Bayou Wilds, the southwest section of Memorial Park. These trails are color coded with maps at the trailhead signs. Mountain bikers are required to stay on the trail system in order to protect our fragile ecosystem. The trails are mixed-use and shared with hikers; please use trail etiquette such as announcing your presence, being mindful of blind turns, and yielding appropriately to safely share trails. The mountain bike trails are affected by weather and are closed if conditions warrant to preserve the trails. Electric or motorized vehicles such as motorized bikes are strictly prohibited in Memorial Park's southside trail system. – memorialparkconservancy.org
Buffalo Bayou Park
1800 Allen Pkwy &, Memorial Dr.
Houston, TX 77019

Stretching from Shepherd Drive to Sabine Street between Allen Parkway and Memorial Drive, the 160-acre Buffalo Bayou Park is one of the country's great urban green spaces. Enjoy exploring and discovering all the natural beauty Buffalo Bayou has to offer by downloading the Buffalo Bayou Guide below.
Use the map to guide you as you walk, run or cycle along the waterway and visit the many parks and historic areas. The Sandy Reed Memorial Trail, the ten-foot wide concrete trail located on both sides of the bayou, accommodates cyclists, walkers and joggers. The five-foot wide asphalt Kinder Footpath, located along the bayou's banks, is designed to accommodate park visitors who want to enjoy a walk or jog. – buffalobayou.org/visit/destination/buffalo-bayou-park
Terry Hershey Park
15200 Memorial Dr.
Houston, TX 77079
281-496-2177
Terry Hershey Park in Houston, Texas, has more than ten miles of hike and bike trails along Buffalo Bayou, providing a nature retreat in the midst of west Houston's bustling "Energy Corridor." Terry Hershey Park is a 500-acre Harris County park in west Houston, the majority s a network of walking/biking trails that run parallel to a span of Buffalo Bayou from Highway-6 to Beltway-8. On both the north and south sides of the bayou, the park is surrounded by over 40 different neighborhoods. The park is the perfect destination for residents of the surrounding neighborhood as well as visitors from the Houston area.

Acres: 496 Trail Length: 12.2 miles Electric/battery powered transportation is prohibited. – pct3.com/Parks/terry-hershey-park
Hermann Park
700 Hermann Drive
Houston, TX 77004
713-524-5876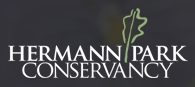 Hermann Park is a great place to come and stretch your legs. Joggers love following the 2-mile Marvin Taylor Trail under the shade of the Park's historic live oaks. Check out a bike at the B-Cycle Station near Lake Plaza and ride over the Bill Coats Bridge to the Park's Urban Forest at Bayou Parkland. The Houston B-Cycle bike-sharing program makes it simple to pick up a bike at a B-station and return it to the same or any other B-Cycle station. Hermann Park has two B-Cycle Stations, one located just off of Parking Lot F behind Lake Plaza on the path between Kinder Station and Miller Outdoor Theatre, the other in Parking Lot C outside of the McGovern Centennial Gardens. – hermannpark.org