Best Sensory-Friendly Activities for Kids in Houston
When raising a child with special needs, it could be challenging to find things to do in the Houston area. Things such as crowds, sudden noise, as well as bright lights can be very overwhelming for them. Fortunately, sensory-friendly activities and events are becoming a lot more common across the city, giving special needs children a number of amazing opportunities to get out, mingle, and make some good memories. Here are sensory-friendly activities for kids in Houston.
Monthly Sensory Friendly Evenings are held in Houston that allow visitors to explore and learn in a stress-free, sensory-friendly setting. Many exhibits are staffed by specialists who are trained to assist visitors with sensory needs, and Pop-Up Science labs are open to the public. Houston's local exhibits usually has a designated quiet room for those who need a break from the action.
Sensory Friendly Day at Children's Museum Houston
1500 Binz St.
Houston, TX 77004
(713) 522-1138

It's a great opportunity for families with children on the autistic spectrum to enjoy the Museum in an environment that's free of distractions. Visitors will see more information indicating which exhibit elements they should not climb on, as well as places where they should pause and wait for an adult to accompany them. Our Sensory Friendly Days are a welcome respite from the constant barrage of sensory input. The following alterations are made to these special occasions: – cmhouston.org/events/sensory-friendly-day
We Rock the Spectrum Kid's Gym
4899 Hwy 6
Missouri City, TX

At We Rock the Spectrum Kid's Gym, we provide Play With A Purpose™. Play With A Purpose is exercising and stimulating any of the seven senses through positive physical, emotional, and social development. These senses include sight, smell, taste, hearing, touch, the vestibular system, and proprioception. Our specially designed, sensory-safe equipment and the classes that we offer all encourage these! – werockthespectrumkaty.com
Exploration Park
15020 Cinco Park Rd.
Katy, TX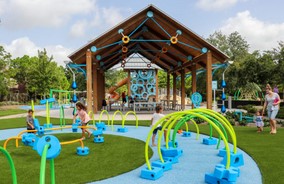 Exploration Park is an immersive public playground alongside the north side of Willow Fork Drainage District's Diversion Channel, just south of Creech Elementary. The design of Exploration Park is rooted in children's play, environmental stewardship, educational principles, and an overall theme inspired by water. It offers visitors a multipurpose play area, an open lawn for unstructured play, and a covered pavilion with picnic tables. Play features include a sensory garden, swings, a musical bridge, a raindrop berm lawn, and a slide tower and bridge connecting to a hill slide. An interactive water cycle wall creates a hands-on experience that demonstrates the water cycle and educational signage encourages water conservation. – willowforkdrainagedistrict.com/parks-trails/exploration-park
AMC Gulf Pointe 30
11801 S Sam Houston Pkwy E,
Houston, TX 77089

If you'd like to get up and dance, stroll, shout, or sing, AMC has partnered with the Autism Society to offer special movie screenings where the lights are turned on and the volume is turned down. Second and fourth Saturday (family-friendly) as well as Wednesday evenings (mature audiences) of the month are reserved for our Sensory Friendly Film program. To find out when the performance is playing near you, use the hashtag #AMCSensoryFriendly on social media.. – amctheatres.com
Sensory Sensitive Sundays at Chuck E. Cheese
17780 State Hwy 249,
Houston, Tx 77064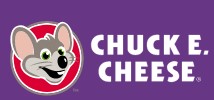 We're delighted to help families with children who have unique needs, including those with autism. Our goal with Sensory Sensitive Sundays® is to ensure that every child who visits Chuck E. Cheese has a great time, because the Chuck E. Cheese experience can be quite stimulating for any child. Because we believe that every child deserves the chance to be a kid and do nothing but play. There will be a sensory-friendly event for families on the first Sunday of each month at participating locations. – chuckecheese.com/sensory-sensitive-sundays
HMNS at Sugar Land
13016 University Blvd.
Sugar Land, TX 77479
281-313-2277

HMNS @ Sugar Land hosts Sensory Friendly Events three times a year where exhibits and locations are adapted to create a sensory-free atmosphere for visitors with autism and sensory sensitivities.. With an ID, you can check out one of the museum's Sensory Backpacks, which includes items like ear plugs, sunglasses, and fidget spinners, or you can utilize one of the museum's Touch Carts, which will include tactile specimens for you to examine around the museum's permanent exhibit halls. To participate in these programs, which begin an hour before the museum opens to the public, you must pre-register online in advance. – hmns.org
Downtown Aquarium
410 Bagby Street
Houston, TX
A 150,000-gallon aquarium filled with more than 100 species of aquatic life from across the world welcomes you to your first dive. Reticulate rays, moray eels, enormous groupers that weigh more than 250 pounds, shovel-nose guitarfish, and a rare napoleon wrasse from Australia are just some of the intriguing critters that will swim right by your table. For the eyes as well as the palate, the Aquarium is an unforgettable experience. The menu of Aquarium Restaurant includes a wide range of seafood options, as well as steaks, chicken, salads, pastas, and sumptuous desserts. – aquariumrestaurants.com
iFLY
9540 Katy Fwy
Houston, TX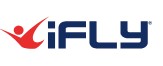 The unimaginable is always achievable at iFLY. We firmly believe that people should be encouraged to dream large and often. Providing people with the tools to achieve heights they never dreamed possible is something we take great pride in doing. Indoor skydiving is open to people of all abilities, so that everyone can experience the thrill of freefall.- iflyworld.com
Houston Ballet's Autism-Friendly
601 Preston St.
Houston, TX 77002

Adaptations are made to Houston Ballet's Autism-Friendly performances for those who have neurological disabilities. The event is staffed by well-trained volunteers to make sure everyone has a good time. Each performance includes participatory activities before and after the show, as well as a chance to meet the performers! – houstonballet.org
Space Center Houston
1601 NASA Pkwy,
Houston, TX 77058
281 244 2100

The IBCCES has classified the science and space exploration learning center as the first Certified Autism Center of its kind. The center's president and CEO, William T. Harris, declared that "science, technology, engineering, and mathematics education is for everyone." Inspiring the next generation of problem solvers is important to us, and this accreditation shows our commitment to doing just that. Training, inspections, and upgrades are part of the accreditation process, which enables Space Center Houston to better serve visitors with autism spectrum disorder and other sensory and cognitive impairments. Maintaining the certification as an autism center also requires a constant focus on providing the greatest possible guest experience. – spacecenter.org