Things to do in Old Spring Texas
Spring, Texas, is a suburb of Houston in beautiful Montgomery County. While it offers its residents a high quality of life, Spring has become a popular Texas tourist destination. This is thanks to a unique development that makes Spring a must-see in the region. Decades ago, as new residential products were being built, older homes were converted into unique shops. This restoration resulted in an area now known as Old Town Spring, with over 150 specialty shops and restaurants. Affectionately called the "mall without walls," Old Town Spring has created a solid economic base in the area through the retail trade and its associated hospitality industries.
But Spring is undoubtedly more than its shopping district. The town supports a population of nearly 40,000 residents who call it home. The average age of residents here is 32 years old, with an annual household income above the national average of $56,662. The area has an affordable cost of living, and many residents choose to own their own homes. While there are many housing options throughout the city, Spring is one of those rare American cities where you can still find some homes under the $100,000 mark.
As you can probably imagine, the largest employment sector in Spring is retail trade. Manufacturing comes in at a distant second but is followed closely by professional services, the sciences and technology, and the manufacturing sector. The wholesale market employs a significant portion of the community, as does the finance and insurance industries.
While the Old Town area provides a solid economic base to the town, it is also a popular gathering place for locals. They enjoy a casual stroll through the site, perusing the unique offerings that merchants bring back worldwide. They take a break in one of the many cafes and restaurants for a quick coffee or a leisurely meal with friends and family.
Additionally, some of the year's biggest festivals take place in Old Town Spring. The "Chair"ity Auction is a unique event where local merchants each decorate a chair to match the themes of their stores. Shoppers can preview these items for weeks beforehand. The auction itself draws guests from throughout the region. Summertime evenings are perhaps the most popular time of year to gather in Old Town. With the heat of the day past, locals gather to chat with neighbors. Merchants offer light snacks and samples of Texas wines. The last Saturday of each month culminates with the galleries presenting an Art Walk of works by local artists.
The town comes to life again over the Christmas Holidays. There are parades, dozens of decorated Christmas trees dotted throughout the city, and a sense of hospitality that you can only get in a small town. Later in the year, Spring becomes a wine and food lover's haven with its Art and Wine Festival. Dozens of Texas wineries and restaurants converge on the town to offer their finest samples. Locals can cruise the city with a plate of food and a glass of wine while listening to live music filling the streets. Food and music again come together for the Texas Crawfish and Music Festival. This is the largest celebration of its kind outside of Louisiana, and revelers consume over 50,000 pounds of crawfish throughout the festival.
Resident & lawyer Joe Cannon agrees that Spring, Texas is one of the friendliest towns you will ever experience. You'll quickly realize there's just no such thing as a stranger to residents here! And with easy access to the major metropolitan city of Houston, you won't want an item. If you are considering moving to Spring, Texas, ask for our free relocation packet today!
Old Town Spring, TX
Old Town Spring is a quaint turn-of-the-century town composed of shops, restaurants, museums, and art galleries. You will find a variety of antiques, collectibles, clothing, and accessories for the home and gifts for all occasions.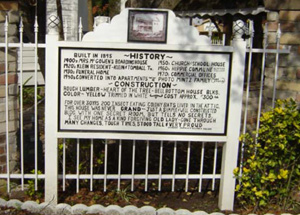 Located near the original rail yards built in the early 1900s by the Great Northern Railroad, our Victorian-style shops have a character, adding to the nostalgia of having "stepped back in time." Some of our shops occupy buildings constructed in the early 1900s for the then-booming railroad town.
The merchants of Old Town Spring travel the globe in search of unique and unusual wares for their shops. We are not a mall! Picture, instead, a place to get outside. Enjoy a leisurely meal at one of the many restaurants offering a tempting array of menus. Bring the children. Bring family, friends, and business associates. Plan to spend the entire day. You and your guests will want to return again and again.
Old Town Spring hosts five major festivals each year: Springfest, Celebration of Easter, Texas Crawfish & Music Festival, the Long Horn Rod Run, PetFest, and Down Home Christmas.
Shopping in Old Town Spring
Old Town Spring has been a favorite destination for many years for Houston area residents around Texas and the world. We have been an attraction for many tourist and convention groups regularly. With our turn-of-the-century setting, we offer an alternative to ho-hum mall shopping. When you throw in our festivals, we provide a fun place to come and bring your family, friends, and out-of-town guests. But what about SHOPPING? Does Old Town Spring enter the thought process when you think about going shopping? You may not realize what Old Town Spring has to offer.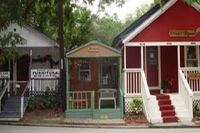 There are approximately 150 shops in Old Town Spring. Each one offers unique merchandise from all over the world. Yes, Old Town Spring has antiques, collectibles, and crafts, but we also have the latest, hottest, in-style merchandise on the market. Whether it is clothing, furniture, home decor, specialty items, or gifts, you can find a wide selection, regardless of your lifestyle. From Country, Victorian, Western, Amish, or Shabby Chic, you'll find it at competitive prices in Old Town Spring. Many merchants sell on the internet all over the U.S. because of their product offerings and prices. Shouldn't you find out what you're missing? We want you to experience the Old Town Spring difference! There is an alternative to the mall. Check us out. Tell your friends, Let's go shopping in Old Town Spring!
Old Town Spring Lodging
Old Town Spring, Texas, just north of Houston, provides one of the most exciting shopping and dining experiences in Texas. This beautifully restored turn-of-the-century railroad town contains more than 150 specialty shops, galleries, restaurants, and museums.
Each harkens to the charm, warmth, and ambiance of down-home memories and fun. Nestled among towering sycamore and pecan trees, the town is proud of its reputation as one of Texas's most popular shopping destinations.
History of Spring, Texas
The Spring area was first inhabited by the Orcoquisac Indians, who relied on fishing and hunting, both of which were abundant. The first merchants in Old Town Spring could be considered the Trading Posts are, known as "El Orcoquisac," established by the French and later the Spaniards, where trade with the Indians was brisk.
In the early 1800s, settlers began to arrive in the area, boosting trade and growth in the Spring area. After Texas gained independence from Mexico in 1836, the same year Houston was founded on the banks of Buffalo Bayou, colonization flourished. For the next nine years, as part of the "Republic of Texas," settlers steadily migrated to the area. Texas became a state of the United States in 1845, and generous land grants were relatively inexpensive for homestead farming, stimulating further growth in the area, primarily by German settlers. Railroads expanded into South Texas after the Civil War.
Railroad tracks were built in Houston in the 1870s, and rapid industrialization began in Houston. Spring was named by railroad workers who were laying tracks to the south during a harsh winter; when they arrived, it was Spring, and they were so excited about the end of winter that they named it "Camp Spring." The I. & G.N. Railroad platted Camp Spring in 1873, and it became a settlement. The word "Camp" was dropped from the name, and Spring became the railroad workers' base of operations. This addition stimulated rapid growth for lumber companies and farmers and job opportunities for newcomers to the area.
Spring experienced consistent economic growth for the next 50 years while the rest of the country struggled. Spring became a crossroads for two intersecting railroad lines in 1901, and it added a roundhouse and 14 track yards. Spring saw the establishment of several businesses in 1902, including an opera house, hospital, lumber mill, bank, hotels, and saloons. Wunsche Bros. Cafe' and Saloon was one of them. Business thrived until 1923 when the railroad relocated its headquarters to Houston.
This action crippled local merchants and other businesses in the area, forcing them to close. Prohibition added insult to injury by moving the saloons to complete, and Wunsche Bros. resisted and was the last saloon to close in Harris County. Along with the Great Depression of the 1930s, Spring was reduced to a small settlement and remained dormant until the late 1960s, when local merchants began relocating around the Spring Cafe' (Wunsche Bros.) to capitalize on the economic growth enjoyed by Houston's oil boom. With the steady growth of merchants in the 1970s and 1980s, Old Town Spring evolved into a favorite destination for customers and visitors worldwide, producing several popular festivals and events such as the Texas Crawfish & Music Festival held each year in April. Old Town Spring is voted one of Texas' top attractions every year.