Are you looking for golf courses in Houston?
You may be searching for the perfect place to get back into the groove of your favorite sport. Fortunately, many golf courses in Houston are open for business as usual. The only thing to remember is that some people may restrict you to cart paths solely for social reasons. So, look at our list of Houston's best public and private golf courses.
Golfing in Houston is made simple by the abundance of excellent options for both private and public courses. After spending lots of time visiting a wide range of courses in the greater Houston area and watching City Tour, people enjoy many of them; here are some of the best golf courses in Houston you can get out and play.
What is the best golf course in Houston?
The best golf course in Houston is the Memorial Park Golf Course. This championship-level course was designed by legendary golf architect John Bredemus and opened in 1936. It features a challenging layout, with long fairways, tight doglegs, and plenty of water hazards to keep you on your toes.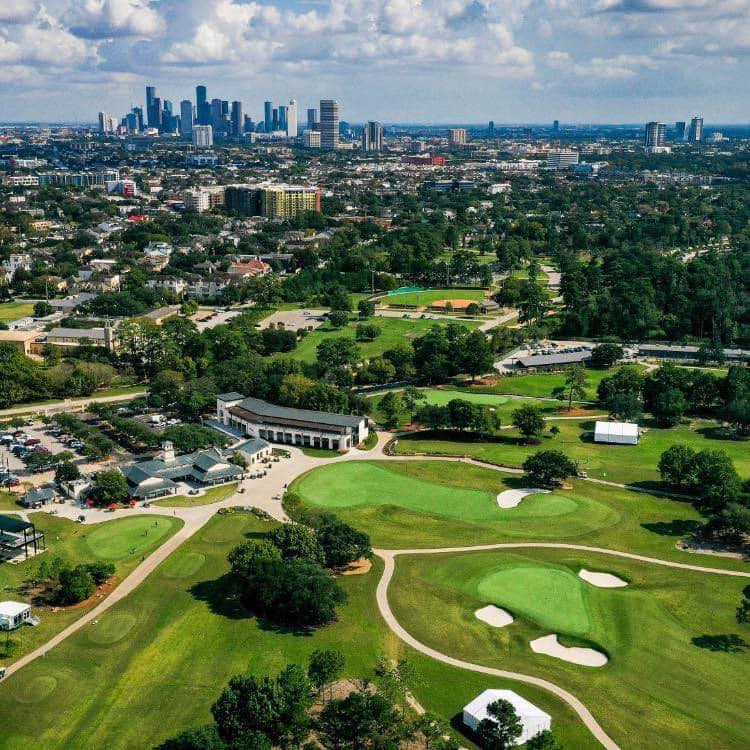 The course also has a variety of tee boxes for players of all skill levels so that you can find the perfect challenge for your game. The greens are well-maintained and provide a smooth, putting surface year-round. The course also offers excellent amenities such as a driving range, practice area, pro shop, and restaurant. With its stunning views of the Houston skyline and rich history, Memorial Park Golf Course is an ideal spot to enjoy a round of golf in Houston.
Memorial Park Golf Course
1001 Memorial Drive, Houston TX, 77007
Memorial Park Golf Course is one of the best municipal courses in the nation and is visited by more than 60,000 patrons each year. 18-hole (Public)
The Memorial Park Golf Course began in 1923 as a 9-hole sand green course built near the hospital at Camp Logan for use by convalescent soldiers. When the hospital closed, the system was opened to the public. In an ambitious effort to enhance parks across Houston, the Parks and Recreation Department began constructing the 9-hole course into an illustrious 18-hole golf course.
Through the years, Memorial Park Golf Course hosted many famous golfers, such as Babe Didrikson Zaharias, Jack Nicklaus, Arnold Palmer, and Jimmy Demaret. It was also the home of the Houston Open from 1951 to 1963.
The 600-acre course offers a lighted driving range, putting and chipping greens, a beautiful clubhouse facility, and a golf museum created from the original clubhouse structure.
Tour 18
3102 FM 1960 East, Humble TX, 77338
Tour 18 provides a unique experience for golfers of all abilities on some of America's most excellent holes. 18-hole (Public)
Tour 18 Golf Club in Houston is a collection of incredible replicas offering one great challenge after another, creating a uniquely memorable experience.
There are numerous amenities at the daily-fee Tour 18 in Houston. Among them is the tour shop, which is stocked with a wide selection of brands and styles and an array of logo apparel and golf-themed gifts.
The practice facility includes a grass-teed driving range. The clubhouse boasts a full-service restaurant with views overlooking the pavilion and the 9th green. Across from the restaurant is an enclosed pavilion with central heating and air conditioning, an ideal structure for post-tournament gatherings, business meetings, and significant events with up to 200 guests. Tour 18 in Houston is an outstanding choice for private golf tournaments.
Greater Houston Convention and Visitors Bureau – Member
Cypresswood Golf Club
21602 Cypresswood Dr., Spring TX, 77373
Cypresswood Golf Club's Cypress, Creek, and Tradition courses were voted "Best Places to Play" by Golf Digest 2002-2005. 54-hole (Public/Private)
Cypresswood Golf Club is one of the most prominent daily fee golf complexes in the southern United States. Situated on over 800 acres of rolling, heavily wooded terrain along the confluence of Spring and Cypress creeks, this 54-hole golf facility offers three unique golf experiences and the finest of playing conditions.
Keith Foster designed the Tradition course at Cypresswood. The Tradition course has been rated the #1 daily fee course in the Houston area by the Houston Chronicle for four consecutive years. The Tradition hosted the first stage of the 2005 PGA Qualifying Tournament.
The Creek and the Cypress courses earned Golf Digest's "Best New Course" ranking in 1988 and 1989, respectively. The golf courses offer a challenging and exciting golfing experience with dramatic topography and are nestled within the native forest of North Houston.
River Ridge Golf Club
3133 Brazos Oak Lane, Sealy TX, 77474
Home of the Dave Marr Cup, River Ridge is known for its verdant greens and fairways and natural design amidst old-growth pecan and oak trees. 27-hole (Public)
Three distinct 9-hole courses, each with its personality, provide the feel of Old World courses built a century ago. Each 9-hole layout is built on over 120 acres, substantially larger than modern-day nines. The result is a grand scale with large forest floors and more than thirty-five acres of lakes and creeks separating fairways and greens. The nine fieldstone bridges over the creeks complete the Old World personality.
The sixty-foot drop in elevation from the clubhouse on the primordial river ridge to the bank of the Brazos River provides spectacular vistas, raised tees and greens, and undulating fairways, unlike anything in the greater Houston area.
Four tees on each hole make the course very playable for all skill levels, beginner to scratch. Every hole is a portrait of what Texas golf ought to be.
Wildcat Golf Club
12000 Almeda, Houston TX, 77045
Wildcat is Houston golf with a touch of the Hill Country…even a touch of Colorado's Rocky Mountain foothills, according to the Houston Chronicle's Eddie Sefko. 36-hole (Public)
Enjoy championship golf with sweeping views of Houston's skyline and 80 acres of lakes, all within one mile of Reliant Stadium. Wildcat golfers tread only the finest turf grasses: TifSport Bermuda covers the fairways and roughs, while TifEagle Bermuda yields smooth, consistent greens.
On both The Highlands Course, with a bit of a Scottish flair, and the more traditional Lakes Course, renowned architect Roy Case has combined playability with exciting challenges to provide golfers with a delightful golf experience, regardless of skill level.
Woodforest Golf Club
6201 Mulligan Drive, Montgomery, TX, 77316
Woodforest Golf Club is a championship golf facility for golfers of all skill levels. 27-hole (Public)
Carved through the majestic pines and towering oaks of northwest Houston, Woodforest Golf Club is a classic design for golfers of all skill levels. Strategically placed bunkers and trickling Fish Creek meander through the course, making shot selection essential. The highly rated TifEagle greens will elevate your putting experiences to a new level. Experience the course designed by the PGA's own Steve Elkington.
Eagle Pointe Golf Club
12440 Eagle Point Drive, Mont Belvieu, TX, 77580
Houston's Eagle Pointe Golf Club & Recreation Complex is a unique facility, combining a top-ranked golf course with a brand new conference center, state-of-the-art fitness complex, and tropical wave pool. 18-hole (Public)
The course is located about 35 miles east of downtown Houston. 18-hole (Public)
Golfers will enjoy the rolling terrain and elevation changes of Eagle Pointe. Mature pines line many holes, with Cherry Point Gully and Old River running through or alongside many holes.
Eagle Pointe is 6,879 yards from the back tees, with a course rating of 72.2 and a slope rating of 128.
Redstone Golf Club
5860 Wilson Road, Humble TX, 77396
Redstone Golf Club is home to Houston's only PGA TOUR stop, the Shell Houston Open. 18-hole (Public) and 18-hole (Private)
Redstone is located just 15 miles north of downtown Houston and sits on a wooded oasis.
The premier showcase for golf in Houston, Member Course amenities include an 18-hole, 7,508-yard championship golf course designed by golf architects Peter Jacobsen and Jim Hardy and a 31,000-square-foot practice range with a short game and putting area.
The Tournament Course, an additional 18 holes of championship golf designed by renowned golf architect Rees Jones, is open to the public and will serve as the home of the Shell Houston Open.
The elegant 33,000-square-foot rock and glass clubhouse features two Pro Shops with exclusive golf merchandise, apparel, and unique Shell Houston Open gifts and memorabilia; dining areas and bar; luxurious locker rooms; and an outdoor terrace with breathtaking golf course vistas perfect for dining and entertaining.
BlackHorse Golf Club
12205 Fry Road, Cypress, TX, 77433
BlackHorse Golf Course has been rated in the top 10 of America's Top 100 Golf Courses for under $100 by Travel and Leisure Magazine. 36-hole (Public/Private)
Located in northwest Houston and open to the public, BlackHorse Golf Club is Houston's number one daily fee facility featuring 36 holes of championship golf, a pro shop, Jake's Grill, a teaching facility, and a pavilion.
Two courses, totaling thirty-six holes, are carved into a lush landscape of lakes, wetlands, and majestic trees. The wetlands are the centerpiece of the North Course, while the South Course offers an authentic sand quarry to test skills. Six sets of tees make it very playable and challenging for golfers of all levels.
Greater Houston Convention and Visitors Bureau – Member
Shadow Hawk Golf Club
4100 Shadow Hawk Dr, Richmond, TX, 77469
Exclusive private golf-only club located in southwest Houston, featuring 18 holes of championship golf designed by Rees Jones. 18-hole (Private)
Houstonian Golf & Country Club
12600 Houstonian Dr., Richmond, TX, 77469
Private golf club in Southwest Houston featuring an 18-hole golf course, teaching center, expansive practice facilities, resort-style pool, and more. 18-hole (Private)
Brock Park Golf Course
8201 John Ralston Road, Houston TX, 77044
Brock Park is quietly tucked into the northeast area of Houston, far from the noise but less than 20 minutes from downtown. 18-hole (Public)
Brock combines risk and reward on many holes and requires good shot selection and execution on others. Greens Bayou comes into play on four holes, and creeks cross four others. Good scores can be found at Brock, provided you stay out of the trees!
The tree-lined course plays to 6427 yards, and the elevation changes are unlike most courses in the area. Additional practice areas include a putting green, chipping green, and practice bunker. The pro shop staff is available for lessons, and tee times are available on weekends and holidays.
Hermann Park Golf Course
2155 N. MacGregor, Houston TX, 77030
The Hermann Park Golf Course is located on 407 acres of Houston's loveliest gardens, parks, and public spaces. <18-hole (Public)
Hermann Park offers a superior golf experience and so much more. Adjacent to the course are Houston's world-renowned Texas Medical Center and the historic Museum District. The Rose Garden blooms for more than 300 glorious days a year. Zoological gardens shelter a vast menagerie of rare and beautiful animals. Hermann Park Golf Course awaits you amid all these treasures.
While playing golf under the majestic emerald canopy of stately oak trees, you readily forget you are in a city teeming with industry. Unwind on the airy veranda of the historic clubhouse, and satisfy your appetite with delicious food and impeccable service.
The first public golf course in America to welcome all races, Hermann Park Golf Course started a rich tradition of golfing excellence that has prospered for over 70 years.
Wortham Park Golf Course
7000 Capitol, Houston TX, 77011
Gus Wortham provides challenges not regularly found in Houston. Elevated tees and uphill carries to greens make you use all your clubs. 18-hole (Public)
The course is situated along Brays Bayou in the south-central area of Houston. It is relatively wide open, making it attractive for all levels of golfers. The front nine features three consecutive par-five holes, two of which you may want to go for in two. Your shot-making skills will be tested on several of the "short but challenging" par fours. Playing to as much as 6400 yards, Gus Wortham is a fun course located only minutes from downtown.
Meadowbrook Farms Golf Club
23230 Meadowbrook Farms Club Drive, Katy TX, 77494
Locally considered the top golf course in the Houston area, Meadowbrook Farms was designed by the legendary Australian Greg Norman and opened in 1999. 18-hole (Public/Private)
Meadowbrook Farms Golf Club is a recipient of the Golf Digest four-star service recognition as one of the top 50 service courses in the country. The Houston area golf course plays just over 7,100 yards from the tournament tees and features world-class greens.
This masterfully designed golf course can be played from 5,000 to 7,100 yards with multiple tees, sod-wall bunkers with white sand, and generous, subtle, and approachable greens.
Houston National Golf Club
16500 Houston National Blvd, Houston TX, 77095
Houston National boasts the highest U.S.G.A. course rating in the greater Houston area. 27-hole (Public)
Houston National Golf Club features 27 championship holes designed by Von Hagge, Smelek & Baril, playable in three 18-hole combinations. Located in northwest Houston, Houston National Golf Club is a family-oriented facility with something for everyone. From junior camps and clinics to couples' golf, we're sure you'll find a home at Houston National.
Columbia Lakes Resort & Conference Center
188 Freeman Boulevard, West Columbia TX, 77486
Nestled within 2,000 wooded acres in the heart of South Texas, Columbia Lakes is a year-round destination located less than one hour from Houston.
Featured amenities include an 18-hole, 7,000-yard golf course weaving throughout numerous tall Texas oak trees and crystal-clear lakes, an 8-court championship tennis complex, and a 300-acre lake stocked with Trophy Bass for your fishing pleasure.
South Shore Harbour Resort & Conference Center Golf Course
2500 South Shore Boulevard, League City, TX, 77573
The South Shore Harbour Resort is a lakeside resort near NASA/JSC. 27-hole (Public/Private)
Escape from it all as you enjoy casual elegance and amenities. Guests can refresh in the 185-foot tropical swimming pool with a swim-up bar, a state-of-the-art 70,000-square-foot fitness center, and two nearby championship golf courses.
All guests have access to complimentary covered parking with direct access to the hotel and guest rooms. Other accommodations featured include a large bathroom with his and her vanities, two telephones, complimentary coffee, in-room movies, room service, hair dryer, iron/board, high-speed secured internet (fee), and exquisite views of Clear Lake.
From casual to dressy, you will be ever so pleased with South Shore Harbour Resort's two on-site venues – Paradise Reef and The Harbour Club Restaurant & Wine Bar.
Business travelers will enjoy using one of the 25 meeting rooms totaling more than 25,000 square feet of meeting space. PSAV is an on-site audio-visual company that provides technologically advanced audio-visual equipment. Combined with prime meeting space, PSAV makes for a productive and exceptionally successful conference at South Shore Harbour Resort.
Augusta Pines
18 Augusta Pines Dr., Spring TX, 77389
Augusta Pines, characterized by small, undulating greens and plenty of water, offers a solid test on heaving land framed by tall pines.
The front nine at Augusta Pines is inspired by the storied back nine at Augusta National, a string of holes imprinted on the national consciousness by The Masters. The layout's incoming nine borrows from Pinehurst No. 2, Oakland Hills, and other classics, though the holes are inspirations, not cookie-cutter copies.
Augusta Pines hosts the annual Champions Tour tournament, the Administaff Small Business Classic.
Final Word
The Houston area provides some of the best golf courses in Texas. From the picturesque public track of Memorial Park to the championship-level private course at The Woodlands, there is something for every golf enthusiast. Whether you're a beginner looking to learn the game or an avid golfer, these courses offer something for everyone. With its great weather, challenging terrain, and variety of amenities, Houston is a great place to hit the links. So why not plan your next round today?