Unique Things to See & Do in Houston
Houston, Texas, is a city full of charm and culture. With its sprawling urban landscape, diverse population, and numerous attractions, it's no wonder that Houston is one of America's most popular destinations for both tourists and transplants alike. From its unique cityscape to the friendly locals that make up the vibrant community, there is something special about Houston that makes it stand out from other cities.
Iconic Food Dishes
If you're looking for a unique gastro experience, there's no better place than Houston. This vibrant city offers some of the most iconic food dishes in the country, each bursting with flavor and character. Let's look at some of Houston's most iconic food dishes, from seafood gumbo to queso burgers and everything in between.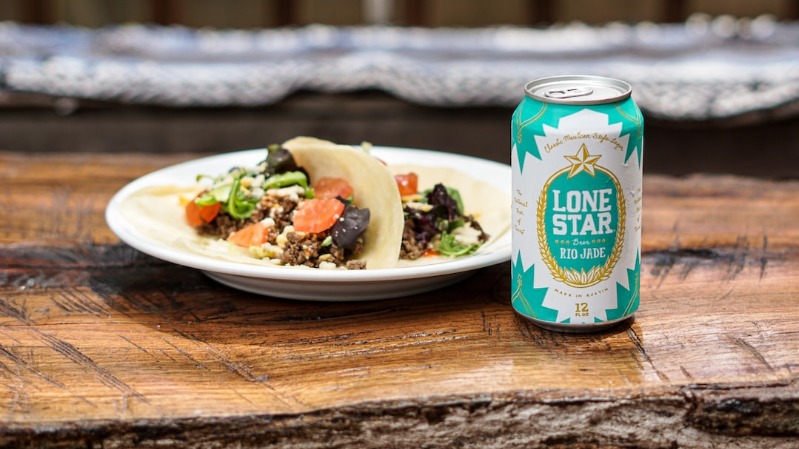 The city is renowned for its fantastic Tex-Mex cuisine, with traditional favorites such as tacos, fajitas, and nachos all featuring heavily on menus across the city. A must-try dish is Chicken Fajita Quesadillas – deliciously cheesy tortilla wraps filled with grilled chicken and bell peppers. For something unique to Houston, try one of their queso burgers; this tasty twist on an old classic is sure to tantalize your taste buds!
Houston's Natural Beauty
Houston, Texas, is known for its hustle and bustle, but it also has a range of natural beauty that can be enjoyed in and around the city. With its big skies, lush green parks, and nearby beaches, Houston offers a variety of unique experiences to explore.
Buffalo Bayou Park
1800 Allen Pkwy & Memorial Dr, Houston, TX 77019
For nature enthusiasts looking for something uniquely Houston, visit the Buffalo Bayou Park, where visitors can find views of downtown Houston along with trails full of wildlife perfect for jogging or biking.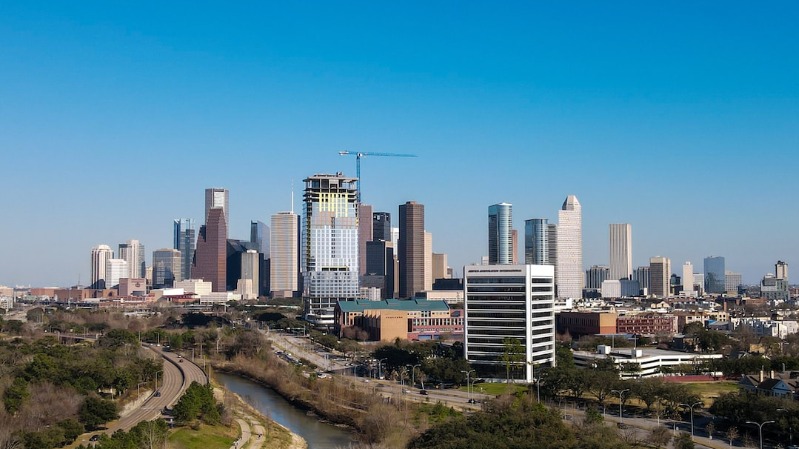 Buffalo Bayou Park offers something for everyone. From bird watching to fishing to picnicking, plenty of activities are available for those looking for a fun day outdoors. For more adventurous guests, there is also an 18-mile hike along the bayou that stretches from Shepherd Drive to Galveston Bay. The park also provides access to scenic overlooks from which visitors can get sweeping views of downtown Houston.
Waterwall Park
1800 Allen Pkwy & Memorial Dr, Houston, TX 77019
Located in the heart of Houston, Waterwall Park is 32 feet high and spans an impressive 60 feet across. Made from pink marble, this cascading semi-circular fountain invites visitors to marvel at its beauty from all angles.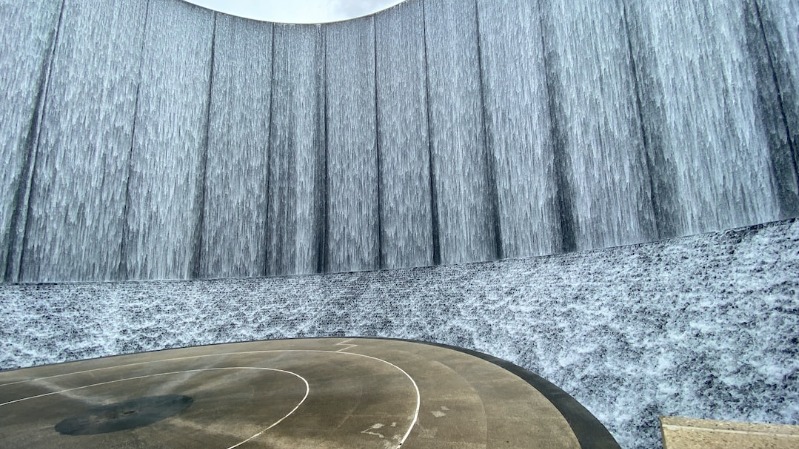 As one of Houston's most famous landmarks, Waterwall Park has become a popular destination for locals and tourists. During the day, visitors can take advantage of its many amenities, including walking trails, picnic tables, and benches – perfect for lounging around in a warm summer. At night, the park's elegant lighting illuminates the area creating an ethereal atmosphere that draws in everyone who passes it.
Mercer Botanic Gardens
22306 Aldine Westfield Rd, Humble, TX 77338
Take a peaceful stroll through Mercer Botanic Gardens near Spring Creek; enjoy over 1500 species of native and cultivated plants while taking in views of wild birds and butterflies along the way. And don't forget to take a break from city life by heading down to Galveston Island, where visitors can relax on sandy white beaches or take tours out onto the waters for fishing or kayaking.
Mercer Botanic Gardens, located in the heart of Houston, is an oasis of beauty and tranquility. This stunning garden is a must-see for anyone visiting the city, as it houses over 2,500 species of plants in its manicured grounds. Covering more than 160 acres, Mercer Botanic Gardens offers something for everyone – from lush tropical gardens to educational exhibits that celebrate Texas' diverse plant life.
Quirky Attractions
Houston offers unique attractions that can't be found anywhere else. From the Beer Can House to Cullen Sculpture Garden, Houston is home to some of the quirkiest attractions in the country. These experiences are even more remarkable because they are all uniquely Houston.
Orange Show Monument
2401 Munger St, Houston, TX 77023
The Orange Show in Houston, Texas, is an iconic destination for locals and tourists. Built by artist Jeff McKissack, the Orange Show is a unique work of folk art that stands out among its peers. The venue has been around since 1976 and serves as a living landmark of Houston's creative energy.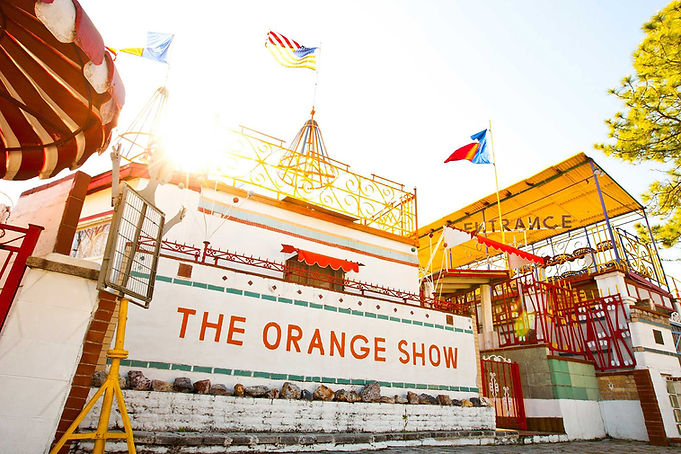 The structure was created with concrete, steel, ceramics, mosaics, and other found objects from McKissack's backyard. Visitors to the show will find winding paths filled with sculptures, murals, and other works of art that honor everything from birds to bicycles. The grand finale for visitors is the giant singing orange sculpture in the center of it – hence where it gets its name!
Since its opening in 1976, the Orange Show has become one of Houston's most beloved attractions.
Beer Can House
222 Malone St, Houston, TX 77007
The Beer Can House, for example, is an iconic landmark constructed from beer cans and other recycled materials since 1968. Located in the Rice Military neighborhood, every part of this house, from doors and windows to fences, has been made from crushed beer cans, bottle caps, and even marbles! This fantastic feat of engineering has drawn thousands of visitors who have come to marvel at its uniqueness over the years.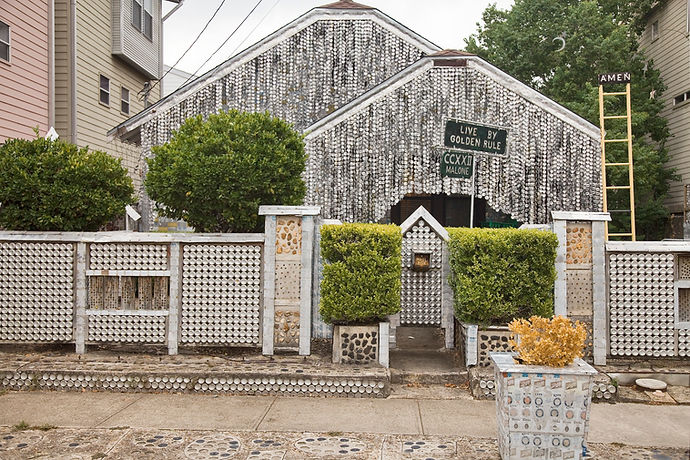 Art Car Museum
140 Heights Blvd, Houston, TX 77007
Since its opening in 1988, the museum has become a popular destination for locals and tourists. It features over 150 cars, ranging from classic models to modern art.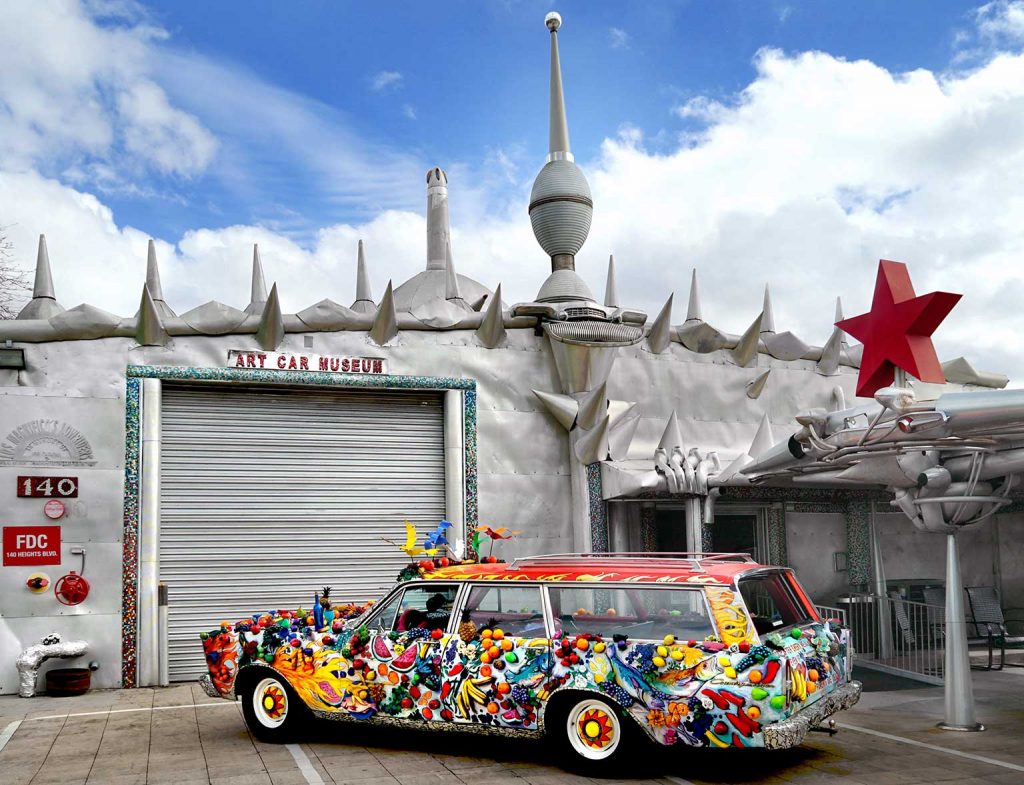 In addition to its enormous collection of vehicles, the Art Car Museum also hosts a variety of educational programs and workshops throughout the year. From lectures on automotive history to hands-on classes on upholstery design, there's something for everyone interested in learning more about automobiles. Visitors can also explore interactive exhibits showcasing aspects of car culture, such as music, street racing, and fashion. With exciting events like these occurring all year round, it's no wonder many people flock to this Houston hotspot!
National Museum of Funeral History
415 Barren Springs Dr, Houston, TX 77090
The Houston area is home to the National Museum of Funeral History. Established in 1992, this unique museum offers visitors an in-depth look into the history and traditions of funerals worldwide. It features many artifacts, from mourning clothes and hearses to embalming tools and urns.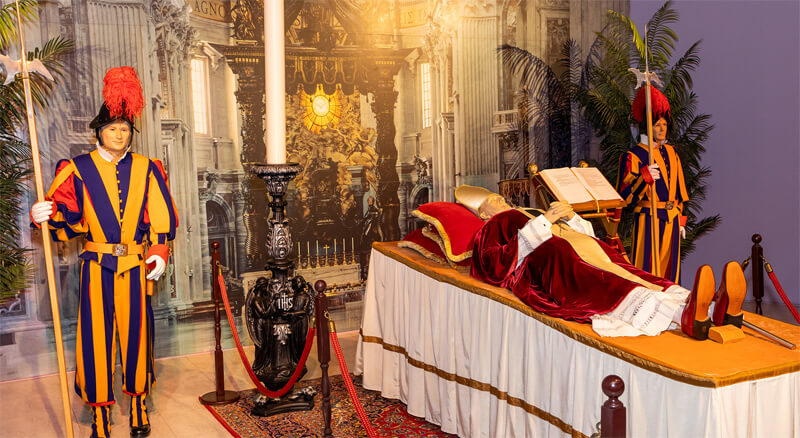 The museum houses more than 20,000 items from various cultures and faiths around the globe, including ancient Egypt and Greece. Visitors can explore galleries dedicated to topics such as funeral services for presidents, views on death in different religions, military funerals, caskets throughout history, and more. There's also a special section devoted to space burials—the practice of placing cremated remains into earth orbit!
Houston Cacti Garden
Houston Cacti Garden is a unique attraction located in the heart of Houston. This garden showcases an array of cacti and other succulents, providing visitors with an exciting experience.
The garden features over 30 species of cacti, including saguaros, prickly pears, and chollas. These plants are arranged in beautiful displays that make for great photo opportunities. Additionally, the garden is home to many rare specimens of plants worldwide.
The garden also offers educational tours and workshops to help visitors learn more about cactus varieties and how to care for them properly. For those looking for something new to do in Houston, a visit to Houston Cacti Garden is an unforgettable experience!
Tonton Macoute Voodoo Shop
Welcome to the Tonton Macoute Voodoo Shop in Houston, Texas! This unique shop is one of a kind and has been around for generations. Dedicated to bringing traditional Voodoo culture to its customers, this spiritual shop offers everything you need for your spiritual journeys.
From traditional voodoo dolls and herbs to books on rituals and superstitions, the Tonton Macoute Voodoo Shop has something for everyone. Their knowledgeable staff can help guide you on your journey or answer any questions you have about the mystical world of Voodoo. Ready-made offerings such as gris-gris bags are also available in-store – pick one up to bring good luck into your life! The store also hosts regular events such as lectures by experts in the field and workshops on making charms and amulets at home.
Cullen Sculpture Garden
Calumet St, Houston, TX 77004
Houston is home to one of the best sculpture gardens in Texas, the Cullen Sculpture Garden. Located on Bissonnet Street near Rice University, it offers a unique outdoor experience that inspires and amazes any visitor. This stunning seven-acre park consists of over 20 large-scale sculptures created by renowned artists such as Joel Shapiro, Henri Matisse, and Ellsworth Kelly.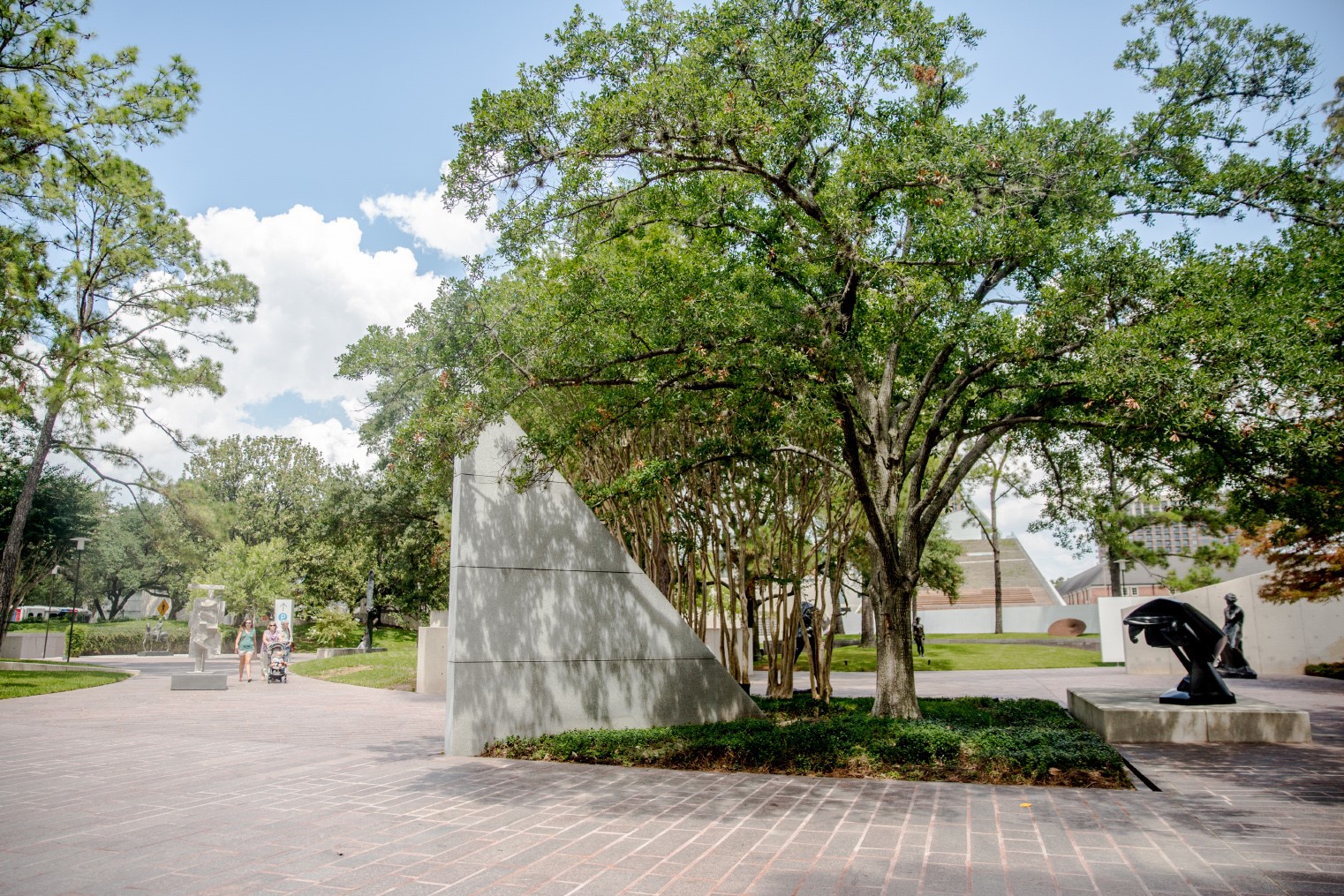 The garden provides visitors with diverse artworks reflecting the past, present, and future while also providing an inspiring view of Houston's cultural heritage. Visitors can take their time strolling through the garden, admiring some of the most iconic sculptures from different eras, including classical Greek and Roman marble or modern contemporary works. Additionally, there are plenty of interactive activities for children, such as an interactive fountain and a playground with swing sets and slides.
Interesting Museums
From science and art to history, you can explore the fascinating culture of Houston in many different ways. Whether visiting for the first time or looking to experience something new in your hometown, these museums offer a unique version of Houston's story.
The Museum of Fine Arts is one of the most popular spots in the city. It hosts over 60,000 works and displays everything from ancient artifacts to modern masterpieces. You can walk through galleries filled with African American art or special exhibitions featuring international and contemporary artists. For those looking for more scientific exploration, The Health Museum offers interactive exhibits on health and medicine. You can learn about genetics and diseases in this museum and even try out some medical equipment!
Houston's Unique Shopping Scene
When it comes to shopping, Houston offers something a little different. Uniquely Houston experiences are available all over the city, from traditional markets to one-of-a-kind boutiques. Whether you're looking for an everyday item or a special gift, there is something for everyone in this vibrant Texas town.
Get Ready for a Flea Market Adventure
The Houston Flea Market is a great place to start your search for interesting items. This eclectic market features an array of vendors selling everything from vintage clothing and jewelry to antiques and furniture. Shopping here is like stepping into another world – you never know what treasures you might find! For those who prefer more modern wares, Houston also boasts numerous malls and shopping centers featuring trendy clothing stores, specialty shops, and department stores.
Shop at an Outdoor Marketplace
From handmade jewelry to exotic food and clothing, there's no shortage of things that can be found at an outdoor marketplace in Houston.
The city is known for its vibrant culture and lively atmosphere. Many outdoor markets feature colorful stalls filled with locally made products, giving visitors a glimpse into the unique history and customs of the region. These markets offer a fun shopping experience where visitors can browse through items while listening to live music or watching local performers. Whether it's exotic spices, handcrafted furniture, or traditional textiles, Houston's outdoor marketplace will have something sure to delight any shopper!
Visit a Quaint Arts and Crafts Boutique
One of Houston's best arts and crafts boutiques is the Artisans Boutique. Located downtown, this boutique offers a wide selection of handmade items from local artisans. From jewelry to pottery to paintings, you can find something unique for any occasion. The store also offers classes and workshops for those interested in learning more about crafting and creating their pieces. Artisans Boutique is a great place to visit for anyone looking for a unique gift or just wanting to explore their creativity.
Another excellent option for an arts and crafts boutique in Houston is The Crafty Corner. This shop specializes in handmade gifts and custom pieces created by local artists. Customers can browse through various items, including jewelry, candles, soap, clothing, and more. They also offer classes for those looking to learn new skills or hone their existing craftsmanship.
Finally, there's The Creative Collective – a one-stop shop for creative things!
Explore Houston's Colorful Bazaars
Houston's bazaars are a great way to explore the city and discover hidden gems you won't find anywhere else. From traditional handicrafts to urban streetwear, there is something new and exciting around every corner.
Whether you're looking for delicious local delicacies or one-of-a-kind souvenirs, Houston's colorful bazaars have it all! Make sure to head to the East End Market for an authentic Mexican shopping experience, where you can buy handcrafted pottery and jewelry from skilled artisans. Or take a stroll through the Old Town Bazaar in The Heights for vintage clothing and finds unique antiques and original works of art.
Discover International Treasures in Houston
Houston is home to some of the best international gift stores in the nation. From handmade goods from Thailand to unique trinkets from French flea markets, Houston's international gift stores have something for everyone. Whether you're looking for a special holiday present or want to experience the charm of foreign cultures, these Houston-area shops will surely exceed your expectations.
Thai Market Place
The first stop on your international shopping tour should be Thai Market Place in Chinatown. Step into this vibrant store and find an array of treasures imported directly from Thailand, including decorative wooden elephants, delicate paper lanterns, and colorful silk scarves.
France Bazaar
Travel further down Harwin Drive, and you'll come across France Bazaar, an authentic French boutique specializing in vintage jewelry and antique furniture.
Notable Residents
With millions of inhabitants, it can be challenging to pinpoint who stands out as most noteworthy; however, some individuals have made their mark on Houston's history and culture.
France Bazaar
One of the most well-known is singer Beyoncé. She was born and raised in Houston and has become one of the most successful artists. She has sold millions of albums and won numerous awards for her singing and songwriting.
Dennis Quaid
Houston is also home to actor Dennis Quaid, who has starred in several popular films such as The Parent Trap, Frequency, and The Day After Tomorrow. He has been nominated for several Academy Awards over his career.
Travis Scott
Another celebrity from Houston is rapper Travis Scott. He rose to fame with his debut album, Rodeo, in 2015 and has since released several critically acclaimed studio albums. His music has topped the charts worldwide and gained a large following due to his unique sound and style.
Houston has been home to many famous names, from business leaders to performing artists and athletes. The contributions these individuals make to their respective fields have earned them recognition both nationally and internationally.
Final Word
Houston is a fantastic city full of unique experiences. From its diverse neighborhoods to its one-of-a-kind restaurants, there is something for everyone in Houston. The city has a strong economy, vibrant culture, and many attractions worth exploring. Houstonians are proud to call this place home, and it offers many opportunities to those who live here. This makes it an excellent destination for travelers looking for something unexpected.