Best Houston Toddler & Baby Classes
Houston parents, rejoice! An array of baby and toddler classes is available for you to join in the city. Whether your little one is a few weeks old or up to three years of age, you can find a class that suits their needs.
Houston offers plenty to offer if you're looking for something educational or just a fun activity for your family. There's something for every baby and toddler from music classes to swimming lessons. Many of these classes teach essential life skills such as speaking and potty training and provide creative outlets like art and crafts. And if you want more than just a class experience, plenty of interactive play centers offer both structured activities and open playtime.
Ready to start getting out and playing with your baby or toddler? Check out some of these activities. For many classes, you can start anytime, even in the middle of a month or session. Your tuition will be pro-rated.
Music Classes in Houston
Music classes have become increasingly popular for babies and toddlers in Houston. With the many music classes offered in the city, parents have plenty of options for exposing their little ones to the magical world of music.
Classes such as Baby Beats, Kindermusik with Ms. Amy, and Music Together are just a few of the musical education centers available in Houston. Baby Beats provides a fun environment where infants can interact with other children their age while exploring sounds and movements that help develop motor skills. Kindermusik with Ms. Amy is an interactive program that helps build social skills and introduces children to essential elements of rhythm, tempo, and melody by using instruments, singing songs, and playing games. Lastly, Music Together allows parents and their little ones to bond through beginning music-making experiences while learning to explore sound together in a relaxed atmosphere.
Locations in Central Houston, Sugar Land, and the Woodlands. Classes follow the Music Together method. Offers mixed-age "Family Classes primarily," along with a few courses for babies only (Birth-8 months). Some types include Spanish and Hebrew for bilingual littles.
Tuition is $280 for ten weeks of 45-min classes. It also includes take-home materials (e.g., a CD with songs from rank).
Sign up for a free demo class here.
Fundamentally Music
Locations in Bellaire, the Heights, and Upper Kirby. Affiliated with the national music education program The Music Class. Offers two kinds of classes: mixed-age Music Pups (4 months-4 years) and Music Infants (4 months-14 months).
Tuition is $200 for 10 weeks. Flexible make-up policies for missed weeks. Call or email to schedule a free demo class.
Locations in West U and Bellaire. The Proprietary Vivaldi Seasons curriculum aims to go beyond the typical baby songs and rhymes, introducing littles to various genres and instruments. $90/month for weekly classes and digital take-home materials. $35/month for additional siblings.
Request more info or a free demo class here.
Crescendo Family Music
508 Pecore Stm Houston, TX  77009
Mixed-age classes for ages birth-5 follow the same Music Together method as Prelude. $195 tuition includes ten classes, two makeup classes, materials (CD, songbook, etc.), a musical instrument-making workshop, and a family sing-along concert with local musicians. Crescendo now also offers an Intergenerational class held at a local retirement community, in which residents are invited to join kiddos in making music.
Some Little Gym locations (Bellaire, Memorial, Katy) are now offering Kindermusic classes. With just a couple of weekly classes, schedules tend to be limited. Pricing starts at $17/class. Find your local Little Gym here and visit their website to book a free demo class.
Memorial Music Together
11612 Memorial Dr. Houston, TX 77024
Mixed-age classes at Memorial Drive Presbyterian Church Tuesday, Wednesday, and Friday mornings. $200 for eight weekly 45-minute classes, $160 for siblings over eight months, and free for siblings under eight months. Take-home materials included. Uses the same "Music Together" approach as Prelude.
14501-C Memorial Dr. Houston TX 77079
They are offering classes for kids from birth onward. Their Mommy & Me type is called "Family Music for Babies and Toddlers," provided for children birth-36 months and their caregivers. $200 for a 13-week session. These 30-minute classes are scheduled every morning Tuesday-Saturday, and Thursday evenings – exact times here.
Music Class at Gymboree
Locations in Central Houston (Post Oak), Memorial, Pearland, Tomball, Missouri City, and Katy.
Though Gymboree is primarily known for its Play & Learn classes (see below), most locations also offer a limited selection of 45-min music classes. Courses are provided by age group: 6-16 months, 16-28 months, and 28 months-5 years.
Exact prices and policies vary by location but expect to pay around $86/month (or $95 in Central Houston). If you're already taking a class at Gymboree, you can add a second class (for the same child or a sibling) for only $50/month. All first-time members also need to pay a $50 o­ne-time registration fee. You'll need to notify Gymboree 7 days before the next billing date to cancel.
3701 W. Alabama Ste 230, Houston, TX 77027
The Motherhood Center has partnered with Gymboree to offer music classes for babies from birth to 8 months (Wednesday mornings) and family classes for birth-3 years (Saturday mornings). Types include songs, playing with instruments, and movement activities—$ 200 for an 8-week session plus a $10 enrollment fee.
Gym Classes for Toddlers
In Houston, parents can choose from various gym classes suitable for babies and toddlers. Styles range from traditional types, such as gymnastics or tumbling, to more modern approaches, such as yoga or dance. These activities allow children to explore different movements, build strength, increase coordination, and develop social skills. Parents can also participate in some classes alongside their little ones, which is a great bonding experience.
These classes provide an opportunity for children to move, learn, create, and play – all under the watchful eye of experienced instructors.  Houston's gym classes help babies and toddlers gain valuable motor skills while having fun simultaneously!
Locations in Bellaire, the Heights, Memorial, Sugarland, Katy, Pearland, Spring, and more. Look for your local Little Gym here. Parent/Child classes are available for babies four months and up, and kids will be separated by age group (4-10 months, 10-19 months, etc.). Pricing varies by location but will run $20-23 per class.
Find class schedules here: (Bellaire, Heights, Memorial).
Gymboree
Locations in Central Houston (Post Oak), Memorial, Pearland, Tomball, Missouri City, and Katy. Gymboree's Play & Learn classes are separated by age group (0-6 months, 6-10 months, 10-16 months, etc.).
If you're enrolled in a Gymboree class, you can come in for free open play sessions at the designated time – a nice addition to the weekly lessons. Gymboree membership includes discounts for Gymboree kids' clothing brands (Gymboree, Janie & Jack) and special events – see here for details.
If you have older children, check out their family classes for kids up to 5 years old.
747 N Shepherd Dr. #400, Houston, TX 77007
Two Mommy & Me classes to choose from 30-minute "Baby Stars" for kids 6-18 months of age, and 45-minute "Discovery Stars" for kids 18 months-3 years old. 10:1 student-teacher ratio in both classes. You sign up and pay for an entire "semester" at once, though a paid trial class is available before signing up. The cost is about $19/class, plus a $50 annual registration fee—up to 4 make-up classes per semester.
Locations in Katy and the Woodlands. Classes start at six weeks old, with multi-sensory exploration through song, dance, lap rides, and baby exercises. As babies age, classes incorporate progressively more challenging physical activities like balancing, tumbling and hanging.  ~$80/month for weekly classes + registration fee.
Toddler Swimming Classes in Houston
Swimming classes are a great way to introduce babies and toddlers to the water and help them become comfortable. Houston has several swimming classes available for children of all ages. Whether your baby is just starting or your toddler is eager to learn, these local classes can provide an excellent introduction.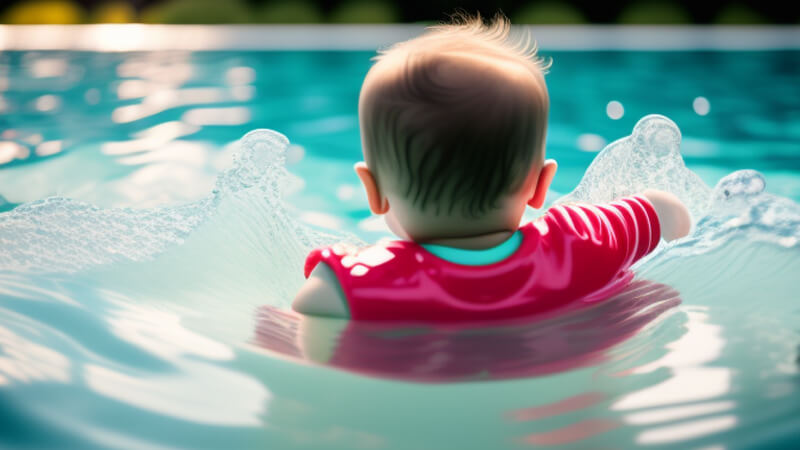 For babies aged six months to 24 months, parent-accompanied lessons focus on early water safety skills and comfort building in shallow water through play activities. Parents can expect their little ones to become more confident in the water while learning basic paddling techniques with support from instructors.
Toddlers aged two years old and up will enjoy the challenge of more independent swim instruction, where they'll be able to build on what they've already learned and gain new swimming skills like freestyle, backstroke, treading water, dives, and more!
West University Recreation Center, 4210 Bellaire Blvd, Houston, TX 77025
Wolfie's offers 30-minute Mom and Me group lessons for babies four months and up.
The pool is heated, and there are no more than eight students in each class. $45 one-time registration fee, plus a $5 monthly fee for families not West University residents. $15/class, with an initial two-month commitment to weekly classes required (and month-to-month billing after that). No make-ups. Seven days are written notice before the first of the month to cancel.
984 Wakefield, Houston, Texas 77018
27020 Cinco Ranch Blvd, Katy, TX 77494
Penguin offers two levels of Mommy and Me classes for babies four months and up. Group classes have a maximum of 4 students; private lessons are also available—heated pool.
Weekly 30-min group lessons cost $78/month, plus a registration fee of $30 per child (or $50 for a family). Slight discount for siblings (or a second class for the same child).
Open swim time is offered 12:00 PM-1:00 PM during the week and 6:00 PM-8:00 PM on Friday evenings. $5 per person (or $15 max per family)
1100 Wilcrest Dr, Houston, TX 77042
Swim Jim stands out from its fellow swim schools with free 20-min baby lessons for newborns (8 weeks to 6 months old, 8 to 1 student-teacher ratio, offered Sunday afternoons). The pool is indoors, and the temperature is kept at 84-90 degrees. After six months, babies can start paid Mommy & Me classes, with several levels based on age (6 to 1 student-teacher ratio). Classes are offered on weekdays and weekends, though options for baby classes tend to be limited. Check the current schedule here.
Weekly 30-min group lessons cost $22 per class; tuition is charged monthly. Semi-private and private lessons are also available. Swim Jim charges an annual $30 registration fee per student regardless of class type.  Thirty days written notice is required to cancel.
There are no guaranteed make-ups, though the school will try to work with you to offer paid make-up in case of illness.
For private lessons in the convenience of your home or condo swimming pool, check out AquaMobile, the largest at-home private swim instruction company in the US/Canada. They work with ages six months and up. Lessons are available daytime, evenings, and weekends and can be rescheduled with 24-hour notice. Instructors all have 3+ years of teaching experience, training/certification, background checks, and insurance.
Various locations throughout Houston
The YMCA offers Introductory and Advanced Parent/Child lessons for babies six months and up. Unlike most other swim schools, which have families sign up once and continue studies in perpetuity, the YMCA offers discrete sessions with specific start and end dates.
The YMCA classes are cheaper than other options and slightly bigger (up to 10 students per class). While rates vary by location, you can expect to pay $65 as a non-member and $50 as a member for four lessons. There are no make-ups offered. The YMCA may occasionally reschedule your class due to dangerous weather conditions.
Pool temperature and location (indoor vs. outdoor) depend on which YMCA you attend. The Tellepsen YMCA downtown has an indoor pool heated to 82 degrees F.
Find your nearest location here, then look for the schedule of classes here. Note that prices are quoted for Facility Members (aka families with a YMCA membership) and Program Members (if you are not a YMCA member, you sign up for a free "Program Membership," which allows you to register for classes).
2717 Saint Street, Houston, Texas 77027
Saint Street Swim offers 30-minute Mommy and Me classes in a heated pool for babies one-year-old and up.
Weekly group classes (4 students max) are $19.75; there is also a $40 annual membership fee per family. No make-ups, and classes are offered on weekdays only at various morning and afternoon times.
Locations in Sharpstown, Katy, Pearland, Cypress, and Sugar Land. Indoor heated pool. Three levels of 30-minute infant/toddler classes (divided by age and ability). Morning and afternoon classes are available, primarily on weekdays. You can start lessons anytime – call for current openings—$ 19.50 per class plus a $45 annual fee per family.
Make-ups are available once per month and cost $10.
If you're looking for private lessons for your baby in your home or community pool, check out Safe Swimming School. They will work with babies four months and up. $49/lesson (with discounts for booking multiple lessons), plus a $35 annual registration fee and a $5 rescheduling fee.
Toddler Communication and Literacy Classes
The importance of literacy and communication cannot be overstated in today's world. These skills are imperative for success, no matter what age group you are a part of. In Houston, TX, there are many options for baby and toddler classes focusing on encouraging the development of these essential abilities.
Little Scholars Academy
9606 Spring Cypress Rd, Spring, TX 77379
At Little Scholars Academy,  parents can enroll their babies and toddlers in communication and literacy classes that foster an environment of learning through fun activities such as story time, singing songs, and playing with shapes. The classes help to teach children life skills such as sharing, taking turns, problem-solving, cooperative play, and primary language concepts like colors and numbers. Parents will also learn tools to help facilitate their child's language development while they engage in age-appropriate activities with them.
$150 for eight sessions
Weekly small-group classes for parents and babies in private homes. The recommended age range is 6 months-2 years, but the instructor works with younger and older kids. Parents learn the how and why of signing, specific signs, and practical tips for signing with their baby. Each week introduces five new characters, and parents practice signing with babies. Symbols are also incorporated into familiar children's songs for practice.
Contact instructor Mimi Vance by email ([email protected]) or private message.
LEAP Studio
5210 Cedar Street, Bellaire, Texas 77401
Weekly 45-minute classes for children ages 15 months-3 years. Tuesday mornings 10:00AM-10:45AM. Each week's lesson offers a variety of themed activities built around a new book each week (e.g., songs, finger plays, dramatizations, arts and crafts, and creative movement). Students also get a literacy bag with a book, activities, and art projects to take home until the following week's class. Classes have 5-10 students. $15/class or $48/month. 20% discount for siblings; siblings under 12 months attend free.
Parents can also learn about promoting literacy in the home at morning coffees and moms' nights out.
508 Pecore St, Houston, TX 77009
Led by a Speech Language Pathologist, these classes teach parents how to interact with their child during play to increase their use of sounds and words, respond to their gestures and sounds, model appropriate language use, and create opportunities for communication in daily routines. Classes meet Friday mornings 10:00 AM-12:00 PM. $180 for six sessions.
Spanish School4Kids
215 W 23rd St, Houston, TX 77008
This new school, which opened summer of 2015, offers Mommy and Me Spanish classes for ages 16-36 months.
1548 Heights Blvd. Houston, TX 77008.
45-minute Mommy and Me Spanish classes targeted at kiddos 18 months-4 years old, though younger babies are allowed to register (and can come free if accompanying a paying sibling).  $100 for a 7-week session for the first child and $85 for additional siblings. Max 8 families per class. Email [email protected] or call 832-867-4804 with questions.
Houston Montessori Classes
Houston Montessori classes offer babies and toddlers an interactive and engaging learning experience. The Montessori teaching method is based on the principles of self-directed activity, hands-on learning, and collaborative play. Parents can be assured that their little ones will receive a high-quality education with experienced teachers in a safe environment.

Montessori schools offer activities such as music, art, math, science exploration, language development, and creative problem-solving. Babies are allowed to explore their environment while developing skills such as balance and coordination. Toddlers benefit from opportunities to engage in activities that require concentration, focus, communication skills, and logical thinking. The curriculum also offers opportunities to practice social interaction, including taking turns with toys or materials during group work.
4660 Beechnut St, Houston, TX 77096
Sarah Moudry offers several Montessori-inspired classes in her new studio. For pre-walkers, there's Montessori from the Start (8 weeks-crawling), Large Motor Movement (crawling-first steps), and Early Communication (birth-12 months). Toddlers can take a Montessori for Young Children (walking-36 months) class or Mommy & Me baking courses in English or Spanish.  The studio space is unique – full of materials to explore, and every detail is designed with little ones in mind.
Prices range from $150 for a 6-week session of 30-minute classes to $325 for an 8-week session of 60-minute classes.
Toddler Soccer Classes in Houston
You want the best instruction when teaching your little one how to kick a soccer ball. Kids' Soccer Classes in Houston are here to offer just that! Whether you have a baby or toddler, these classes are designed for children of all ages, providing them with the opportunity to learn and have fun at the same time.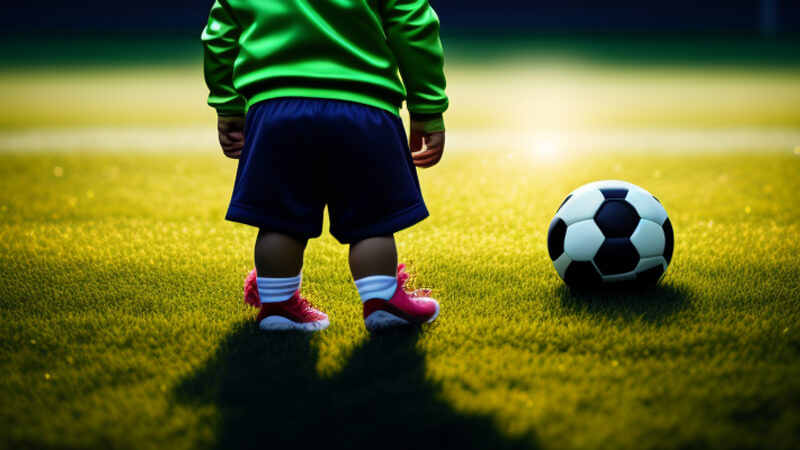 Developing skills on a soccer field is a fantastic way for kids to stay active and healthy. They will be honing their motor skills by running around and understanding teamwork through playing on a team with other children their age. Kids Soccer Classes in Houston will provide youngsters with step-by-step instructions on proper techniques like dribbling, passing, and shooting drills, which can help them become more confident players on the pitch.
These classes are taught by certified coaches who specialize in sports development and education.
Locations at City Centre, Friendswood, Katy, Pasadena, Spring Branch, and Sugar Land. Classes for toddlers include Teddies 1 (18 months-36  months) and Teddies 2 (24 months-36 months). Classes are held on weekend mornings. $300 for ~2.5-month session.
1322 South Dairy Ashford Rd, Houston, TX 77077
Introductory indoor soccer program for ages 2-5.
Cullen Park, 19008 Saums Road, Houston, TX 77084
$75 for an 8-week session (play 2-3 times/week). Cubs class for 2&3-year-olds teaches basic soccer skills and rules – dribbling, shooting, defense, etc.
Dance Classes for Kids in Houston
Dance classes for kids in Houston offer a great way to explore the world of dance and movement. Whether you're looking for dance classes for your baby or toddler, plenty of options can help teach them coordination and creative expression.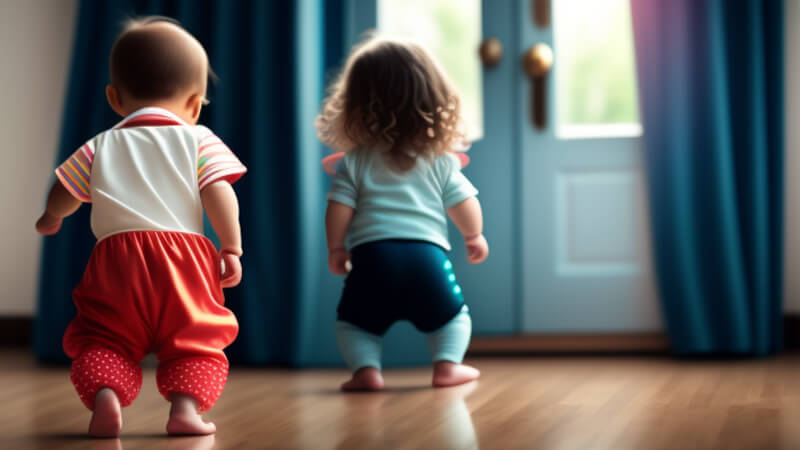 River Oaks Dance
2450 River Oaks Boulevard, Houston, Texas 77019
At River Oaks Dance in Houston, they specialize in early childhood development through dance classes explicitly designed with toddlers in mind. Their teachers use specialized techniques to ensure that each child is learning at their own pace while having fun at the same time. The instructors also strive to create an environment where children can move freely, express themselves creatively, and make friends with other dancers. Parents are welcome to join the class so they can learn how best to support their little ones throughout their journey into learning about dance.
On Tuesdays at St. John the Divine, there will be classes for dancers aged 2.5-3.5 years old. ~$350 per semester.
Tiny Tutus at the Motherhood Center
3701 W. Alabama Ste 230, Houston, TX 77027
Tiny Tutus is a Mommy & Me dance class for kids ages 18 months-2.5 years old. $220 for an 8-week session + $10 registration fee. Classes are on Tuesday afternoons and Thursday mornings.
Tippi Toes
7008 Fifth St, Bellaire, TX 77401
4210 Bellaire Boulevard, Houston, TX 77025
Tippi Toes Toddler & Me classes for kids ages 18 months-3 years old are held at the Bellaire Recreation Center and the West U Recreation Center. Choose from a morning or late afternoon options. Tuition is $50 per month for weekly 45-min classes, plus a $38 registration fee (which includes some Tippi Toes goodies). Students participating in the recital pay an extra $65 for costumes, venue, and unlimited recital tickets.
1322 South Dairy Ashford Rd, Houston, TX 77077
Tumbling Toddlers class for little ones ages 20 months-4 years old: toys, games, sensory stimulation, balancing challenges, singing, playing, and jumping. Saturday mornings. $68/month.
3500 East TC Jester Blvd, Suite G, Houston, TX 77018
Mommy & Me dance classes for toddlers 18 months old and up include rhythm games, basic dance steps in tap and ballet, coordination, stretches, and classroom etiquette. Classes are held Monday or Wednesday evenings and Saturday mornings. The cost is $56/month for a weekly 30-minute class plus a $25 registration fee. If you miss a class, you can make it up at an alternate time. Sign up anytime – tuition will be prorated.
Grace United Methodist Church, 1245 Heights Blvd, Houston, TX 77008
The Creative Movement program for children 2.5-3.5 years old focuses on considerable motor skills, coordination and balance, and classroom etiquette, incorporating ballet and music from around the world. Weekly 30-minute classes are held Monday/Tuesday mornings, afternoons, and Saturday mornings. Tuition is $415 for the year (September-May).
4007 D Bellaire Blvd, Houston, TX 77025
14520 Memorial Drive, Suite 78, Houston, TX 77079
Introduction to Ballet class for 2-year-old boys and girls offered by the Houston Academy of Dance/West University Dance Centre. 45-minute lessons are available on weekdays or weekends.
The class focuses on gross and fine motor skills, exploring music and rhythm, beginning to learn classroom etiquette, and preparing for an end-of-semester performance. 5:1 student-teacher ratio. $412 for a 16-week semester, which includes costumes for end-of-semester performances. No refunds / no pro-rated tuition.
601 Preston St, Houston, TX 77002
Spring Parent and Me classes for 2-year-olds. $250 for a 6-week session + $35 registration fee for new students.
508 Pecore St, Houston, TX  77009
Meeting on Tuesday and Friday mornings throughout the summer, this energetic dance-based class encourages expressive movement & creative play, suitable for boys and girls alike! The course is designed for walkers up to 5 years old, but infants are also welcome—$ 15/class/family. You'll pay a discounted rate of $10-$12/class if you buy multi-class passes.
Final Word
Baby and toddler classes in Houston provide an enriching and engaging learning environment for infants and young children. The city is filled with various programs that allow parents to choose the best fit for their child's needs. From swimming lessons to music classes, there are plenty of activities to help develop skills that will contribute to their overall development. Not only do baby and toddler classes give kids a chance to discover new interests, but they also provide parents with a chance to connect with other parents.