Best Family Camping Adventures Within Two Hours of Houston
A family camping trip is considered one of life's guaranteed adventures, apart from having kids. We know that there is something extra special about a family campout during the summertime. With so many parks and outdoor activities nearby, there is something for everyone to enjoy. Camping is an excellent way to spend time together as a family, learn new skills, appreciate nature, and create lasting memories. Here are some of the best family camping adventures within two hours of Houston that you won't want to miss out on.

If you're searching for a special place to experience nature's natural wonders, we've covered you with our list of best camping adventures near Houston. Check out the list below of the best family camping adventures within two hours of Houston.
Brazos Bend State Park, Needville
21901 FM 762, Needville, TX 77461; (979) 553-5101
Brazos Bend State Park, located in Needville, Texas, is a popular destination for family camping. With more than 5,000 acres of wooded and marshland terrain to explore, there's something for everyone in the family. Brazos Bend is home to numerous wildlife species, including alligators, armadillos, and over 200 species of birds.
Campers can enjoy fishing and canoeing at the park's lakes or take a guided hike with a ranger along one of its many trails. Picnic areas can also enjoy meals outdoors while taking in views of the park's diverse habitats. Brazos Bend provides educational programs such as wetlands walk tours and night sky hikes for those interested in learning more about the area's natural environment.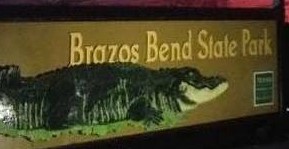 Brazos Bend is one of the last remaining wild places open to the public in the greater Houston area. The park is approximately 5,000 acres of prairie, wetland, and bottomland forest located in SE Fort Bend County along the west bank of the Brazos River. There are about 37 miles of trails. Most trails are open to walking and cycling. We do not provide bicycles. Although we have equestrian trails, we do not provide horses. Rainy weather floods the river bottoms causing trail closings. – facebook.com/BrazosBendStatePark
Galveston Island State Park
14901 FM 3005, Galveston, TX 77554; (409) 737-1222
Galveston Island State Park is an ideal destination for families looking to camp. With its expansive beachfront, fishing spots, and recreational activities, the park offers something for everyone in the family. Located just 45 minutes from downtown Houston, Galveston Island State Park is easily accessible and provides a perfect escape from the hustle and bustle of everyday life.
Camping at Galveston Island State Park has something to offer for all ages. Families can take advantage of the two miles of beachfront access, which allows visitors to build sand castles or go swimming in the Gulf waters. For those seeking adventures off the land, there are plenty of opportunities for fishing in Galveston Bay and Offats Bayou; visitors must have valid saltwater fishing licenses before casting their lines!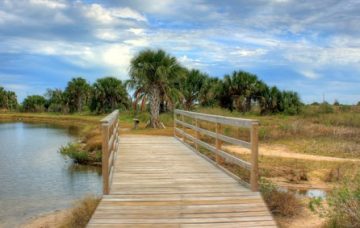 Galveston Island State Park protects 2,000 acres of the upper Gulf Coast barrier island ecosystem. This is the last undeveloped land on Galveston Island that allows public access from the beach and Gulf waters, through the coastal prairie, and into the wetlands toward the bay. Barrier islands like Galveston move and change constantly with the action of waves, wind, and tides. Beaches protect the mainland from storms, while the lagoons, bay, and salt marshes provide crucial habitats for the life cycles of many ocean species. As transition zones between land and ocean, barrier islands support a mosaic of coastal habitats, including beaches, prairies, and wetlands. These habitats host a surprising variety of wildlife. Beaches protect the mainland from storms, while the lagoons, bay, and salt marshes provide crucial habitats for the life cycles of many ocean species. – tpwd.texas.gov/state-parks/galveston-island/nature
Lake Livingston/Onalaska KOA, Onalaska
15152 US Hwy 190, West Onalaska, TX 77360
Discover the joys of family camping with a stay at the Lake Livingston Onalaska KOA, located in Onalaska, Texas. With its picturesque lakefront setting and a wide array of amenities, this popular campground offers something for everyone. Whether you're looking to relax in a peaceful retreat or explore all this beautiful region has to offer, there's plenty to do here!
Take advantage of the sparkling swimming pool surrounded by lush vegetation or participate in fun activities like horseshoes and bocce ball. If fishing is your thing, head out on one of the many boats available for rent and cast your line off into the sparkling waters of Lake Livingston. Kids will love making new friends at the playground or indulging in some s'mores around a roaring campfire after dark.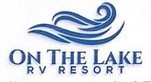 Welcome to the Lake Livingston/Onalaska KOA! Eddie, the local bald eagle, soars overhead here, and that's just one of the many delights at this KOA tucked away in the Piney Woods region of East Texas. The campground wraps along the shore of Lake Livingston, the state \'s second-largest lake. It \'s an ideal setting for boating, swimming, fishing for bass and catfish, relaxing, and even enjoying a lakefront RV Site. Lakefront amenities include a beautiful beach, a marina (with three ramps, covered slips, transient docks, and a fishing pier), a hot tub, and a pool. The clubhouse, with a full kitchen, is great for reunions, parties, and rallies. Enjoy themed weekends (seasonal), planned activities, and concessions. Fido will have fun at Kamp K9. – facebook.com/Lakelivingstononkoa
Splashway Waterpark and Campground
5211 Main Street, Sheridan, TX 77475; (979) 234-7718
Splashway Waterpark and Campground is the perfect destination for family camping trips. Located in Sheridan, Texas, Splashway offers something for everyone with its waterpark and campground amenities. Visitors to the park can enjoy a full day of fun with thrilling water slides, a lazy river, and an expansive swimming pool. Families can also take advantage of the spacious RV sites or tent camping areas.
The campgrounds at Splashway offer many different activities for all ages. Plenty of outdoor activities, such as biking trails and nature walks, are available around the grounds. Kids will love playing on the playground equipment or participating in arts & crafts classes offered throughout the day. There are also free movie nights where families can gather together under the stars! For a truly unique experience, visitors can even stay in one of their magical treehouse cabins!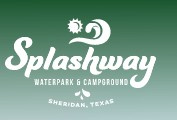 Escape the city and enjoy a family-friendly getaway at Splashway's Texas Campground. Whether camping, glamping, or anywhere in between, Splashway offers year-round fun and relaxation for your entire family. From wide-open space to many family-approved activities to full amenities at every site, we guarantee you'll have a blast at Splashway's Texas Campground. Our Texas campground offers a wide range of lodging options for you to enjoy the great outdoors. Whether you're a seasoned tent camper or prefer all the comforts of home, you'll find something perfect for your family. Our luxurious cabins are excellent for large families and groups, while our cottage rentals offer a cozy retreat for you and your family. Every one of our lodging options comes with its fire pit and access to Splashway's outstanding amenities and attractions. – splashway.com/campground
Lake Houston Wilderness Park
25840 FM 1485, New Caney, TX 77357
The serene beauty of Lake Houston Wilderness Park beckons campers to explore its rustic charm and enjoy nature's bounty. Located just 30 miles northeast of downtown Houston, Texas, the park offers a unique opportunity to escape the hustle and bustle of city life while connecting with family in the great outdoors.
Visitors can take advantage of Lake Houston Wilderness Park's many amenities, including camping, canoeing, and hiking trails for all skill levels. The park's seven cabins are equipped with air conditioning, heaters, private bathrooms, microwaves, and kitchenettes for complete comfort. Families can also bring their tents or RVs – there are over 100 campsites available along the shores of Lake Houston.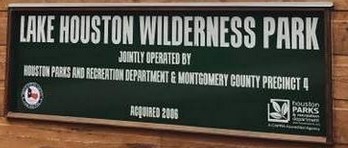 Lake Houston Wilderness Park encompasses 4,786.6 acres of wooded parkland with camping, cabins, trails, and a Nature Center. – facebook.com/lakehoustonwildernesspark
Lone Star Jellystone
34843 Betka Rd. Waller, TX 77484
Lone Star Jellystone is the perfect destination for family camping trips. Located in central Texas, this family-friendly campground has various amenities and activities to make your vacation unforgettable. From swimming in the outdoor pool to fishing at one of the stocked ponds, there's something for everyone to enjoy.
At Lone Star Jellystone, you'll have access to luxury cabins with all the comforts of home and spacious tent campsites where you can spread out and relax under the stars. Plenty of recreational activities are available like mini golf, horseshoes, basketball, and hiking trails. And don't forget about the festivals that happen throughout the year! The Halloween Bash and Summer Block Party are entertaining for kids.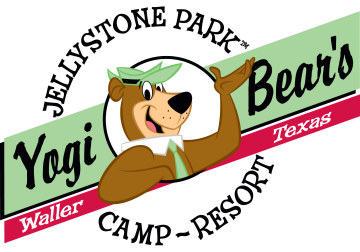 Located in Hempstead, 35 miles northwest of Houston, this Texas campground features cabin rentals, tent sites, and RV camping. Activities around the park include visiting the George Bush Presidential Library & Museum or the San Jacinto Monument. Newman's Castle & Bakery. – campjellystone.com
Final Word
The Houston area has many unique and exciting camping opportunities that are perfect for the whole family. From primitive campsites to RV parks with all the amenities, you're sure to find a spot that fits your family's needs and budget. Whether you're looking for an adventure full of outdoor activities or a relaxing weekend getaway, Texas has something for everyone. So what are you waiting for? Get out there and start planning your next camping trip!