Giant Mural in Midtown Houston
Houston is known for its vibrant art scene, and the city's newest outdoor mural is sure to impress. Located in Midtown, the "Preservons la Creation" mural is an awe-inspiring piece of public art that pays tribute to Houston's diverse culture. The massive mural measured a staggering 40 feet by 30 feet and was painted by local artist Alonzo Gaona.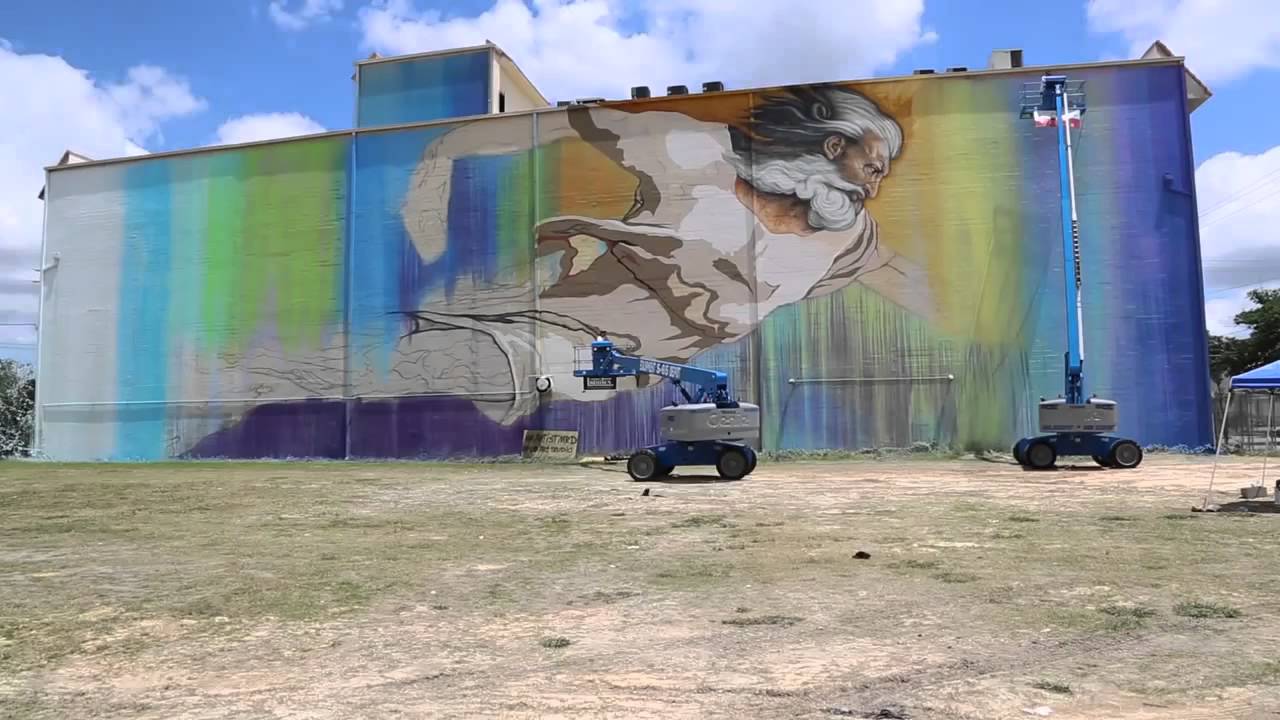 This impressive work of art features a dynamic blend of colors and shapes that bring to life a stunning landscape featuring characteristic Houston landmarks like the downtown skyline, iconic buildings, and lush greenery. Not only does this painting highlight Houston's beauty, but it also serves as a reminder of its cultural diversity. The lines of text inscribed on the wall read: "Let us protect creation.
Artist's Vision
The Houston art scene was graced with a powerful mural to bring attention to the city's creative heritage. Titled 'Preservons la Creation,' French for 'Let us Preserve Creativity,' the mural is an arresting work of art that captures attention and emotions.
Created by artist Mario E. Figueroa Jr., also known as GONZO247, the 32-foot-tall artwork brings together his unique vision of creating a positive dialogue between Houston's diverse communities. He crafted the mural in vibrant colors and bold geometric shapes that are eye-catching and necessary for its message to be conveyed effectively: let us preserve creativity in Houston.
Impact on Community
The Houston community recently experienced a powerful and uplifting event that will leave an impact for years. On May 4th, 2019, the Preservons la Creation mural was unveiled at the Grand Champion BBQ in Houston. This fantastic piece of art was created by local artists Armando Castelan III and Alex "Defer" Valdez, and it features a vibrant color palette with bold geometric shapes. It stands as a testament to the incredible creative talent that exists in the city of Houston.
This impressive mural also serves as an example of how art can be used for positive social change. The mural celebrates diversity, resilience, and hope – fundamental values in today's society. It has inspired people to persevere through difficult times, creating a sense of unity among local community members.
Preservation Efforts
Preservation efforts are underway to ensure the preservation of a renowned mural in Houston, Texas. Titled "Preservons la Creation" (Let Us Preserve Creation), the mural was created by Houston-based artist Sebastien "Mr. D" Boileau and is an ode to environmental conservation and sustainability. Located on the side of an abandoned warehouse near downtown Houston, it is a beacon for restoring nature's beauty and preserving our planet's resources.
The project began when the local grassroots community organization Project Row Houses approached Mr. D, intending to create a visually engaging street mural that would inspire people from all walks of life to take action in protecting our environment. After months of planning and painting, Mr. D completed the vibrant work with a colorful array of figures holding hands around the world and bursting forth from flowers in bloom.
Challenges
The "Preservons la Creation" mural in Houston, Texas, is a stunning and inspiring piece of art. It depicts the beauty of nature and serves as an important reminder about the need for conservation and taking care of our environment. But this large-scale mural also poses unique challenges due to its size and location in a busy city like Houston.
The Preservons la Creation mural was painted by artists worldwide on an 8-story building in downtown Houston. The sheer size of it has proved challenging to maintain, as regular upkeep is needed to keep it free from graffiti, water damage, and other environmental hazards. Additionally, there have been concerns over access to the building due to its position close to major roads, which can put pedestrians at risk when crossing the street or accessing the artwork.
Creative Solutions
Houston is home to the newly completed mural, "Preservons la Creation." This unique public artwork celebrates both creativity and the environment. The mural's vibrant colors and intricate design portray a message that encourages viewers to protect nature's beauty.
Artist John Stoneham first conceived the idea for this art project in 2018. He wanted to create an eye-catching display that would inspire people to appreciate nature and think about ways they can use their creativity to help preserve it. To make his vision come alive, Stoneham was joined by several other local artists who worked together over three months to bring "Preservons la Creation" into reality.
The result is a stunning piece that has quickly become one of the most popular attractions in Houston.
Conclusion: Preserving Creation
The recently unveiled mural "Preservons la Creation" in Houston, Texas, is a powerful call to action for the city's people and beyond. This vibrant mural reminds us all that we must take responsibility for our environment and protect it from further destruction. As an essential part of our shared global heritage, creation must be preserved so future generations can enjoy its beauty and abundance.
The Preservons la Creation mural encourages citizens of Houston and visitors alike to put aside differences to come together with a unified purpose: the preservation of nature. The artwork, painted by local artist Mel Chin, is one of the most visible public works that promote sustainability in the city. The bright colors draw attention from pedestrians and drivers passing by on Highway 59, making this mural difficult for anyone to miss.