Everything You Need for a Great Galveston Vacation
Find out everything you need to know for having a great time on a Galveston Vacation. Galveston attractions range from the many outdoor activities like fishing, sunbathing, boating, and concerts. Then there are all of the restaurants, amusement parks, and special events that make it a great vacation for the whole family. There's something for everyone from great beach activities and nightlife, historical sites, or just a quiet retreat too.
One new thing in Galveston is the parking fees on the Seawall Boulevard. Fee parking areas will include the north and south sides of Seawall Boulevard from 6th to 69th Street and 81st to 103rd Street. The area between 69th and 81st Street will be free of charge. There are signs that tell you how to pay by using a mobile app, the internet, or a smart phone. Parking fees are charged for from 10:00AM to 6:00 PM daily. Parking Fees are $1 per hour, not to exceed $8 per day or $25 for annual pass. .
One of the big events last year was the re-opening of the Galveston Pleasure Pier by Landry's on 25th and Seawall Blvd. The original Pleasure Pier was built in the late 1940's and was very popular. Hurricane Carla ended that in 1963. In 1965 a new hotel was built on the pier, called the Flagship Hotel and in 2008 it was all but destroyed by Hurricane Ike, Does this show somewhat of a pattern here? We'll certainly see how long the Pleasure Pier will last which is entirely dependent on when the next big Hurricane comes a calling.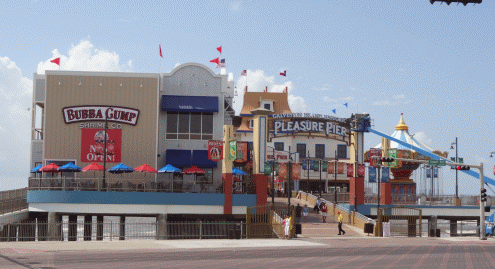 What To Do In Galveston
April is all about Spring weather in Galveston. The days are warm (not hot like in July) and the evenings cool so it's a perfect time to come down for a visit. Fishing is always good since the many species are entering the bay with the water warm up. This year it's been colder so the water is still in the 60's so don't stay in too long.
First up for summer season is the Memorial Day weekend on the 25th of May. This is the annual kickoff for all the special events for this summer. The major holidays like July 4th and Memorial Days have many special shows at all of the biggest attractions. So it's a good idea to check any of the websites of attractions you want to see for specials as many have coupons and more to save you a few bucks. There's something for almost anyone's budget and flavor. You can also go find out all about any of the beaches on Galveston here.
And for other daytime events, there are many local tours such as the 1895 Moody Mansion tours that are great any time. There are so many things to do in Galveston regardless of the season or weather. Just wandering the Strand and seeing the different boutiques and specialty shops with everything from vintage candy to the latest fashions is fun too. If you've never been to the Galveston Cruise Terminal it's two blocks north of the Strand and is a great place to go watch the cruise ships come and go. There are several bars and restaurants to the east where you can watch all the boat traffic coming and going.
Galveston offers more than 30 miles of beaches and many different things to do and see. From the historic Strand shopping area to the many art galleries and museums, there's something of interest for just about any visitor on a Galveston vacation. There are several child friendly destinations like Moody Gardens and their replica of a Tropical Rain Forest, Aquarium and many outdoor attractions that celebrate water and sunshine.
I was down in the Strand shopping area the other day having lunch with some friends at the Star Drug Store. The Star Drug Store is a great place to eat and they have a legit Soda Fountain. The Star Drug Store is the oldest drug store in Texas and is located a few blocks from the Galveston Cruise Terminal. It's definitely worth stopping by. if you remember the old days of soda fountains
at local drug stores like cherry or vanilla cokes. They also have one of the best hamburgers in the Strand shopping area.
So when we came out after lunch we noticed that a Royal Caribbean Cruise Ship had pulled into port. You forget how big these boats are and this one looks like it's coming right down the street. Those building in the shot are 4 and 5 stories tall and the cruise ship dwarfs them even from 3 blocks away.
The Galveston Cruise business is growing by leaps and bounds and is very popular. There are now 4 different cruise lines and ships that call Galveston home. Two of the cruise ships are less than a year old and have every possible feature available. Although the Carnival Triumph had quite an adventure on February 13th and is out of service for the next 6 to 8 weeks, it had no impact on the Carnival Magic which just sailed on February 17th with full crew and passenger load. You can learn more about Galveston Cruises right here: Cruises Out of Galveston.
We have information on many of the popular Galveston vacation packages, attractions, cruises, and different accommodations from motels, hotels, Bed and Breakfast facilities, and beach house rentals. Each can provide a unique experience depending on what you want from your Galveston Vacation.
Galveston Beach Information
Find the right Galveston Beach! Galveston Island has beaches for over 30 miles with plenty of sand, sea, and fun. But each Galveston Beach area can have different rules and many are designed for different activities and even different types of people. There are some common rules that apply to any Galveston Beach area unless otherwise stated.

Before going to any Galveston Beach area, you might want to take a quick look at our Galveston Beach Safety Tips page. Most beaches are safe and present little threat but some basic precautions can keep the possibilities to a minimum. Better safe than sorry.
These rules below apply to all Galveston Beaches and are designed to keep everyone safe and prevent any problems.
No overnight camping
No open fires
No glass containers
No alcohol except East Beach
Pets must be on leashes
No walking on dunes
No four wheelers
No diving into water
Galveston does have an organization called the Beach Patrol that ensures these rules are followed and are highly visible everywhere on the Galveston beach areas.
Another good rule to follow is not to swim within 100 feet of any jetties or piers and never swim in the ship channel. Some areas do have lifeguards but many don't. Never underestimate the power of the surf, even a small 2-foot wave can cause you problems and this is especially true for young children.
You should know that there is an Open Container Law in Texas that is enforced with gusto along the SeaWall and beach areas. This is an automatic $200 fine plus court costs. Any open container that has any alcoholic beverage (even a broken seal) in a moving or parked vehicle can result in a ticket. So be very careful about when you open any alcoholic beverage while in your vehicle.
Galveston is an island but most of the popular beaches stretch from end to end, on the southern side of the island. Here's a map and list of the Galveston Texas beaches from east to west is as follows:
East Beach
(Also called R.A. Apffel Park)
East Beach is the largest beach in Texas and is located on the far eastern side of Galveston Island. If you drive east on Seawall Blvd until it ends, then take a right on Boddeker Road and
follow it to the end (less than a mile) you will be at East Beach. East Beach is unique since you can buy alcohol and drinking is allowed. There are also chairs and umbrellas to rent, bathrooms and showers, snacks and drinks, souvenirs, and an outside bar. There are volleyball tournaments, live music, bikini contests, and other events all summer long. It's loud, rowdy, and definitely for the party crowd. It's open from 9:00 am till 5:00 pm on weekdays and till 7:00 pm on weekends during the summer season. Admission is $8 per car.
There is parking space for about 7,000 cars and it gets full at the height of the summer season, especially on big holiday weekends. So come early to get a good spot.
Beware, you are not allowed to take your own beach umbrella, chairs, etc except for one small area. They rent umbrellas and chair sets for $35 and more. You also cannot leave and come back without paying for parking again so make sure you have everything you need when you go in the first time. East Beach in Galveston is the most popular so get there early to get a good spot.
Stewart Beach
Stewart Beach, located at Seawall Blvd and 6th Street, offers all that East Beach does except alcohol and also has a children's playground. It's much more laid back and family oriented. Same cost, $8 per car, and same operating hours. They do have Community Rooms for rent for company parties, family events, wedding receptions, and etc. You can call 409-797-5182 for more information on rentals and availability.
Seawall Beaches – 16th Street to 61st Street
There is public access from all along the Seawall Blvd and free parking is available. There are no facilities, bathrooms, showers, or anything. Just miles of open beach that many people like to walk along or sunbathe. Great for a quick stop to look at the ocean and waves. There are steps every so often for access from the street level down to the beach.
The area directly west of the city offers three smaller beach areas that are open daily from March to Labor Day and on the weekends in September. These Galveston Beach areas are popular but have less people to deal with and some great features.
Sea Gull Shores Beach Pocket 1
This is located at the 71/2 mile Road along FM 3005 (Seawall Blvd turns into FM 3005). This area was still being worked on from the ravages of Hurricane Ike and may or may not be fully open until April. So there may be facilities like a pavilion, restrooms, and parking when it does open again. But check before entering.
Sand Castle Beach Pocket Park 2
Sand Castle Beach is located at the 9 mile Road along FM 3005 (Frank Carmona Pocket Park 2) and includes a public beach pavilion, an educational wetlands preserve, beach access points, and public & private parking.
Sea Shell Beach Pocket Park 3
Sea Shell Beach is located just west of the 13 mile Road along FM 3005, offers 10 acres of beaches, a beach pavilion, showers, a snack bar, beach chair rentals, picnic tables, and wheelchair accessibility.
Galveston State Park
Right after Pirate's Beach subdivision and 13 Mile Road is Galveston State Park. The park was created in 1975 and has over 2,000 acres of space. Entrance Fee is $5 per day, per persons 13 and older and camping is available. A maximum of 8 people and 14 days per campsite (out of 28 day period) and there are RV hookups also. Besides admission there are $15 to $25 campsite fees depending on the facilities. The State Park is open 7 days a week all year.
Far West End Beaches
After Seawall Blvd splits and the seawall ends, there are many beach access points that go all the way to the end of the island. I've never measured the distance between them but it seems like in many places they are only about a mile apart so there are quite a few. These free beach areas are clearly marked with blue signs that have Beach Access written in white letters. All of these areas are public but have no facilities or lifeguards.
Well, there you go, that sums up the Galveston Beach areas from one end of Galveston to the other. There is something for just about every kind of beach lover. The busiest times on all the Galveston Beach areas are May through September. But some of the best times to go are when the crowds aren't around in early spring or late fall. And the weather is often mild all through he winter months too.