Best Murals in Houston Downtown
In Houston, the street art scene is flourishing! If you have even the slightest appreciation for street artwork, you need to take the time to visit Houston's lively collection of murals. There are over 100 murals throughout the downtown area. However, here are the top must-see murals the next time you're in the town. All these murals are on Instagram Worthy.

Houston's Street Art & Murals
Street art is a staple of any city's artistic presence, and new residents can get a feel of Houston by gazing at the various colors the town is composed of. Rated the most diverse city in the U.S. by WalletHub in 2019, the same sentiment extends to the various artists and stylistic choices that create the city's local art scene. Whether crafted by unknown, independent artists or commissioned by professionals, each art wall in Houston has a story in itself that reflects the citizens' values and personalities. Show off your new home to your friends on social media by celebrating its vibrancy — the famed mural walls of Houston are not only inherently Instagram-worthy but also rich in the city's culture.
HOUSTON IS INSPIRED – Mural
313 Travis St. Houston, TX 77002
Hip, colorful mural & Houston tribute that's a popular backdrop for photo sessions. On the corner of Preston Street and Travis Street. It's at a parking lot – so there is no worry about finding a place to park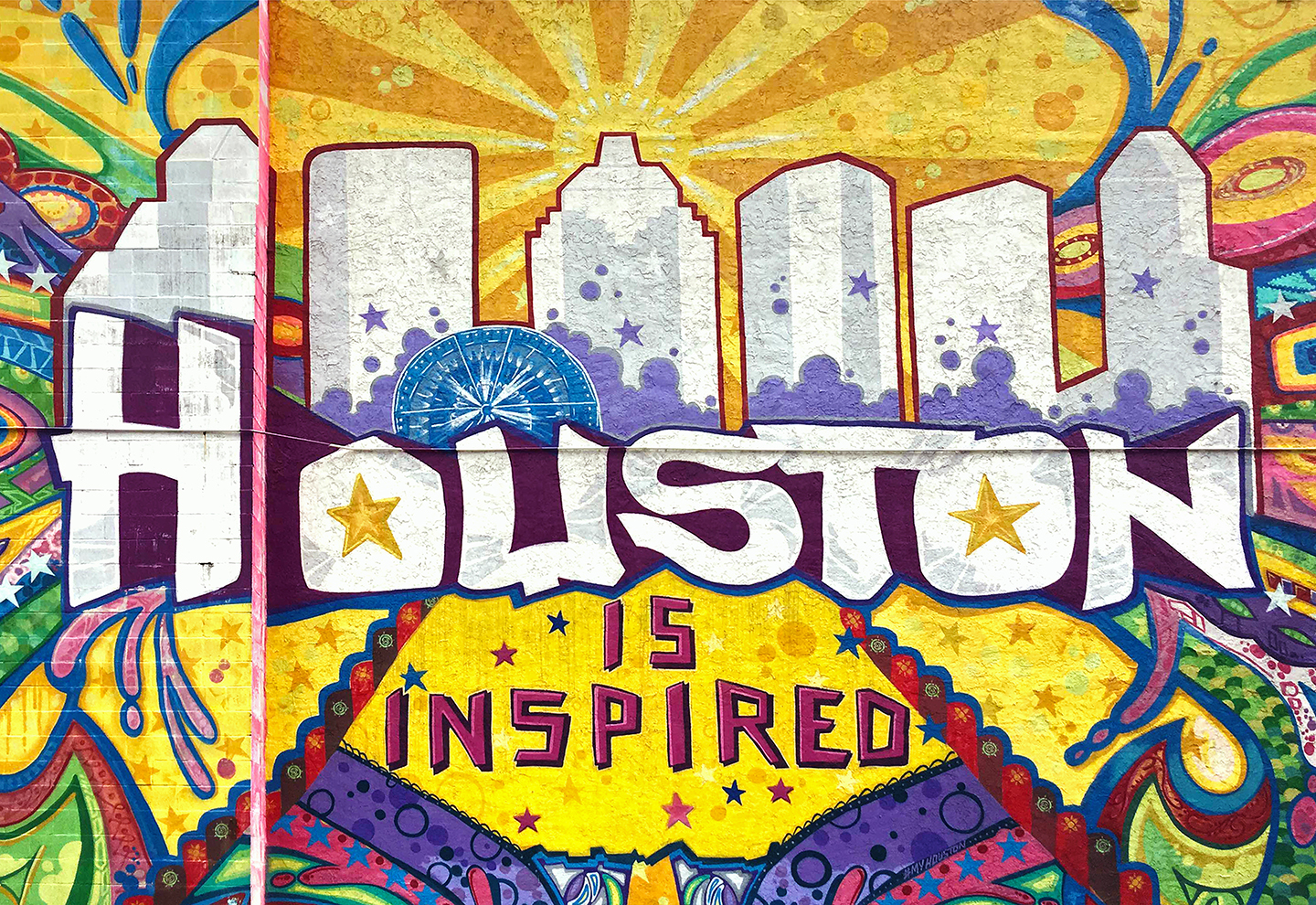 The famed mural rested at the heart of downtown and was created by Mario Figuera Jr., also known as Gonzo247, one of the unofficial curators of Houston's street art scene. The colorful wall was made due to the Greater Houston Convention and Business Bureau's "Houston is Inspired" initiative, which emphasizes the city's thriving culinary and art scene.
GREETINGS FROM HOUSTON – Mural
3602 White Oak Dr. Houston, TX 77007
Large artwork with iconic images of the city, suitable as a backdrop for a souvenir photograph.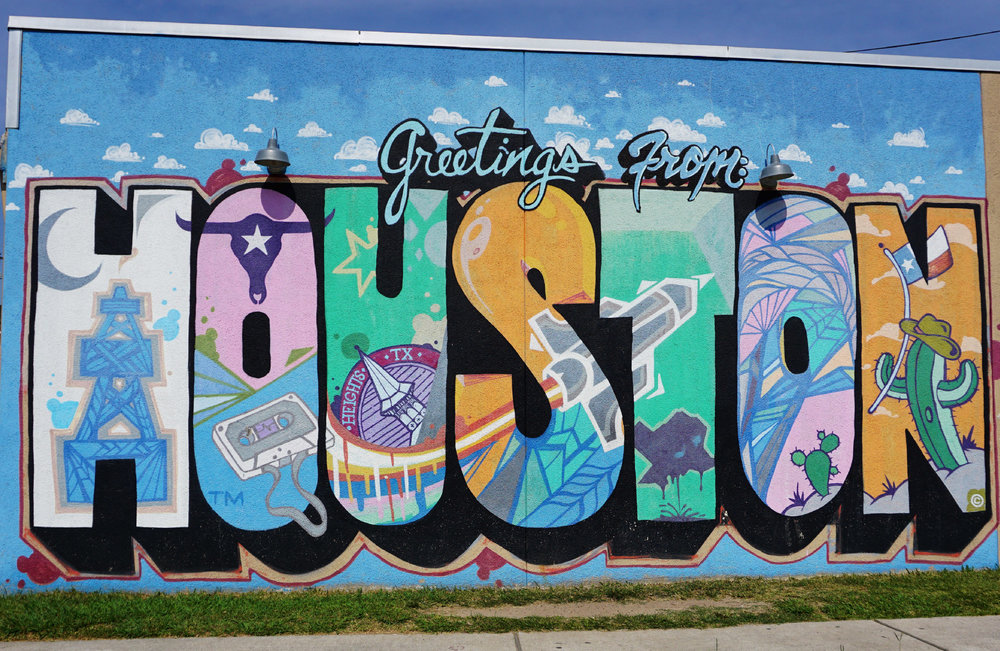 The vibrant salutation sums Space City up nicely. Local artist Daniel Anguilu, inspired by his travels and Mexican heritage, incorporates Houston's iconic imagery into a warm and welcoming design. By blending color with creativity, Anguilla makes home an area of animation and endless possibilities.
PRESERVONS LA CREATION – Houston Mural
2800 San Jacinto Street, Houston, TX 77004
Houston's most enormous mural is at the corner of Fannin and Tuam in Midtown. This mural is in a parking area, so you don't have to worry about finding a place to park. Probably best to go during the day for the best lighting since this mural is not lit at night.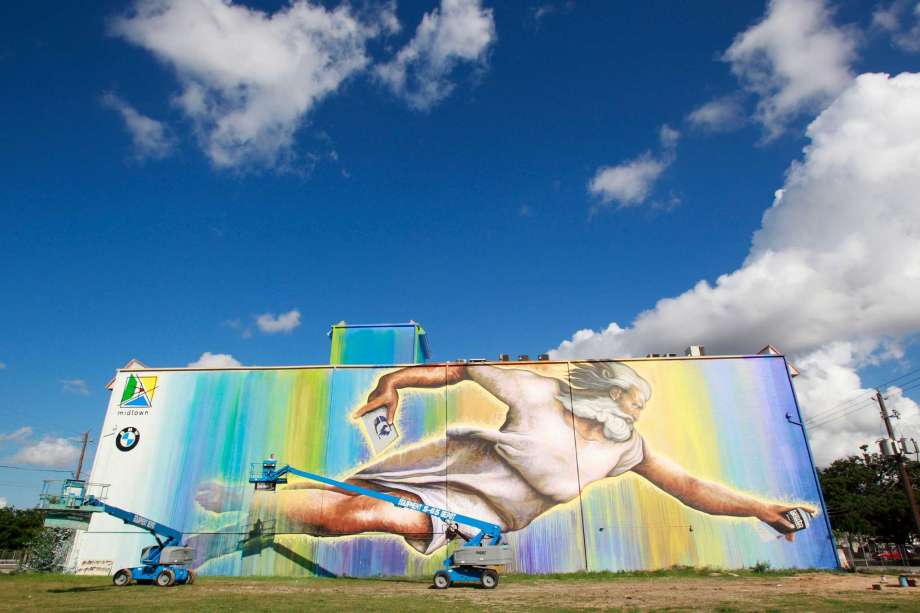 The enormous mural in Houston is an ode to preservation and conservation. Urban real estate developer Adam Brackman enlisted muralist Sebastien Boileau to create a work emphasizing the importance of transitional neighborhoods. Boileau's work is inspired by Michelangelo's "The Creation of Adam," and its looming nature towers over the constantly-developing city.
SPACE CITY MURAL – Houston
Winter Street Studios, 2101 Winter St., Houston, TX 77007
Directions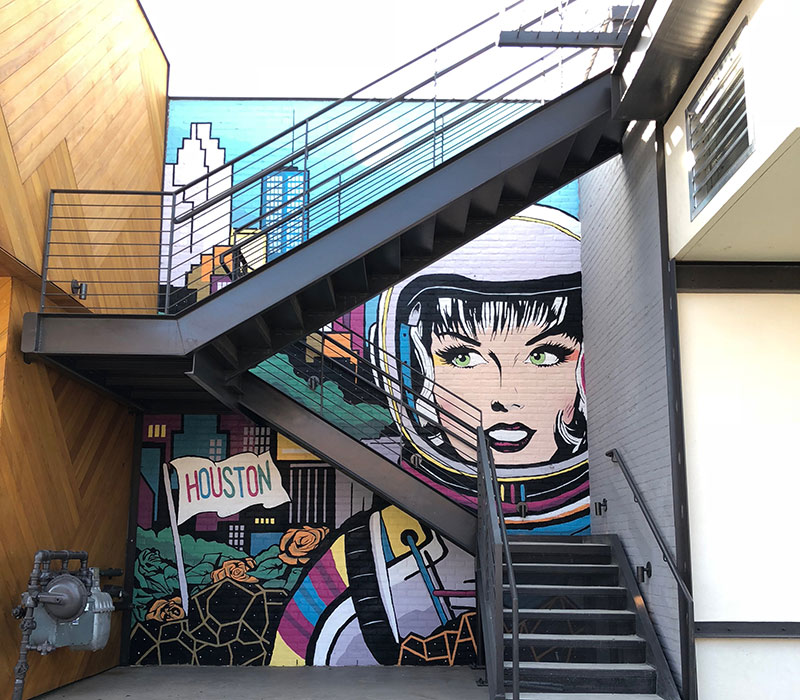 The distinctive style of local artist Michael Rodriguez can be found anywhere from shopping districts to graffiti parks. Emanating a charming, vintage feel, Rodriguez adds a pop of color to visualize Houston's undeniably bright and fun demeanor.
CHANGING LANGUAGE, CHANGING WORLDS – Houston Street Art
The Printing Museum, 1324 W Clay St., Houston, TX 77019
Directions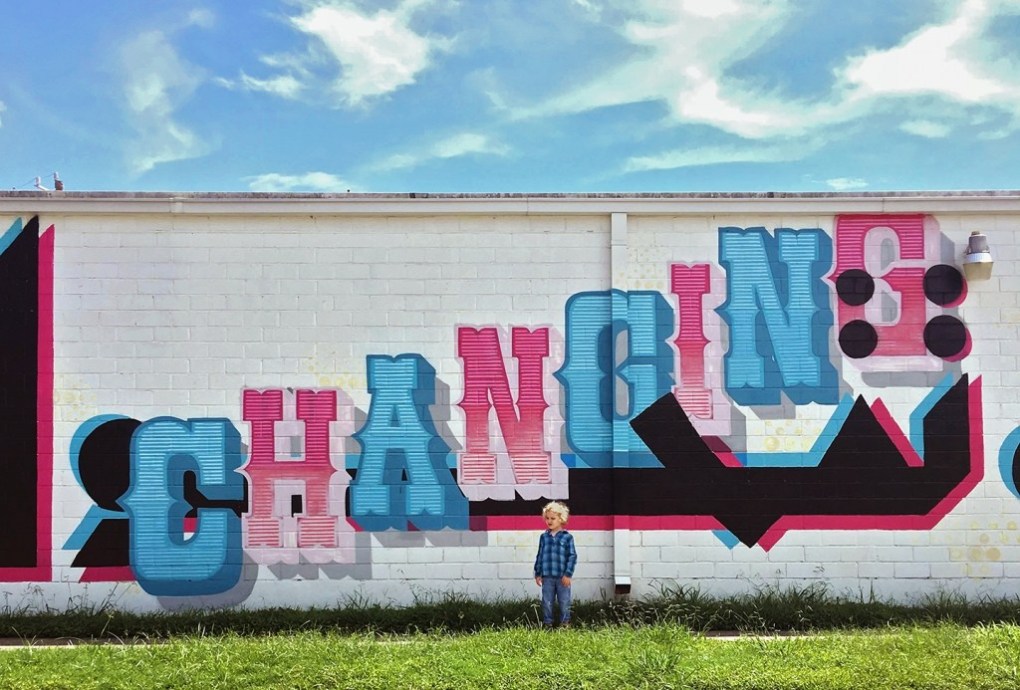 The collaborative piece by pseudonymous artist DUAL and award-winning design studio 29 Letters uses bold and bright lines to symbolize diversity and branching away from normative society. The studio, specializing in contemporary Arabic and multilingual typography, wanted to create a project that bridges the divide between languages, ethnicities, and nationalities, resulting in something representative of Houston's diversity.
BISCUIT PAINT WALL – Houston Street Art
1435 Westheimer Road, Houston, TX 77006
Directions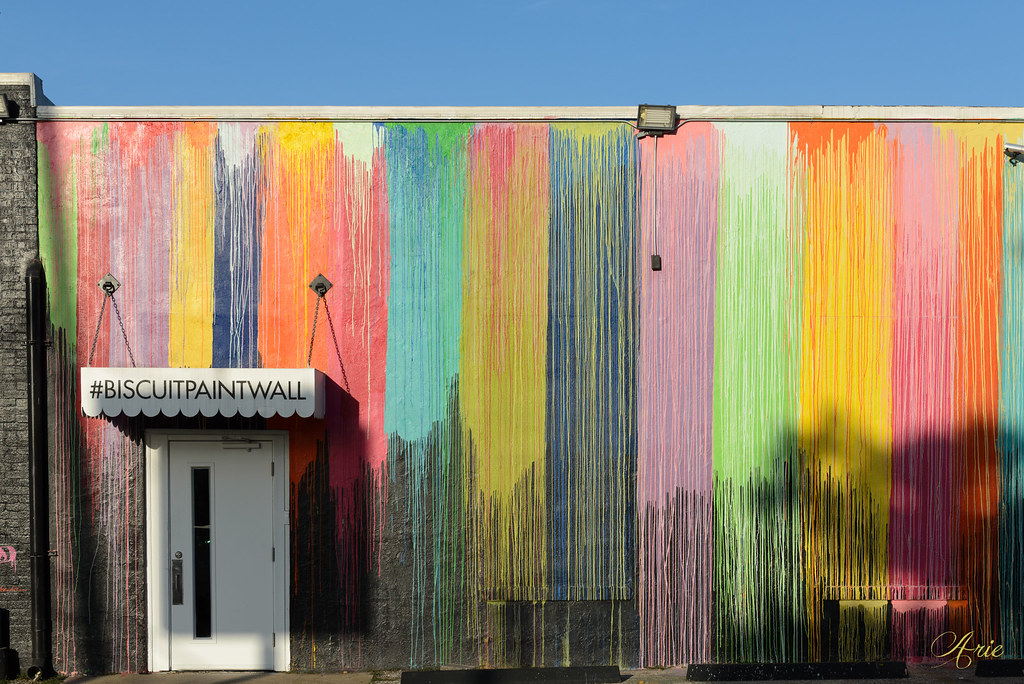 The colorful paint wall is a staple of the city's street art scene. Widely considered one of the most Instagrammed walls in Houston, the dripping rainbow is a sure hit with your friends online to fawn over from afar.
Hummingbird Wall Mural
This gorgeous hummingbird piece is on the side of Frenetic Theater. On the corner of North Adams Steet and Navigation Blvd. This Mural has probably seen better days.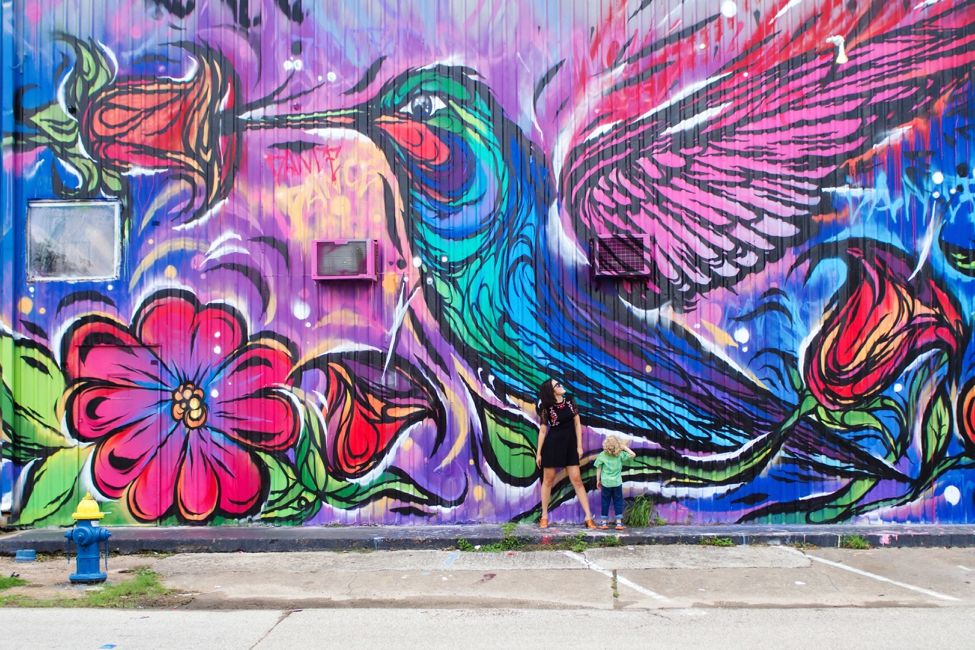 Zippers Wall
1513 St Emanuel St. Houston, TX 77003
This particular wall was made by Risk Rock, aka Kelly Gravel, and is in a spot encircled by other murals. This probably should be your first stop for murals. There is a lot to see, and it could change over time. It is constantly evolving since local artists tend to showcase their work in several different spots. These are collective murals from a different artists. These murals are on the corner of Leeland Street and St. Emanuel St. Lots of parking area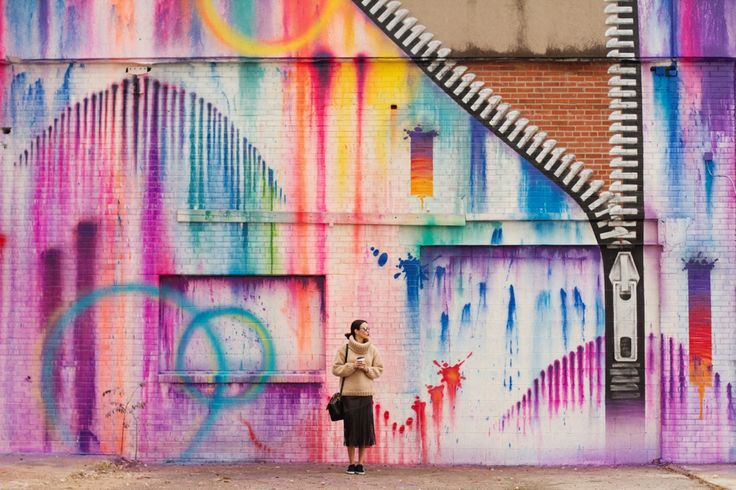 LOVE WALL HOUSTON
333 S Jensen Dr. Houston, TX 77003
Fall in love with this adorable wall decorated with hearts of all shapes and sizes on the side of the building Talento Bilingue De Houston. There are two different walls with murals. Best to view this from the side of the building – on the main street S. Jensen Dr. Lots of parking in front of the building. This one will be an easy one to spot. This mural, too, changes and may not always be the same. It is called 'Hearts of Mural,' but it constantly evolves with different guest muralists.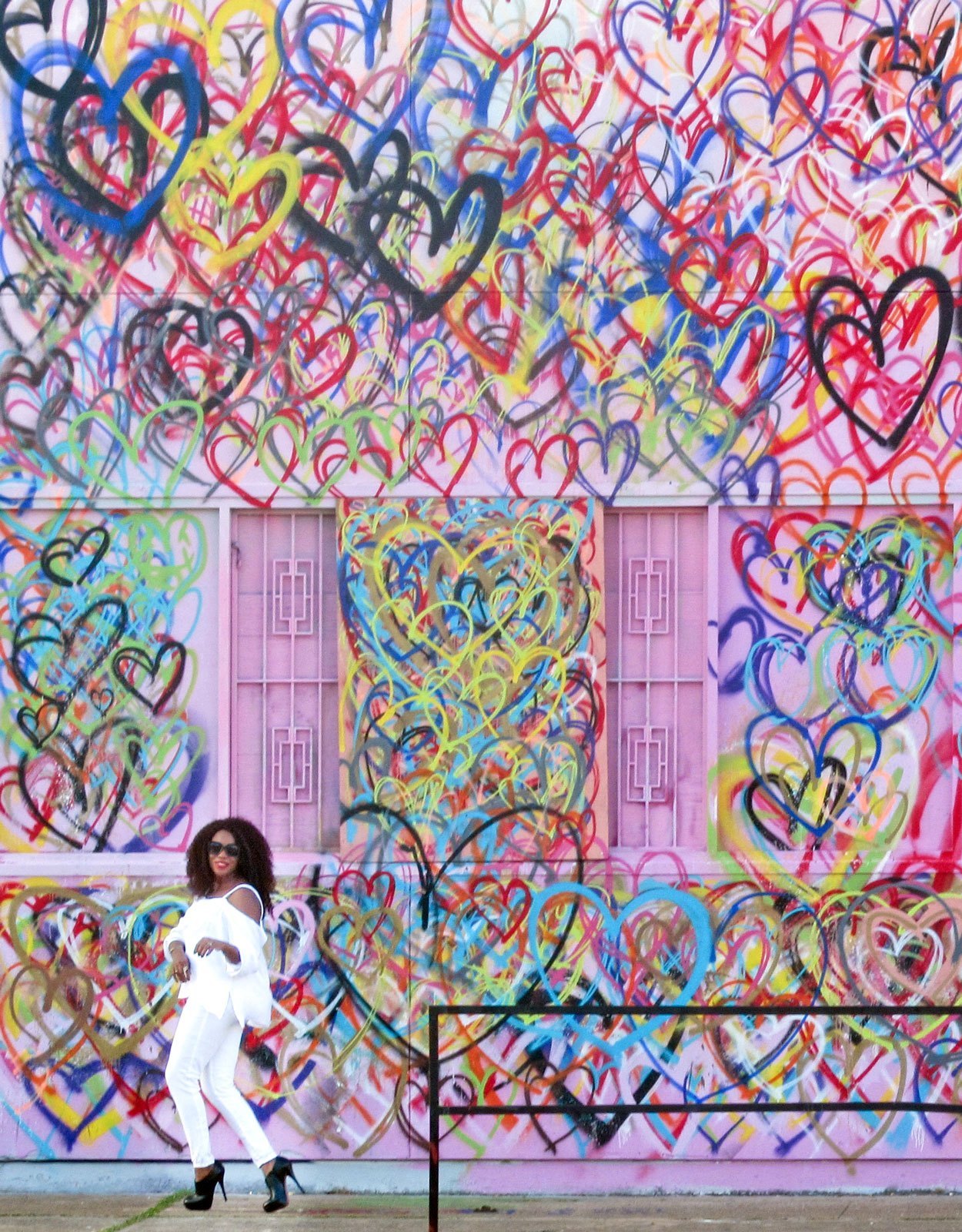 Another essential for your inner influencer, the Love Wall, sends a message of compassion with its bold colors. It may be that every heart spray painted on the wall symbolizes one of a Houstonian — in that case, you're in good hands.
PINEAPPLE – Houston Mural
1213 Maury St, Houston, TX 77020
Directions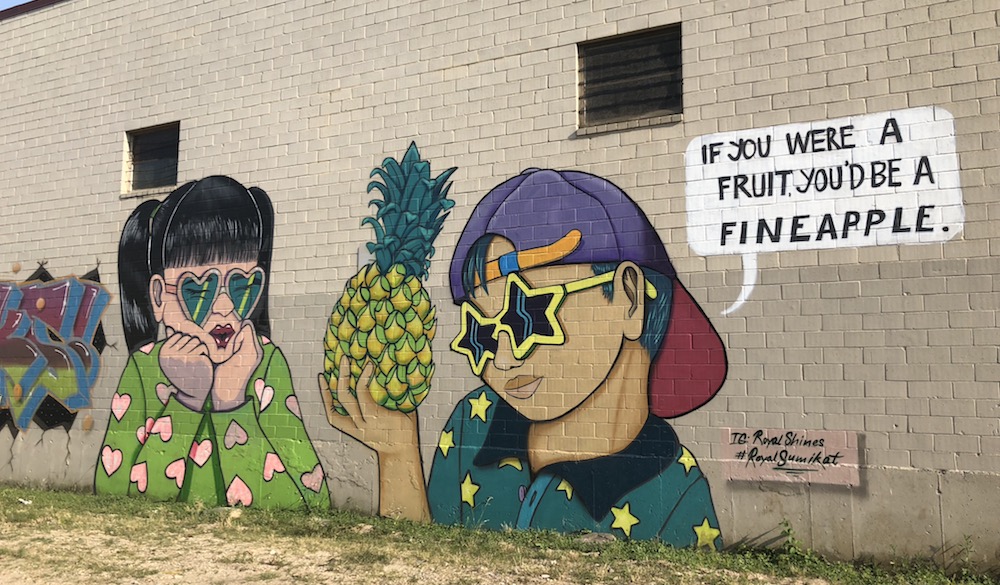 Take your sweetheart to Phillippines-born, Houston-based artist Royal Sumikat's bold mural as a cheeky gesture. Sumikat's love of symbolism and high-contrast colors brightens Houston's streets with endless wit and humor.
THE ABSTRACT HAPPY BEACH WALL – Houston
800 Chartres Street, Houston, TX 77003
Directions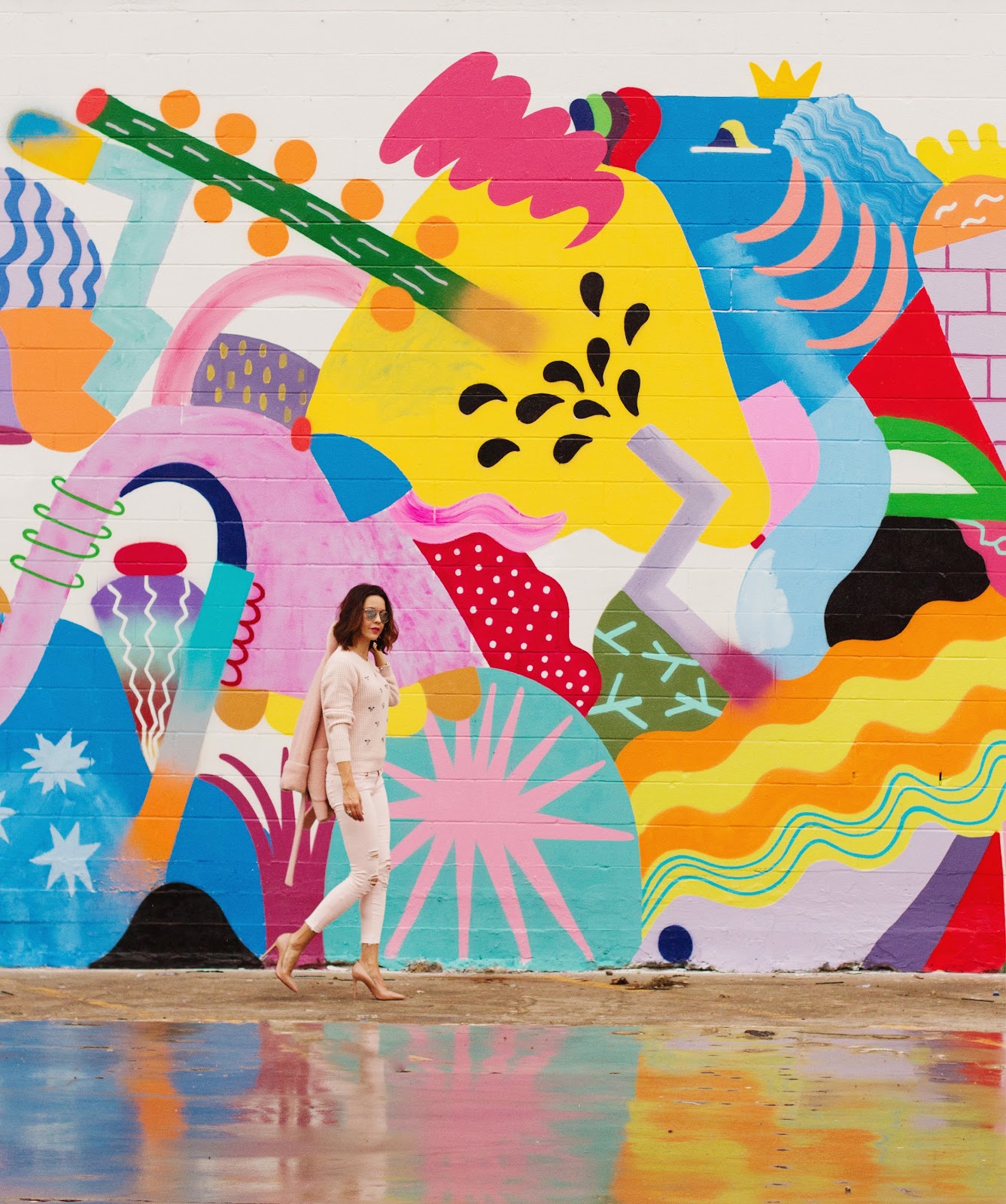 The abstract and bubbly beach wall was made by Barcelona-based husband and wife duo Zosen and Mina Hamada for Houston's Hue Mural Fest. It shows that Houston welcomes a variety of international talents, significantly when contributing to the city's liveliness.
BLACK AND WHITE WALL – Houston Street Art
2101 Polk St. Houston, TX 77003
Directions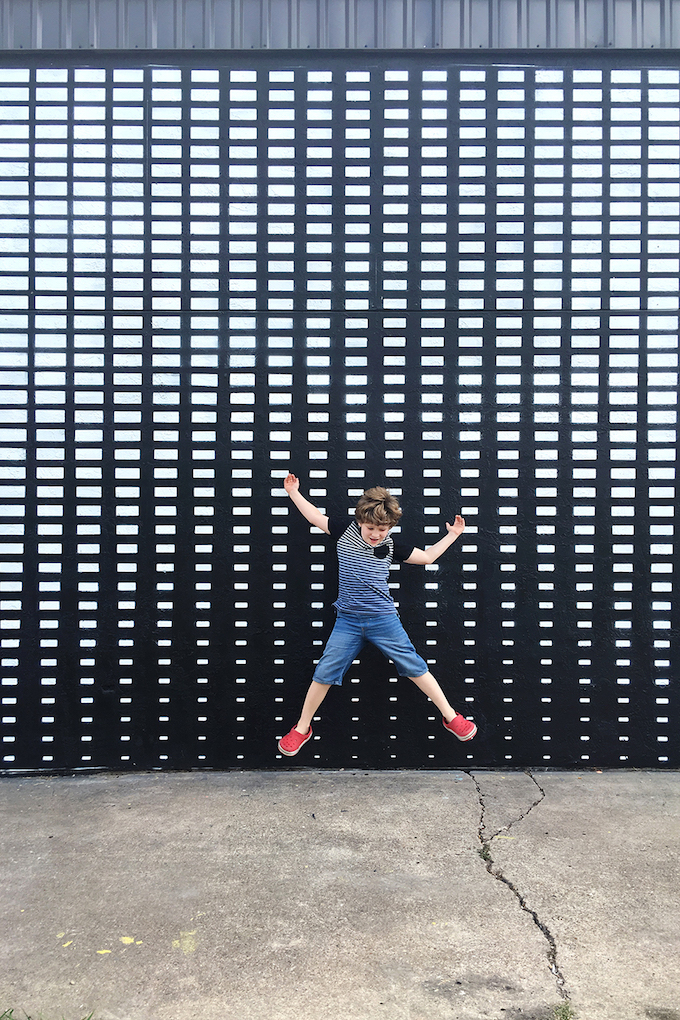 Lining the outer walls of the popular nightclub The Secret Group is a dramatic pattern of black and white that serves as a somewhat optical illusion for those who gaze at it. Let the lines entice you to a weird and wonderful night out, and find yourself fully embracing the quirks of Houston.
RAIL TO THE SEA – Mural Houston
1502 Sawyer Street, Houston, TX 77007
Directions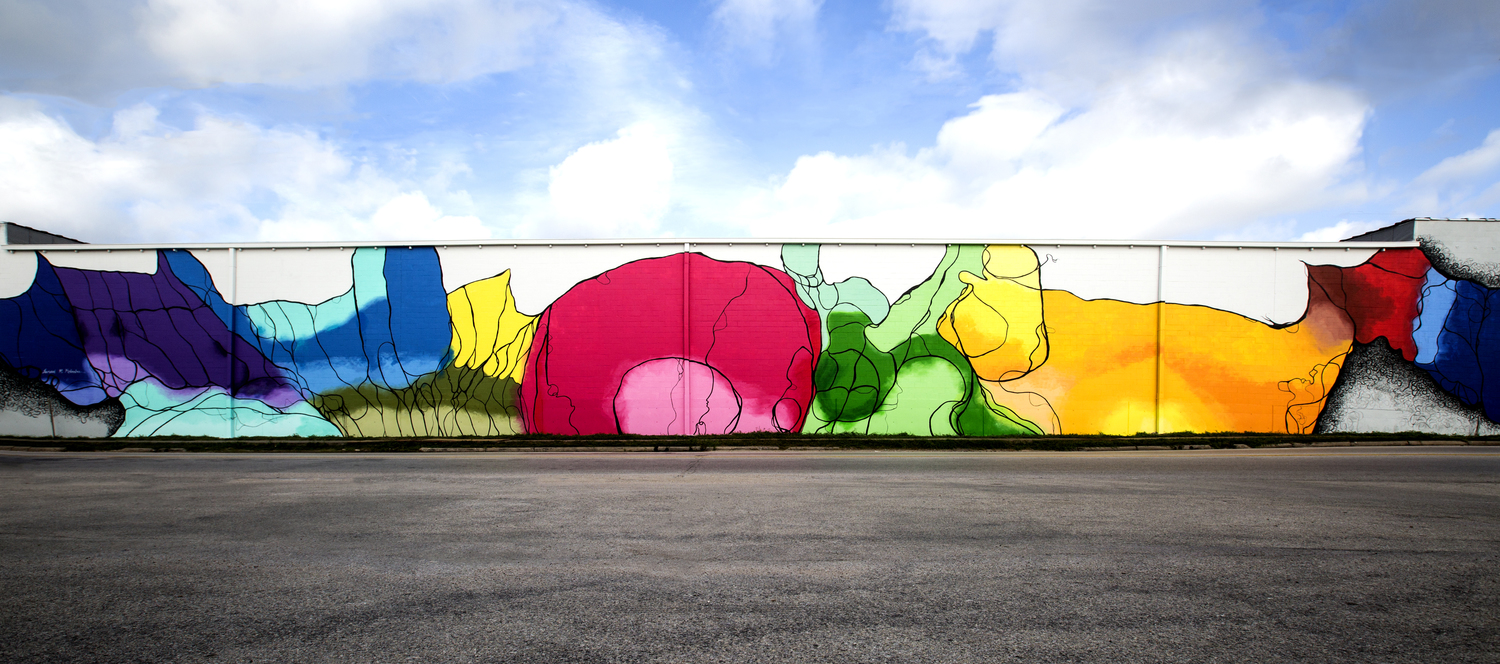 Mumbai native Janavi Folmsbee covered a 5000 sq. ft. wall with an abstract design reminiscent of marine characters as a love letter to the vibrant arts community of the First Ward and Sixth Ward, as well as the Washington Avenue Arts District. After developing strong roots in Houston since moving to the city, her work for the See Houston, Love Houston, Be Houston project contributed to their goal of making work that brings various dialogues, fosters collaboration, and improves the quality of life for all Houstonians.
TAMING THE BEAST – Street Art Houston
1899 Opelousas St, Houston, TX 77026
Directions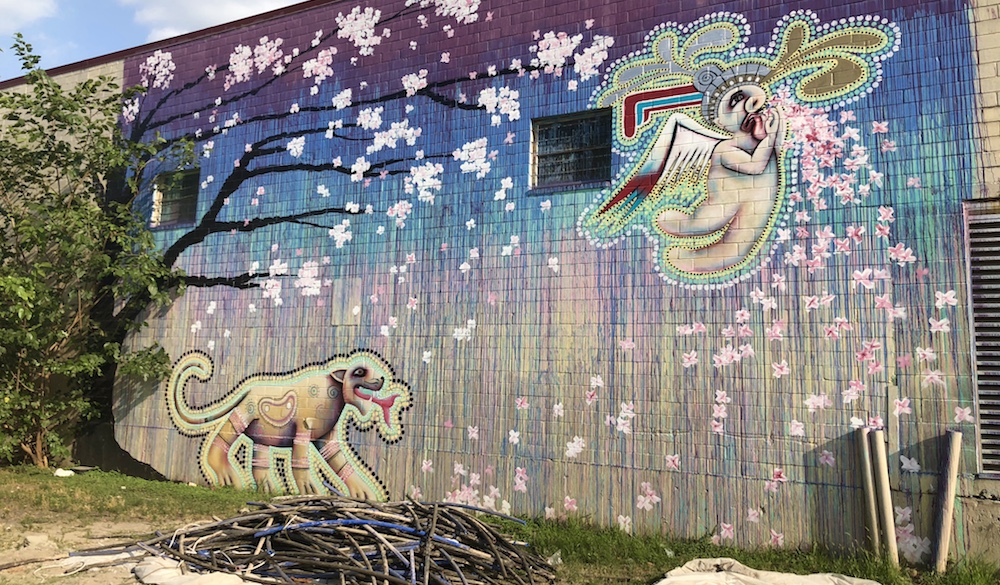 Miami-based artist Luis Valle amplifies the narratives of indigenous cultures, spirituality, and shamanism with delicately-painted imagery. With his work featured nationwide, Valle centers on the essence of the soul in every commissioned piece.
I AM LOVE – Mural Houston
548 W 19th St, Houston, TX 77008
Directions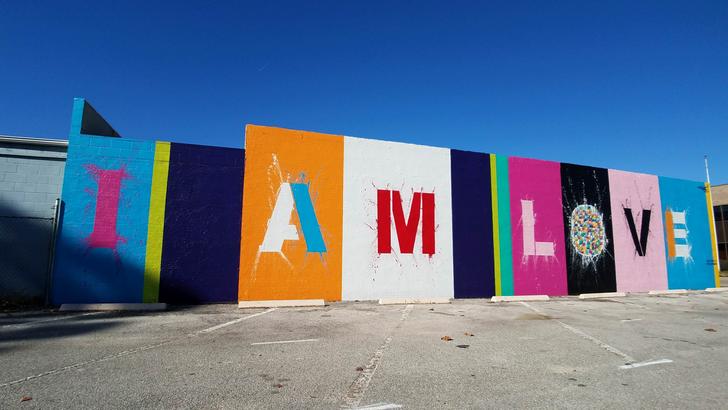 Commissioned by YogaWorks as part of Ruban Rojas' #BeautifyEarth campaign, the colorful wall sends a message of inclusivity and conservation to the citizens of Houston. The artist's mission to transform intention into action is undeniably present in his various bodies of work scattered throughout the city.
HOUSTON TYPOGRAPHY – Mural
1301 McKinney St, Houston, TX 77010
Directions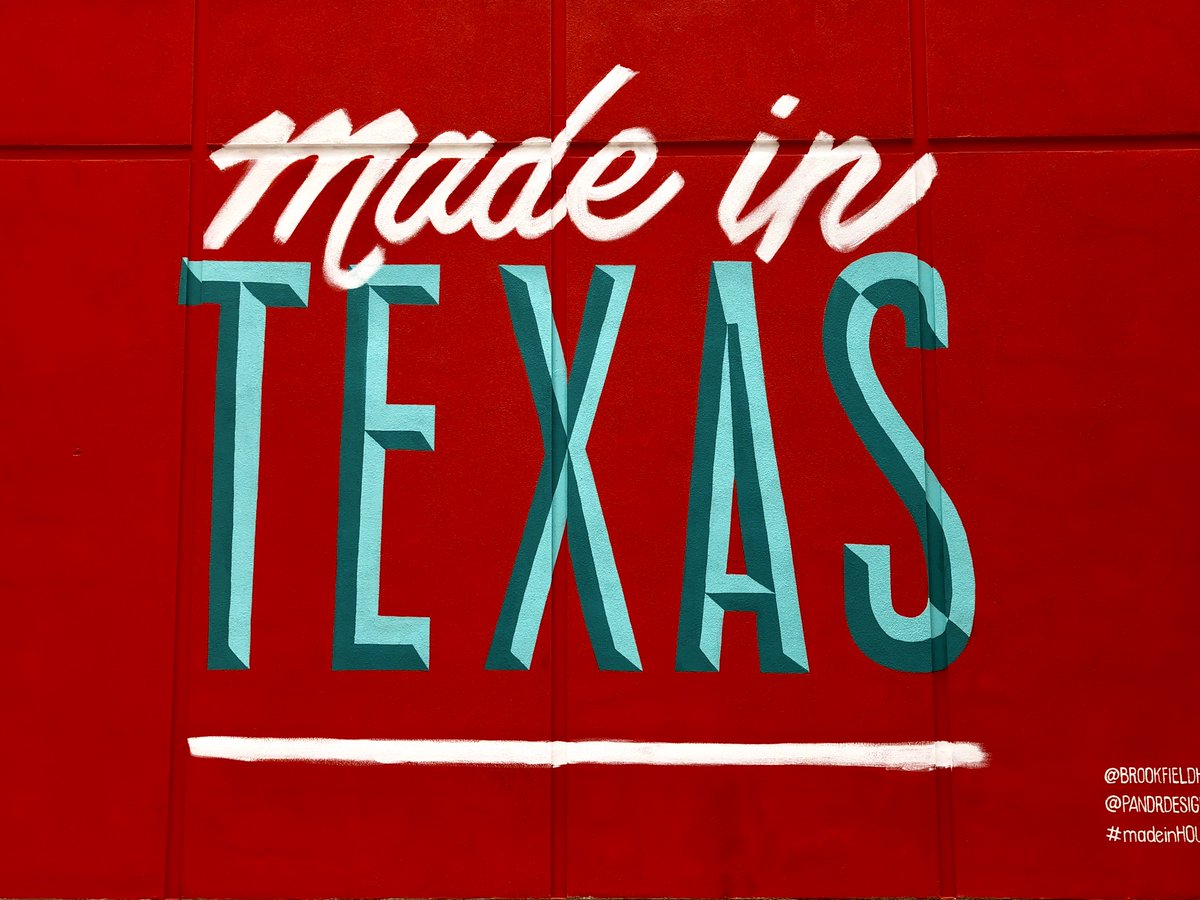 The six modern murals that line downtown Houston chicly display Texan pride with various Southern sayings. The monochrome coloring paired with the whimsy typography can brighten the surrounding area and your day.
New Sugar & Cloth Walls and Stairs
1201 Fannin St, Houston, TX 77002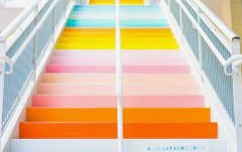 This colorful wall was curated by Houston-based DIY blogger and founder of Sugar & Cloth, Ashley Rose. This one is a bit harder to find. But definitely in the heart of Houston.
When you are on Fanning Street – Stand under the Overpass labeled 'Green Steet' and walk WEST. Good luck. Parking should be done in the Paid parking lots adjacent to the murals.