Lauren's Garden in Houston Market Square Park is a unique and vibrant reflection of the diverse culture that makes up the city of Houston. Founded by Lauren Schraml in 2008, this urban garden has quickly become one of the most popular features of the historic park. Located at 301 Milam Street, Lauren's Garden offers visitors an array of colorful and creative displays that constantly change with each season. Here, visitors will find vibrant flower beds, lush plants, and hidden pathways to explore a variety of rare plants from around the world.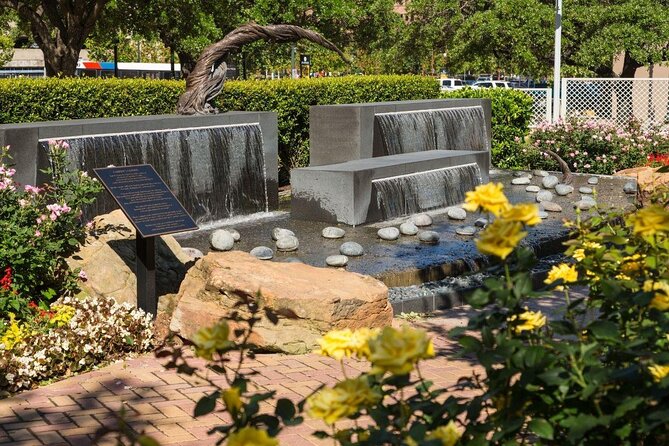 In addition to its stunning landscape features, Lauren's Garden serves as a community space for residents to come together for events and classes designed to educate them about sustainable gardening practices.
History of Lauren's Garden in Houston Market Square Park
In the heart of Houston's bustling Market Square Park lies a peculiar attraction: Lauren's Garden. A serene and vibrant urban oasis, Lauren's Garden is the product of a decade-long effort to create a public space for reflection and respite. The garden has its roots in the work of local artist Lauren Levy, who proposed her vision for an outdoor gallery in 2004.
The project was funded by grants from several private foundations and generous donations from Houston's art community members. After years of planning and fundraising, construction on Lauren's Garden began in 2013. Since then, it has become one of the most popular features at Market Square Park. Its lush foliage, bubbling fountains, and eclectic sculptures provide visitors with a peaceful haven amidst the bustle of downtown Houston.
Explore the Natural Beauty of Lauren's Garden
Lauren's garden is an oasis of natural beauty in the city's heart. This garden provides a tranquil escape from the hustle and bustle of everyday life. Enjoy time spent among lush foliage, vibrant flora, and peaceful pathways.
Take a stroll along its winding paths and enjoy nature's beauty. Capture stunning photos of its blooming flowers, or relax to the sound of running water in one of the many streams that meander through this retreat. Please take part in bird watching, kite flying, or yoga classes; enjoy a packed lunch under a canopy of trees; or simply bask in its serenity during an afternoon spent curled up with your favorite book.
Lauren's garden is open daily for visitors to explore its wonders and experience true relaxation!
Enjoy Seasonal Flora and Fauna at Lauren's Garden
Lauren's garden is a beautiful outdoor sanctuary located just outside Marshville's town. Home to various seasonal flora and fauna, Lauren's Garden provides an inviting atmosphere for visitors looking to appreciate nature at its finest.
Come during the summer, and you'll be treated to vibrant flowers that blanket the garden in various colors. In autumn, enjoy the changing leaves as they slowly drift from green to orange and red hues against the crisp Fall air.
As winter approaches, witness how nature adapts with snow-covered branches and ice-glazed ponds that shimmer in the morning light. During springtime, catch sight of migrating birds as they come home from their winter hiatus or observe wildlife like deer grazing among newly bloomed flowers and trees filled with budding leaves. Whatever season you choose, Lauren's Garden has something special waiting for you!
Relax and Unwind in a Quiet Corner of the City
This quiet corner of the city is perfect for those seeking peace and tranquility. Nestled between tall skyscrapers, this hidden paradise boasts lush greenery, vibrant flowers, and a calming atmosphere that will help wash your worries away.
At Lauren's Garden, you can stroll through winding pathways lined with fragrant roses or sit down on one of its many benches to watch ducks swim by while enjoying an ice-cold beverage from their café. From its tranquil ponds to its rustic bridges, this peaceful oasis serves as an escape from the pressures of everyday life.
Events and Programs at Lauren's Garden
With over 25 years of experience creating beautiful gardens, Lauren's Garden offers various events and programs that bring nature to the city.
The grounds at Lauren's Garden host a variety of workshops such as gardening classes and flower arranging. In addition to educational events, Lauren's Garden also hosts family-friendly activities such as night hikes, bird-watching walks, beekeeping courses, and arts & crafts events. More experienced gardeners and horticulturists offer seminars on permaculture design and composting.
Tips for Visiting Lauren's Garden
Visiting Lauren's Garden in Houston is a must-do for any flower enthusiast or nature lover. Located in the heart of downtown Houston, this award-winning garden offers breathtaking views and tranquil spots to explore all year round. Here are some tips to help you make the most of your visit to Lauren's Garden.
First and foremost, planning is essential; reservations are highly recommended due to limited capacity. Make sure you dress appropriately for the weather: wear light clothing and comfortable shoes on warm days, and bring an umbrella or raincoat if there's a chance of rain. Furthermore, be sure to check out special events that may be taking place during your visits, such as workshops, concerts, and art installations which can add an extra layer of fun!
Finally, don't forget your camera!