A Look at Houston's Historic Glenwood Cemetery
Glenwood Cemetery in Houston, Texas, is a spectacular and picturesque destination with something for everyone. Located in the heart of downtown Houston, it's an oasis of tranquility and beauty – a place to relax and explore nature. Established in 1871, Glenwood Cemetery is one of the oldest cemeteries in Houston and is known for its magnificent gardens and stunning grounds. Glenwood Cemetery offers something special for every visitor from its gorgeous pathways lined with majestic trees to its unique monuments honoring some of America's most beloved figures.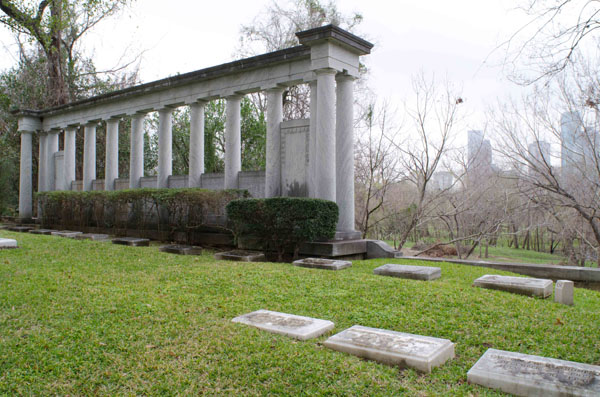 The cemetery features over 11 acres of lush greenery dotted with ponds, flowers, and stepping stones that lead visitors down winding paths through this historic landmark.
Touring the Grounds of Glenwood Cemetery
Houston's Glenwood Cemetery is an impressive sight to behold. One of the oldest cemeteries in Houston, it has been around since 1871 and contains a variety of companies to explore. It is truly a unique part of Houston's history that should be explored.
A tour through Glenwood Cemetery will allow visitors to experience a piece of the city's past. As they stroll along the grounds, they will come across some of Houston's most influential historical figures, like John Milroy Cooper, who served as mayor from 1875-1877, and James Robinson Baker, founder of Rice University. Other notable statistics include former Texas governors Oran M. Roberts and William P. Hobby, among others, whose final resting places are here at Glenwood Cemetery.
Notable People Buried in Glenwood Cemetery
Glenwood Cemetery in Houston, TX, is the resting place of some of the Lone Star State's most notable people. Its grounds are a peaceful and beautiful respite from the bustling city life that surrounds it. Founded in 1871, it has been the final home to many influential Texans over its long history.
The cemetery is home to numerous politicians, activists, writers, and artists like late Harris County District Attorney Carol Vance, former Texas Governor Preston Smith, and songwriter "Jimmie" Rodgers Snow — who wrote George Strait's hit song "Adalida." It also holds the remains of more than one hundred confederate soldiers who gave their lives during the Civil War.
Spectacular Landscape of Glenwood Cemetery
Visitors can explore the rolling hills of Glenwood Cemetery, stroll through gardens filled with colorful flowers, or take a leisurely walk around one of its many tranquil ponds. The cemetery also boasts a wide variety of trees – from towering pine trees to stately oak trees – and lush vegetation creates an idyllic atmosphere perfect for relaxation or reflection. Whether looking for peace or appreciating nature's splendor, Glenwood Cemetery is sure to provide an unforgettable experience.
History and Significance of Glenwood Cemetery
Glenwood Cemetery in Houston, Texas, is a historical landmark that has been around since 1872. Located in the Near Northside area of the city, Glenwood Cemetery is home to some of Houston's most famous residents, including former mayors and prominent business people. The cemetery also holds a special place in the heart of many Houstonians as it was the first public cemetery and hosts several beautiful monuments and sculptures.
As time passed, more and more people started visiting Glenwood Cemetery to pay their respects to their loved ones who had passed away and ended up staying for its beauty. The cemetery features over 80 acres of lush greenery with rolling hills, ponds, and winding roads – all surrounded by a majestic stone wall constructed during its foundation.
Exploring the Mausoleums at Glenwood Cemetery
The historic Glenwood Cemetery in Houston, Texas, is a beautiful place to visit and explore. The cemetery's many mausoleums have been around since the late 1800s, and each has unique features that make it special. The grounds are filled with history, ranging from Civil War veterans to prominent Houstonians such as oil baron Hugh Roy Cullen and former mayor Lee P. Brown. Visitors can explore the mausoleums on their own or take a guided tour to uncover the stories behind each of these breathtaking monuments.
The marble and stone mausoleums are adorned with sculptures, stained-glass windows, intricate carvings, and ornamental ironwork that will take your breath away. Each structure holds its secrets—stories of love, tragedy, heroism, and more—waiting for someone to uncover them.