Remembering Our Fallen Warriors at Cy Champ Park
The Fallen Warriors Memorial, located in Cy Champ Park in Houston, Texas, is an impressive display of reverence and respect for those who have served and lost their lives defending our nation. It is a tribute not just to the fallen heroes from our state but to all who have made the ultimate sacrifice for freedom.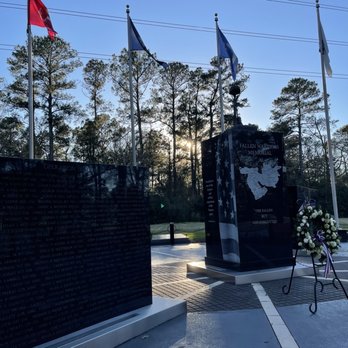 This beautiful memorial was dedicated on November 11th, 2018, Veterans Day. It was created with the help of many local organizations and individuals, including veterans' associations and community members who wanted to honor America's warriors. The site features a 10-foot bronze statue of soldiers standing at attention, surrounded by eight granite pillars inscribed with quotes that recognize their bravery and courage. There are also benches where visitors can reflect on the incredible sacrifices these brave men and women have made for us all.
A Tribute to the Brave at Cy Champ Park
Cy Champ Park, located on the city's outskirts, is a beloved destination for many. Here lies a special memorial dedicated to fallen warriors, an area that honors those who have lost their lives in service of our country.
The Fallen Warriors Memorial stands prominently within the park and serves as a reminder of all those who have bravely given their lives in defense of freedom and justice. The monument stands 8 feet tall and holds an eternal flame that flickers day and night ceaselessly. This flame symbolizes the courage and sacrifice of our heroes, whose memory will never be forgotten.
Each year on Memorial Day, this spot is filled with community members coming together to pay tribute to these courageous souls.
Veterans Day
On Veterans Day, we need to take a moment to recognize those veterans in our community. We can show gratitude by reading stories about local veterans, attending parades and ceremonies honoring them, or simply expressing thanks for their service. Volunteering at organizations that support local veterans is another way to say 'thank you' and give back to those who have sacrificed so much for us.
Paying Homage to Those Who Served: Cy Champ Park
Paying homage to those who served is essential to honoring our veterans and their sacrifices. In Houston, the Fallen Warriors Memorial offers a unique opportunity for residents and visitors to honor military service members with a touching tribute. The memorial is a solemn reminder of the extraordinary courage and dedication of fallen warriors and those who continue to serve the United States.
The Fallen Warriors Memorial is located in Houston's Hermann Park, serving as an essential centerpiece in the park's serene beauty. The memorial was established to remember the men and women who lost their lives while serving in Operation Enduring Freedom and Operation Iraqi Freedom. It consists of three slanted granite walls inscribed with each person's name, rank, branch of service, date killed or MIA status, hometown, and state.
Honoring Those Who Sacrificed All at Cy Champ Park
This Memorial Day, we honor the brave fallen warriors of our country who have given their lives in service to our nation. Houstonians gather at the Fallen Warriors Memorial annually to pay respects to these heroes and remember their sacrifices.
The Fallen Warriors Memorial is a place of reflection and remembrance that honors all members of the military who have been killed while serving in Iraq or Afghanistan since 9/11. The memorial features statues and monuments crafted from bronze and stone that depict scenes from history and an eternal flame that symbolizes those who gave their lives for our freedom.
On this particular day, let us unite as a community to honor those who paid the ultimate price for us all; those whose courage, bravery, and dedication will never be forgotten. We are forever grateful for your service and sacrifice – thank you!