Farmers Markets in Houston
Farmer's markets allow you to buy fresh produce, meats, milk products, bakery items, and other items straight from the source, bypassing the middleman. Combine the facets of food and music, as well as the delicious aromatic scents that fill the air and the lovely sight of ripe and farm-fresh fruit and vegetables. Grab some cash, some sunscreen, and your reusable grocery bags, and transform your boring shopping experience into something exhilarating that you and your entire family can look forward to going to visit.
Midtown Farmers Market
Located in the parking lot of the famed restaurant T'afia, the Midtown Farmers Market has grown into a Saturday morning staple.
Houston chef Monica Pope is one of the founders of the market, which brings the community together on the cornerstone of food with offerings from local farmers, craftspeople, and chefs making artisanal, handcrafted bread, chocolates, pastries, and prepared foods. Local favorites include artisanal chocolates from Brown Paper Chocolate and fair trade, organic coffee. You can also pick up prepared foods and meals to go.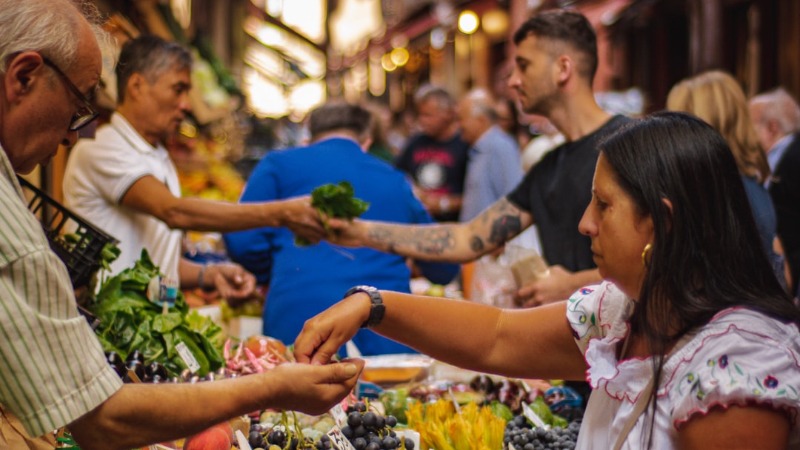 The market is open every Saturday, rain or shine, 8 a.m.-noon.
Midtown Farmers Market: 3701 Travis St., Houston TX, 77002,
Houston Farmers Market at Rice Village
Houston's first Texas State Certified farmers market is located in Rice Village on Tuesday nights. You'll find seasonal produce, micro greens and herbs from Gundermann Farms and other area farms, bread from Kraftsmen Bakery, chocolates, preserves, hot pepper jellies, handmade soaps, and flowers.
The Christ the King parking lot is magical when lit by candles after the sun sets. Happily, you are within walking distance of many places on Rice Blvd. for an after-market libation or light supper.
The market is open Tuesdays 3:30-6:30 p.m.
Houston Farmers Market at Rice Village: 2100 University Blvd., Houston TX, 77005,
Central City Co-Op
Although it diverges from the traditional definition of a farmer's market, this self-serve co-op offers incredible organic produce at reasonable prices.

A co-op is a community of people interested in working together to their mutual benefit. Central City's members are interested in having the freshest, organic produce available at a reasonable price. Central City purchases produce in the largest quantities possible and divide it among its members in the form of shares or through a market setting. The co-op provides the opportunity for communities of people to come together each week in different parts of the city to purchase high-quality, organic food at reasonable prices. Central City offers as much produce as possible from local sources that embrace the practice of compassionate and chemical-free growing. CCC carries only produce and products from plants.
There is a membership fee for the co-op, but visitors can purchase a Dollar Day Pass any time they want to purchase organic food at Central City Co-op.
The co-op is open Wednesday, 9am-6:30pm, and Saturday, 9am-2pm.
Information on additional locations is available at Central City Co-Op's website, listed below.
Central City Co-Op: 2115 Taft Street, Houston TX, 77006,
Pick-Your-Own Farms
Several pick-your-own farms are an easy drive from downtown Houston. Call in advance to be sure about the hours of operation and what's fresh on the vine (or tree, as the case may be).
Blackberries of Houston
Offers blackberries, pre-picked produce
19531 Cypress Church Road
Cypress, TX 77433
http://www.BlackberriesOfHouston.com
281-373-5357
Crops are usually available in May, June, and July.
Open: 7 days/week May 20 to July 10.
Chmielewski's Blueberry Farm
Offers blueberries, a gift shop, and a picnic area
23810 Bauer Hockley Rd.
Hockley, TX 77447
281-304-0554
[email protected]
http://www.chmielewski-blueberry.com
Matt Family Orchard
33 acres planted with blackberries, some thornless, figs, jujube (Asian dates), Asian pears, Asian persimmons, citrus, and a picnic area.
21110 Bauer Hockley Road
Tomball, Texas 77377-5767
281-351-7676
http://www.mattfamilyorchard.com
[email protected]
Fruit picking hours are 9 a.m.- 2 p.m; hours are seasonal depending on fruit availability.
Canino's Produce
A favorite of local chefs, Canino's is open every day with plenty of fresh produce.
Canino's is a giant farmers' market that has been offering a tremendous selection of fresh fruits, vegetables, beans, vinegar, and even milk and eggs for years. There's no place else in the city where you can buy a farm-fresh pineapple (in bulk, if you wish) at 6 a.m. any day of the week, year-round. Don't want to drive to the country for those juicy Hempstead watermelons? Canino's has them, along with a way to spend all those pennies you've been hoarding (jalapeños, anyone?). Go to the very back for the best deals and the freshest hard-to-find items. Whatever you do, don't miss the tamales. Like the rest of the goods, they're tremendously fresh, and you'll see them only rarely at the other markets.
Open every day 6 a.m.-8:30 p.m.
Canino's Produce: 2520 Airline Dr., Houston TX, 77009,
Urban Harvest Farmers Market at Discovery Green
After two years, downtown's Discovery Green market expanded in April 2010 following a new partnership with Urban Harvest. The Urban Harvest Farmers Market at Discovery Green now offers regular Sunday markets from noon until 4 PM.
Since spring 2008, the 12-acre park has played host to Central City Co-op's market, but transitioned market operators in 2010, in an effort to expand offerings and sustain more local farmers and vendors. Eventually, the Urban Harvest organization hopes to add cooking classes, demonstrations, and gardening classes to the weekly event.
Visitors can expect a mix of vendors including old and new favorites from the Urban Harvest Farmers Market at Eastside. Head there for fresh-squeezed juices, organic fruits and vegetables, fresh flowers, and seafood.
Urban Harvest Farmers Market at Discovery Green: 1500 McKinney St, Houston TX, 77010,
Urban Harvest Farmers Market
The market supports the families of local farmers and helps stimulate the local economy. Every Saturday the market offers fruits, vegetables, coffee, meats from grass-fed cattle, and honey amongst many other products. The farmers at Urban Harvest produce on a small scale and raise grass-fed cattle, local honey, eggs from cage-free birds, and products prepared with goat's milk. There are weekly events ranging from live music and culinary demonstrations in which local products at the market are used.
The market is open on Saturday from 8 a.m. to noon.
Urban Harvest is a nonprofit organization that uses fruit, vegetable, and habitat gardens to improve the quality of life in the greater Houston area. These gardens serve to educate, strengthen community spirit, create therapeutic environments and provide food and income. We teach organic gardening techniques, help neighborhoods build successful community gardens, create outdoor classrooms at schools that teach core curricula, nutrition and respect for the environment, provide fresh, locally grown food, and encourage responsible land use. Our work benefits all of us by improving food, diet, and health. It also builds engaging schools, neighborly communities, and valuable local businesses that together sustain and improve our environment.
Urban Harvest Farmers Market: 3000 Richmond, Houston TX, 77246,
Farmers Market at Clear Lake Shores
The Farmers Market at Clear Lake Shores is a non-profit outlet for locally-grown fruit, vegetables and other foods. The Market is operated by volunteers.
FM 2094 just west of the intersection with Clear Lake Road.
First and third Saturdays of each month from 8 AM to 12 PM – RAIN OR SHINE!
Farmers Market at Clear Lake Shores: FM 2094, Houston TX, 77565,
Highland Village Farmers Market
Galleria-area residents have a new place to snag fresh produce each Saturday with the addition of the Highland Village Farmers Market (HVFM). Launched in late fall 2009, the weekly gathering of local vendors showcases an assortment of locally-grown fruits and vegetables, as well as the most sought-after pre-made goods in the city.
The market—which operates beneath a permanent open-air structure behind Highland Village Shopping Center's Jos. A. Bank—features an array of area vendors that practice sustainable or organic farming methods. Thanks to the purveyor's eco-minded efforts, patrons are able to access premium free-range meats and fresh dairy products, as well as pastries, flowers and many other items.
The weekly gathering is held each Saturday from 9AM to 1PM, along the 4000 block of Westheimer Road, on the southwest side of the shopping center.
Highland Village Farmers Market: 2720 Suffolk Dr., Houston TX, 77027,