Bayou Bend
Bayou Bend, the former home of Houston philanthropist Ima Hogg, now houses the Museum of Fine Arts, Houston's early American decorative arts and painting collection. Considered one of the premier collections in the country, the rare and beautiful objects dating from approximately 1620 to 1876, are installed throughout the 1920s mansion in 28-period room settings.
The Gardens
Spanning 14 acres along the Buffalo Bayou riverfront, this living museum is home to an impressive collection of American decorative arts from the 18th century through the late 19th century. The grounds feature an array of gardens including a formal English garden with traditional plantings and statuary; a woodland garden featuring native plants such as magnolia trees, azaleas, and ferns; a water garden with lilies and other aquatic plants; and a wildflower meadow filled with flowering perennials.
Bayou Bend Gardens were original, in Miss Hogg's words, "nothing but a dense thicket." Undaunted, she created several gracious and beautiful gardens. Miss Hogg also appreciated the beauty of the area's natural environment. She retained part of the surrounding woodlands and created a less formal garden environment on the south side of the property.
Visitors to the Bayou Bend Collection and Gardens can explore its picturesque grounds on their own or take part in one of the many guided tours offered by knowledgeable docents.
Clio Garden
Bayou Bend Collection and Gardens is proud to present the new Clio Garden, a special outdoor extension of their beloved museum. Situated on the grounds of Bayou Bend, this beautiful garden allows visitors to explore Houston's natural beauty in an alluring and serene atmosphere. From its native plants, trees, and shrubs to intricate pathways winding through colorful wildflowers, Clio Garden has something for everyone.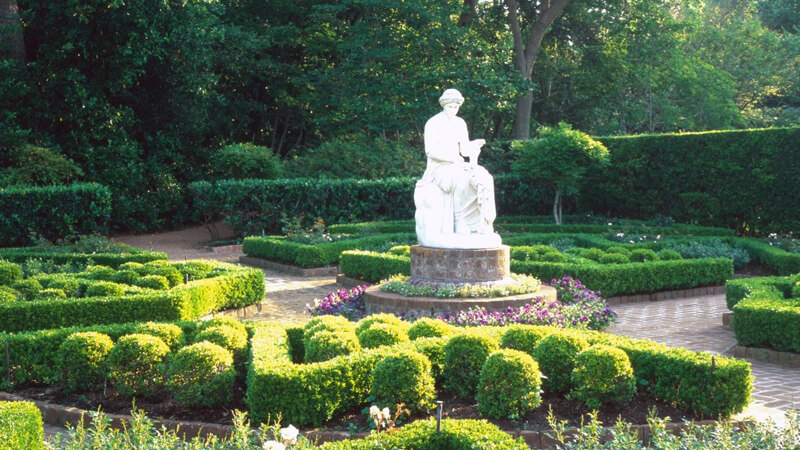 The garden proudly features over fifty different species of Texas natives that are part of the Bayou Bend living collection. Visitors can stroll along paths lined with brilliantly hued blooms or admire hand-crafted sculptures placed among lush foliage. Additionally, there are plenty of benches throughout the garden for visitors who want to take a moment to marvel at nature's splendor or simply sit back and relax in its tranquil environment.
The mythological muse Clio, who presided over the arts and sciences, also presides over this ornamental garden that was created while the house was being built.
Woodland Trails
Discover the many woodland trails that meander through this picturesque landscape as you take in views of peaceful ponds, wildflower meadows, and towering trees. Enjoy wildlife spotting, including birds such as cardinals, orioles, woodpeckers, kingfishers and more. Marvel at ancient cypress trees draped with Spanish moss or capture stunning photos framed by blooming azaleas and dogwoods. As you explore Bayou Bend Collection and Gardens' woodland trails you'll be transported back in time to a unique part of history filled with beauty and tranquility.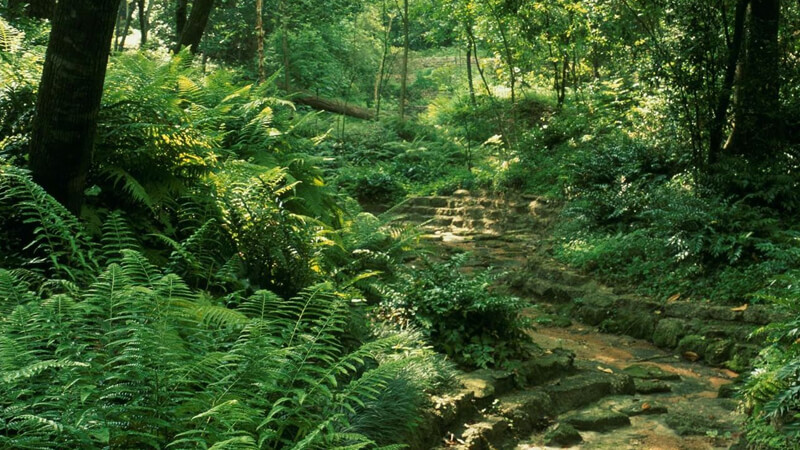 The beauty of native trees and shrubs form a spectacular backdrop to the formal gardens surrounding the house at Bayou Bend.
Diana Garden
The garden was once home to Ima Hogg—an arts patron, philanthropist, and founder of the Bayou Bend Collection and Gardens—and her family from 1920 to 1975. After Ima passed away in 1975, she bequeathed her house and remaining estate to the Museum of Fine Arts Houston. The Diana Garden opened to the public shortly after in 1979 as a tribute to Ima's legacy.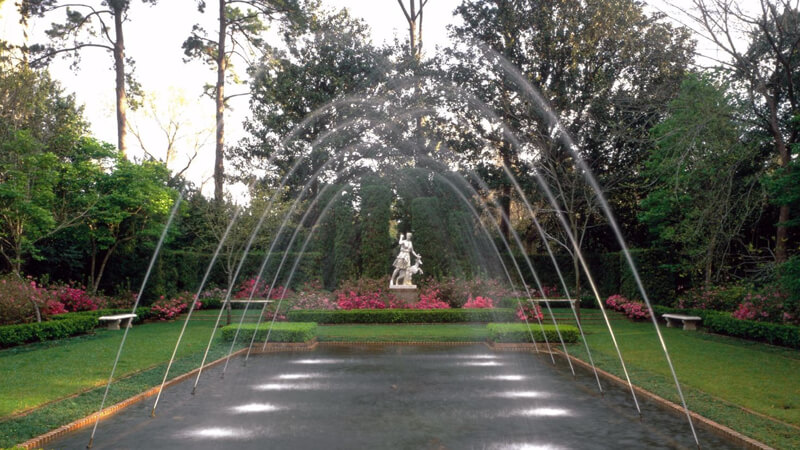 Miss Hogg created an outdoor "room" defined by walls of evergreen yaupon hedges that separate the garden from the natural woodlands beyond. Reminiscent of Italian Renaissance gardens, the Diana Garden is a model of classical simplicity.
Euterpe Garden
Euterpe, the muse of music, represents one of Miss Hogg's greatest loves. The precise location for the statue was chosen because of two superb trees, loblolly pine, and American sycamore, that predate the house and still stand.
Euterpe Garden was developed in 1966 by Ima Hogg for her former home, Bayou Bend. Today it serves as a memorial to her legacy and dedication to conservation efforts throughout the city. The garden is designed to reflect Hogg's appreciation for native plants as well as create an atmosphere that reflects the natural beauty of Houston. From butterfly gardens to water gardens, there are plenty of areas for visitors to explore and enjoy while visiting this iconic site.
Carla Garden
The Bayou Bend Collection and Gardens is home to Carla Garden, which was created in honor of Caroline Stewart Pelly. Created by her daughter Anne Pelly Conkling in memory of her mother's fondness for horticulture, this garden celebrates Mrs. Pelly's devotion to gardening with stunning landscaping and stunning natural elements like azaleas and camellias that bring the space to life year-round.
Inspired by an antique carousel seat, this garden was created in a clearing left by Hurricane Carla in 1961.
East Garden
An example of the integration of house and garden at Bayou Bend, the East Garden extends the east facade of the house into the landscape.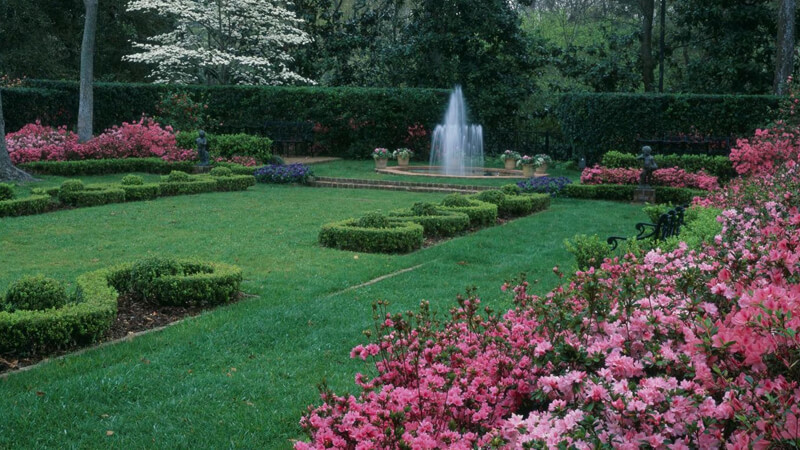 Butterfly Garden The delightful butterfly garden is set in a forested area of the lot. Miss Hogg first planted it with purple and yellow pansies, but after a few years, she replaced those flowers with boxwood borders and a bright palette of dwarf evergreen azaleas.
White Garden
Quiet and private, the White Garden is surrounded by ravines and features an array of white-blooming plants. Featuring a stunning panoramic view of Buffalo Bayou Park from its hilltop perch, the White Garden provides an unforgettable experience for both locals and tourists alike.
The Collection
The Bayou Bend Collection is one of the nation's foremost assemblages of American decorative arts dating from 1620 through 1876. Not only are the objects in the collection fine examples of American design and craftsmanship, but they also reflect the tastes, values, and aspirations of Colonial-era Americans. The collection reflects Miss Hogg's dream that "Bayou Bend may serve as a bridge to bring us closer to the heart of an American heritage which unites us."
The Murphy Room
The Murphy Room in Bayou Bend Collection and Gardens is a must-see for those interested in early American antiques. Dating back to the late 18th century, the room showcases exquisite pieces of furniture, porcelain, metals, and textiles from the period. The collection was assembled by Ima Hogg, daughter of Texas Governor James Stephen Hogg. She donated her personal collection of antique furniture and decorative arts to create this stunning interior design.
Visitors enter through an original double-door entrance into a large parlor with a fireplace on either end. From there they can explore the adjacent smaller rooms which were once part of Ima Hogg's private residence.
The Pine Room
The Pine Room at Bayou Bend Collection and Gardens is a museum like no other. Located in Houston, Texas, it houses one of the largest collections of American decorative arts from 1620 to 1870. Visitors can explore an array of artifacts from paintings to furniture and learn about life in the colonial era.
Originally built as a private residence for Ima Hogg in 1927, today The Pine Room features over 4,000 objects that have been collected by Miss Hogg and her family. Visitors will find everything from silverware, porcelain plates, ceramics, and vases to jewelry boxes and mirrors displayed on shelves or arranged in cabinets. Artwork such as portraits painted by famous American painters is also featured throughout this room.
History of Bayou Bend
Will Hogg, who donated land to the City of Houston to create Memorial Park and developed River Oaks, and his siblings Mike and Ima, commissioned architect John F. Staub to build Bayou Bend, a home for the Hoggs. Ima Hogg worked closely with Staub, who coined the term "Latin Colonial" to describe the architectural style of the home. In 1920 Miss Hogg had begun assembling an important collection of American decorative arts. To provide suitable settings for these extraordinary antiques, Staub designed simple but stately interiors. Miss Hogg donated Bayou Bend to the Museum of Fine Arts, Houston in 1957, but continued living at the estate until 1965. She oversaw the transformation of her home into a house museum, which opened to the public in 1966.
Bayou Bend Collection and Gardens
1 Westcott Street
Houston TX, 77007
Final Word
The Bayou Bend Collection and Gardens is an incredible destination for anyone looking to experience the beauty of nature and culture. The gardens provide a peaceful place for visitors to appreciate art, enjoy outdoor activities, and explore all the wonders of the outdoors. Additionally, learning about Houston's rich history through this collection of artifacts from different periods of time helps us better understand our city's past. Overall, anyone who visits Bayou Bend will be sure to have a memorable experience.